Rhode Island's Home Team Returns to Newport in May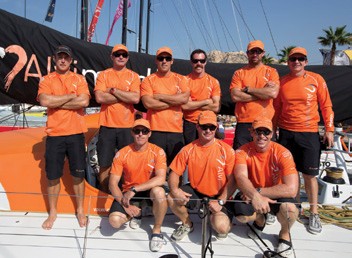 Team Alvimedica, the youngest team in the Volvo Ocean Race 2014-15, is also Rhode Island's home team. Skipper Charlie Enright of Bristol, RI, is looking forward to a hometown welcome when their Volvo Ocean 65 crosses the finish line in Newport, RI next month.
© Amory Ross/Team Alvimedica
Team Alvimedica's homeport is Newport, so a homecoming celebration is on tap for the nine crewmembers, who have an average age of 32 years. Enright, 30, is the youngest skipper in the race. He graduated Brown University in 2008 and was a four-time member of the Intercollegiate All-American Sailing Team. He met his wife, Meris, at Brown, and the two live in Bristol where they're expecting their first child.
"Pulling into Newport will be something special," said Enright. "It's the best sailor's town in the world. I've done a lot of racing there and have a lot of friends who'll be there rooting for us. I'm really looking forward to that moment."
By his side is another Brown alumnus, 26-year-old Mark Towill, who graduated in 2011. Born and raised in Hawaii, Towill has mostly been living in Rhode Island since graduation. Although the two only overlapped at Brown by a year, Towill and Enright formed a friendship from their time together on the sailing team. They also spent the summer of 2007 together, racing the TP52 Morning Light in the 2,200-nautical-mile Transpac Race. That adventure sparked their dream to compete in the Volvo Ocean Race. "My greatest achievement so far has been putting this team together," said Towill, who's one of two watch captains. "It's not an on-the-water result, but it's been lots of hard work and I imagine it'll be very emotional when we pull into Newport."
Another Rhode Islander in the crew is Nick Dana, 29, of Newport. Dana, the boat captain and bowman, has been around grand prix race boats all his life. His family owns Newport Shipyard and this is the third time that Dana has been involved with the Volvo Ocean Race, although it's the first time that he's an active member of the race crew. "Being an American and sailing for the hometown team means a lot to me," said Dana. "This team has a nice mix of young Americans. We're all familiar with each other from town, and we'll all be proud to sail into Newport."
Team Alvimedica's OnBoard Reporter, Amory Ross, also calls Newport home. Ross, 30, is doing the race for the second consecutive time. As the OBR, he's responsible for taking photos and videos and writing a daily blog post. He isn't allowed to steer the boat, trim the sails or assist the crew in any maneuvers, but he's permitted to help cook and clean belowdecks. "I love sharing stories. I love this event and the people that partake," said Ross. "The concept of sailing into Newport, with all my family and our friends there to greet us is very exciting and something that I'm very much looking forward to."
The Newport stopover May 5-17 promises to be action-packed with plenty of public events at the Volvo Ocean Race Village at Fort Adams State Park. Sailing fans also have the unique chance to bid for one of two unique sailing experiences while supporting a Rhode Island heart health charity, Lifespan.org. Team Alvimedica and its owner, medical devices company Alvimedica, are running an ambitious World Heart Health Charity Tour, a global initiative to raise funds and awareness for heart health. Bids can be made on two separate once-in-a lifetime experiences on board with Team Alvimedica at each of the race's ten stopover ports.
All of the funds raised from the team's auction go directly to the locally designated heart charity. Sailing fans have the chance to bid on bringing their own team of six people to join the Team Alvimedica race crew on one of the Pro-Am Races in the stopover. These in-port races precede the leg start and offer sailors the rare opportunity to actually be involved in crew maneuvers with the professional race team as they compete against the Volvo Ocean Race fleet. Bids can be placed on the team's website at teamalvimedica.com/auction.
The Jump Seat experience involves departing the dock with the race crew and being on board for the initial racing before the fleet leaves the stopover port. The initial part of the leg is sailed inshore with each of the Volvo Ocean Race teams having a Jump Seat guest on board. The Jump Seat riders experience the exhilarating moments of the start before leaping overboard at a safe moment. The "jumpers" are then retrieved by a tender boat and brought safely back to shore.
The Rhode Island charity is Lifespan.org, a five-partner, not-for-profit health system. Lifespan.org includes three teaching hospitals: The Warren Alpert Medical School of Brown University: Rhode Island Hospital and its Hasbro Children's Hospital; The Miriam Hospital; and Bradley Hospital. It also includes Newport Hospital and Gateway Healthcare. All Lifespan-affiliated partners are charitable organizations that depend on support from the community to provide programs and services. For more information, visit lifespan.org.
Follow Team Alvimedica at teamalvimedica.com and  facebook.com/TeamAlvimedica.
Jane Eagleson, Team Alvimedica's Head of Communication, contributed to this report.