Story and photos by Kim Brew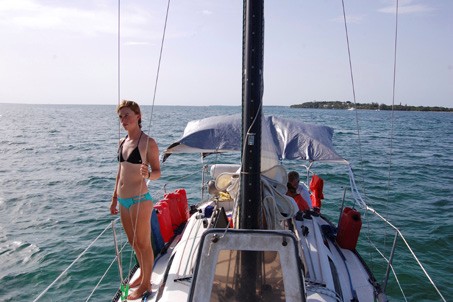 It was a dark and stormy night. No, really it was. The Brew family – my husband Rich and I and our daughters Shannon and Colleen – arrived in Fort Pierce, Florida at 8 pm to step the mast and launch our Hobie 33, Kaos, for our journey to Marsh Harbour, Abacos in the Bahamas. Shannon and Colleen had been young, 13 and 10 respectively, the last time we came to Abacos Race Week. This was going to be a Brew family adventure.
Kaos on the way to the Abacos   © Kim Brew
We were hopeful that we would miss the usual Florida afternoon thunderstorms. Shortly after we arrived, a magnificent lightning display followed us and a deluge ensued. My brother-in-law Chris had come from West Palm Beach to help, but thought raising the mast in a lightning storm was not a good idea, so we went to dinner to wait out the storm. Around midnight, we had lined all of the gear up on the dock for loading and "Bob the Blob," a soft-sided plastic container filled with five gallons of fresh water, was one of the first items to go on the boat. We were trying to be well prepared in case something happened and we ended up drifting for days.
While we were continuing to load the rest of the gear, "Bob" fell overboard. I didn't think about how I might scare my brother-in-law and daughters by stripping down to my underwear and jumping in to save Bob. All I could think of was five gallons of fresh water that we might need floating away. Chris was very cool, and suggested that someone might want to throw me a line since the current was strong and it was now after midnight. The rest of my family thought I was a little crazy, but what's new? After that bit of excitement, we were soon underway.
We had to do circles for 25 minutes waiting for the A1A bridge to open, but that was a minor inconvenience compared to running aground after going through the bridge. Apparently, we tried to go around the wrong side of a small island in the Intracoastal Waterway. It wasn't marked very well. The girls and I jumped into action, raising the mainsail and trying to hike out. No luck. Then we tried to kedge our way off. I threw the anchor, confirming the embarrassing fact that I really do throw like a girl. Just before we decided to wait until high tide, Shannon suggested raising the jib. It worked!! We shot off the sand bar like out of a cannon. Rich steered us to deeper water and we finally made it to the ocean by 0200 for our crossing to the Abacos.
I took the night watch. The wind was blowing directly on our bow, so we could not sail. The little 10hp motor was doing its best to plow through, up and over the 5- to 6-foot waves. The seas were like a washing machine, pushing me 10-15 degrees off course either way. When Colleen checked the heading, I was off course and trying to return to the correct heading. Needless to say, it didn't do much for her confidence in my steering, so she didn't sleep much. Actually, she was quite helpful with telling me the headings since steering in the mess was difficult and our compass does not have a light.
During the crossing of the Gulf Stream, I saw what looked like a city lit up. I thought, "Wait a minute, I'm in the middle of the ocean! It has to be some kind of vessel." So I'm a novice ocean traveler. Then I saw a huge container ship, luckily in the distance. The ocean traffic was a lot busier than I had imagined.
By morning we still hadn't made it to the Bahama Bank, where the depth changes from 2,000 feet to 40 feet. Rich and the girls took turns steering for the rest of the day. We finally hit the Bahama Bank by 1500. While water in the Gulf Stream was a beautiful cobalt blue, the Bahama water was an incredible aqua mixed with areas of icy green.
We anchored at about 2100, had a hot meal of refortified dried camping dinners, which were surprisingly good, then settled in for a good night's sleep. Rich and the girls slept below and I slept on deck. It was a beautiful night. The moon was full, and I could see all of the stars. A crazy dream woke me up at 0400, which woke up everyone else, so we pulled anchor and continued our journey to the Abacos.
We arrived at our first stop, Green Turtle Cay, at 1700 Thursday and met our friends Jon Hamilton and Donna Mohr, who were planning on racing with us for the rest of the week. They picked up our powerboat, our main source of transportation for the week, in Marsh Harbor. We checked in to the Green Turtle Club, where the rooms were very nice, the pool felt awesome, and the shower was wonderful. The next day we moved to the cute little pink houses on Pelican Beach for the rest of the week. There's also Mermaid Reef within swimming distance from the beach.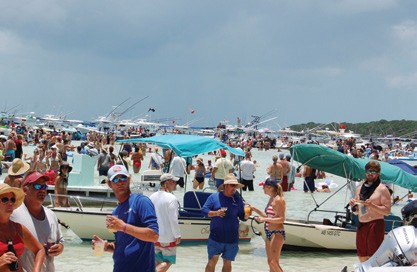 The Cheeseburger in Paradise party was the next day. This is the largest congregation of boats and boaters that I have ever seen for a party. This year the party had a lot of families, young adults and teenagers and, of course, all of us older sea dogs just enjoying each other's company. There were organized games such as a Hula hoop contest (in which I won a trophy) and a Limbo contest.
The Cheeseburger in Paradise party was massive!  © Kim Brew
We ran into several friends from home and made new ones. It didn't take more than a few minutes for my very pretty daughters, now 23 and 20, to attract new friends. I keep a close eye on the new friends – and a large stick handy – at least until they pass the mom test. Since my girls are very nice as well as gorgeous, they attract nice people. They had big smiles all day.
The Abaco Race Skipper's meeting was that evening at the Green Turtle Club. We were a small, light boat in a gathering of many heavier, larger cruising boats and some ocean racing types. The first race was off Green Turtle Cay on July 4, followed by a post race party. Race Week is organized with a race and party every other day at a different island, and a party on the lay days in the late afternoon. The races or parties included Treasure Cay, Guana, Marsh Harbour and Elbow Cay. The Crossing Beach street party was my favorite this year; there was good food, music, dancing and the Junkanoo Band came dancing with us. They put one of their headdresses on me and let me dance with them! Rich was recovering from a freshly broken ankle, so he finally had a really good excuse not to dance.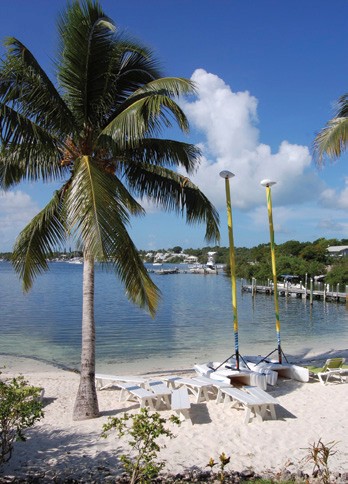 All of us are SCUBA certified, and we went diving with Guana Divers on a lay day. It is such a blessing to have children that enjoy the same sports; we can share so much as a family. The dive boat was great. The divemaster, Troy, and his assistants were very nice, efficient and, most importantly, competent divers. The dives, ranging from 20 to 60 feet, consisted of swimming through reef tunnels, fish of every color imaginable, soft corals swaying in the water, beautiful lavender sea fans, hard coral formations, and even a shark that took one look at us and took off.
The Green Turtle Club on Green Turtle Cay   © Kim Brew
Colleen tried out her new GoPro while Shannon was doing flips, and I watched them for a while. They are both so graceful and comfortable underwater. It just made me smile. Rich seemed to have less trouble moving around underwater than on land with his ankle. In fact, swimming seemed to help his mobility on land afterward. It's so peaceful to feel at one with the underwater world.
The racing was good, but the PHRF handicap system in these windy conditions favored the heavier, longer boats. The race committee did a good job and set good courses. It was great. I remembered this from 10 years ago, and was glad they continued the tradition of counting down the last ten seconds to the start. The wind, varying from 15 to 25 knots, was a bit much for our crew weight and rating. Although we could have used a couple more heavy people on the rail, we sailed as well as we could in those conditions. Our crew did a great job! We didn't break anything or anyone, and Kaos stayed up with the big boats during all of the races. We didn't win anything, but we had a great time.
Our last night was spent at the party at the beautiful Abaco Inn on Elbow Cay. The inn sits atop and slightly back from the coral beach, where the waves crash in a beautiful foamy spray. A path leads down to a sandy beach, which is accessible at low tide. A severe drop-off from shallow to deeper water causes the waves to roll and crash all along the beach. The locals say they surf there, but I can only imagine all of the broken boards and bones on the hard coral. The Abaco Race week organizers did a great job providing fun parties for everyone all week. We will return to try racing again.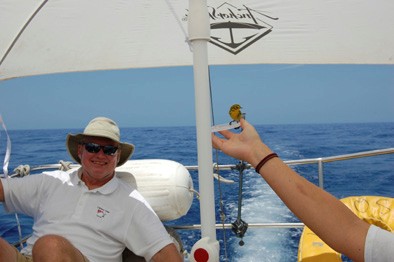 There's always a tinge of sadness when leaving the Abacos, knowing that life will return to its usual hectic pace. It took 31 hours to get to the Bahamas, so we left hoping to return to Fort Pierce in time to check into customs on Saturday.
Rich and a small, thirsty hitchhiker   © Kim Brew
We had a following wind and sea. This means that not gybing is not easy. We wanted to use the mainsail to help with speed. Once again I had the night shift after everyone went to sleep, and holding the course was much easier because I wasn't worried about knocking someone's head off with an unexpected gybe. I could see lightning in the distance but it never stormed on us. The traffic was even busier than it was on the way to the Bahamas.
Then the motor sputtered and quit. I woke Rich to help with adding more fuel, not thinking that in this vast ocean we would be in anyone's way. I couldn't have been more wrong! While we were drifting in circles adding fuel to the tank, we heard a loud, low horn. We looked up and – Holy Cannoli! – there was a tug pushing a cargo barge coming right at us. They were flashing lights at us, probably wondering what the crazy people doing donuts in their path were thinking. We quickly restarted the motor, but which way to go?? We couldn't see their running lights until we crossed them, and then we could see the light on the starboard side. The barge was at least a football field wide, and we must have been too far from the side to see the lights. After that excitement I had to evade a couple more container ships, but at least I knew what to do. I've never felt so small.
We made it to customs just before they closed, and arrived home to an extremely happy dog and cat. The trip was a successful Brew family adventure…hopefully just one of many.
Kim Brew has been sailing for more than 30 years. She and her husband Rich are very active members of The Rudder Club and Epping Forest Yacht & Country Club in Jacksonville, Florida, where they have each held board positions. Kim & Rich and their daughters Shannon and Colleen are all US Sailing certified sailing instructors. "Sailing is a large part of our lives," she enthuses.