By Chuck Gilchrest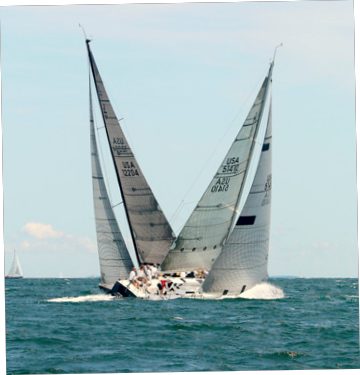 The 43rd Annual Buzzards Bay Regatta, hosted this year at the New Bedford Yacht Club in South Dartmouth, MA from August 7 – 9, offered three days of close competition for nine classes of one-design and handicap fleets in wind conditions that ranged from 10-15 knots on Friday and Saturday to 20-30 knots and five-foot seas on the closing Sunday.
Mark Verville's J/120 Isurus (USA 51410) won the PHRF New England Championship at the 2015 Buzzards Bay Regatta. © Spectrum Photo/Fran Grenon
"The reason sailors come to this event is the wind and the waves," said Regatta Chair MaryEllen DeFrias, "and this weekend we have both!" Additionally, US Sailing's Hobie Alter Trophy brought racers in the F-18 catamaran class to compete for the National Multihull Championships, with Michael Easton & Trevor Burd's Falcon F-18 Ronstan (NENSA) taking the honors with nine wins in 11 races. Ravi Parent (Sarasota Sailing Squadron) finished in second place, with Todd Riccardi's Nacra F-18 Infusion Fly Tradewind (Sail Newport) rounding out the podium in third.
The 420 class filled to its 150-boat capacity once again with class separations for the C-420 collegiate style class and the I-420 class which sails internationally. Annapolis YC's Kathryn Hall & Emily Gonzalez won the 8-boat I-420 fleet while the much larger C-420s split into Gold and Silver Fleets after two days of qualifying. Skipper Jack McGrew and crew Noble Reynoso, of Southwestern YC and San Francisco YC respectively, captured the Gold Fleet title over Thomas Walden & Peter Lynn (Pleon YC and St. Thomas YC). Eduardo Mintzias & Katie Lounsbury (Coral Reef YC) finished third. Boat handling skills on Sunday's championship circle were tested in full as rain, winds, and seas built throughout the morning with gusts well into the high 20s keeping safety boats busy with numerous capsizes and several minor injuries. Race Committee did their best to keep dinghy fleets close to shore in the lee of the land to allow racing to continue through the weekend.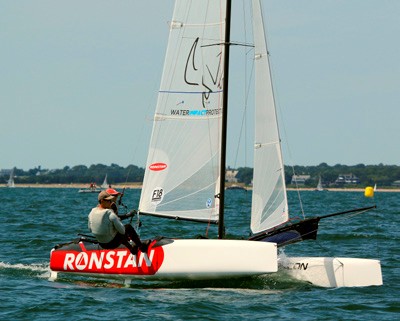 Handicap fleets were treated to more offshore conditions in three PHRF Spinnaker racing classes and one Cruising Class. The PHRF New England Championships were up for grabs, and Mark Verville's J/120 Isurus (Beverly YC) easily won Class 1 in both the Dick Fontaine Memorial Long Distance Race on Friday as well as the overall class win. His closest competition came from Doug Curtiss' J/111 Wicked 2.0 (New Bedford YC) and Betsy McComb's Farr 395 Scheherazade (Eastern YC).
Michael Easton and Trevor Burd sailed their Falcon F-18 Ronstan to victory in the National Multihull Championship and won the Hobie Alter Trophy. © Spectrum Photo/Fran Grenon
A crew from the Massachusetts Maritime Academy captured Class 2 PHRF Spinnaker on their J/105 Good Trade, despite a disqualification following a protest in one of Saturday's races. A pair of J/109s, Cory Eaves' Freedom (Larchmont YC) and Ted Herlihy's Gut Feeling (NBYC) were also on the podium. David Schwartz's Seguin 40 Mischief (Bristol YC) was the winner of Spinnaker Class 3, edging out Ken Deyette's J/35 Jeraboam (Beverly YC) and Diana & Tom Sutton's J/35 Leading Edge (Houston YC).
PHRF Cruise saw Bob Warren of Mattapoisett YC on his Dufour 38 In Deep continue his winning ways at BBR, as he dominated the fleet with wins in all five races. "It was our kind of conditions out there," he said after finishing Sunday's racing in over 25-knot conditions. Warren easily captured top honors in Friday's Long Distance Race as well. Second place went to Albert Signorella's J/100 Sundance (New Bedford YC) and third place to octogenarian Dr. Les DeGroot's Sabre 362 Restless (New Bedford YC).
Rounding out the dinghy classes, first place in the Laser full rig as well as the Master's division went to South Dartmouth's Mark Bear of New Bedford YC. His closest competitor was collegiate sailor Brendan Shanahan of George Washington University Sailing followed by Olympic hopeful Christine Neville (Sail Newport, Fleet 413). The 54-boat Laser Radial division was won by Maryland's Leo Boucher (Severn Sailing Association), who edged Richie Gordon (Cedar Point YC) by two points. Surf City YC's Carrson Pearce was the eventual third place finisher.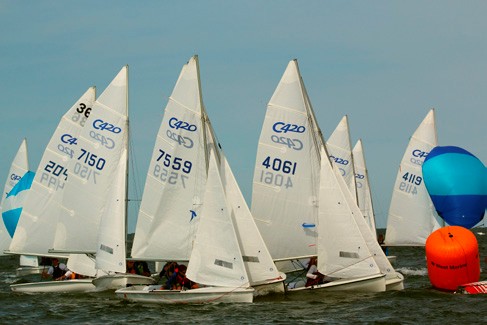 Perennial 5O5 hotshoe Andrew Buttner (NESS) sailed to a 10-point victory, dominating the field ahead of Team Rooster's Tyler Moore. With the 5O5 and F-18 classes racing on the same circle, the brisk conditions on Sunday made for some tight racing and high flying action as boats and athletic crews fought hard to keep the powered-up boats under control. The few spectators venturing out to watch were treated to a fantastic show!
Mark roundings were lively in the 150-boat 420 fleet. © Spectrum Photo/Fran Grenon
Now in its 43rd year, the Buzzards Bay Regatta is run by volunteer members of the New Bedford Yacht Club, Beverly Yacht Club, Low Tide Yacht Club, Mattapoisett Yacht Club and New Bedford Community Boating and is held in alternate years at New Bedford YC and Marion YC. Next year's event will be held August 5, 6 and 7, 2016 at Beverly YC in Marion, MA.
Chuck Gilchrest is the Buzzards Bay Regatta's Publicity Chair. A member of New Bedford Yacht Club, he sailed his C&C 25 Mk 1 Half Magic in the PHRF Cruise division.