By Courtney Moore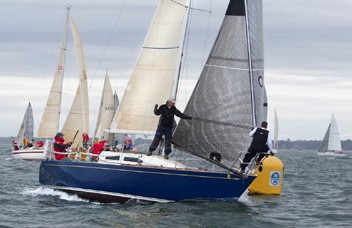 On July 18, a beautiful day, with shifty winds in Fishers Island Sound, sailors on 55 boats in eight classes competed in the Mudhead Benefit Cup Regatta. Organized by the Mystic River Mudhead Sailing Association, the event raises funds to benefit Center for Hospice Care. Participants ranged from junior racers to seasoned sailors from the Southeastern Connecticut community and beyond.
Bob Bruno's Chance Custom 31 Arabesque finished second in Class Three.   © Carl Tjerandsen
In addition to racing, the Mudheads held their annual Mega Party to benefit Center for Hospice Care at the Mystic Shipyard. More than 425 attendees enjoyed great food from Mohegan Sun, Captain Daniel Packer Inne, and Pizzetta, and musical entertainment from Rock N Soul Revue. Thanks to the dedication of many donors and the generosity of sponsors including L+M Hospital and Backus Hospital, the event raised over $25,000.
These funds make it possible to provide bereavement services, free of charge, to any adult or child in eastern Connecticut who needs them, whether or not they have had a loved one in a Center for Hospice Care program. In addition, funds are used to provide quality end-of-life care to anyone who needs it and meets the qualifications, even if they are uninsured or underinsured and unable to pay.
Since 1985, Center for Hospice Care has served more than 14,000 families in eastern Connecticut. Their staff, the most qualified and experienced in the field, is augmented by more than 100 specially trained volunteers who provide companionship to patients and respite to their families.
The fundraising festivities aren't done yet! On Friday, September 11, the Niantic Bay Yacht Club in Niantic, CT will host their annual fundraising party to benefit Center for Hospice Care. To learn more and to purchase tickets, visit hospicesect.org/events.
Established in 1976, the Mystic River Mudheads' mission is "to promote camaraderie and fun among members by encouraging competitive sailing, managing quality races, fostering member participation in racing at all levels, and hosting memorable social events." For more information, log onto mudhead.org.