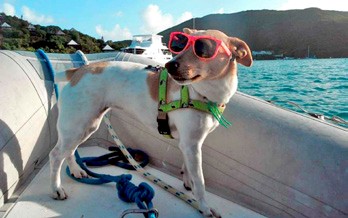 The non-profit Salty Dawg Rally™, which hosts free rallies along the U.S. East Coast and to the Caribbean for sailors with blue water experience, will host a free blue water sailing seminar on Wednesday, September 16 at the historic Edward King House in Newport, RI. Sponsored by Dufour Yachts and Northpoint Yacht Sales, the seminar will feature expert presentations on topics of interest to cruisers:
© saltydawgrally.org
• Blue water passage preparations, presented by George Day of Blue Water Sailing Magazine and Multihulls Quarterly
• Bottom paint selection and characteristics, presented by Mark Andres of Sea Hawk Paint
• Offshore sail repairs, presented by Dave Flynn of Quantum Sails
• Selection & performance of different types of sailing lines, presented by Skip Yale of Bainbridge
• Steering & pump systems, presented by Will Keene of Edson International
• Selection & care of emergency equipment, presented by Jim Connors of Life Raft & Survival Equipment, Inc.
Attendees will also have an opportunity to win a McMurdo Fastfind 220 Personal Locator Beacon in a free drawing sponsored by Life Raft & Survival Equipment, Inc. Seating is limited and advance registration is required. To register, email linda@saltydawgrally.org. With an emphasis on safety, communication and camaraderie, over 390 boats and more than 1,560 sailors have participated in Salty Dawg rallies since the organization was founded in 2011 by blue water sailors Linda & Bill Knowles of Bristol, RI.
The Fall 2015 Salty Dawg Rally departs from Hampton, VA on November 2, 2015 (or the closest weather window date). The Spring 2016 return rally leaves the BVI in mid-May and heads to various East Coast ports or Bermuda. For more information, visit saltydawgrally.org.