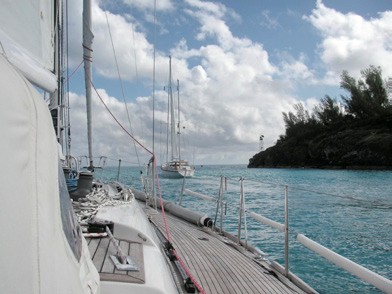 The 16th annual North American Rally to the Caribbean (NARC), which is free for participants to join, departs from Newport RI on November 1, 2015 (or the best weather window near that date). The NARC's primary purpose is to encourage boats heading south from the U.S. East Coast to join together for socials, discounts, and shared weather routing.
"The NARC started as a way to move the Swan charter fleet to the islands, and over the years it has morphed into a much anticipated event for boats making the annual pilgrimage south," said Hank Schmitt, organizer of the NARC and CEO of Offshore Passage Opportunities, a Huntington, NY-based crew network service. "We make a stop in Bermuda and end up down-island, where two exciting new NARC developments will come into play."
New this year is the addition of sponsor St. Maarten Yacht Club, organizer of the annual St. Maarten Heineken Regatta, the first major event of the Caribbean racing season.  The sponsorship puts new emphasis on the NARC's finish in St. Maarten, where the yacht club will host the final party and offer an early sign-up discount for the St. Maarten Heineken Regatta, scheduled for March 3-6, 2016.
Also new is an opportunity to participate in the first annual P.A.Y.S. (Portsmouth Association of Yacht Services) "Yachtie Appreciation Week" on the island of Dominica. P.A.Y.S. is a non-profit organization that provides services and security to visiting yachts, thereby assuring future development of Dominica's yachting industry. Scheduled for February 14 to 21, Yachtie Appreciation Week was organized to celebrate the installation of a new mooring field that Schmitt – working with P.A.Y.S., the Tourism Board of Dominica and generous OPO members and other sailors – has been orchestrating in Prince Rupert's Bay over the last few years.
"All the major rallies go to popular and large islands that can accommodate their numbers," Schmitt explained. "Sometimes, as cruisers, when we explore the smaller, less populated islands and get to know the people, we start thinking not 'What can you do for us?' but 'What can we do to help you?'" During Yachtie Appreciation Week, all visiting yachts will receive free moorings, discounted island tours, and nightly socials. As a bonus, St. Maarten Yacht Club will help organize a Rally/Race to get boats from Dominica to St. Maarten in time for the St. Maarten Heineken Regatta.
"Dominica is 70% undeveloped and so lush compared to the rest of the Caribbean that they export produce to other islands," said Schmitt. The island has a fledgling eco-tourism trade that capitalizes on its natural beauty. Dominica's assets include a nearly 5,000 foot mountain peak, tours on the Indian River and to the second largest boiling lake in the world, and 14 nature trails from one end of the island to the other. For more information contact Schmitt at 1-800-4-PASSAGe or visit sailopo.com.