By Joe Cooper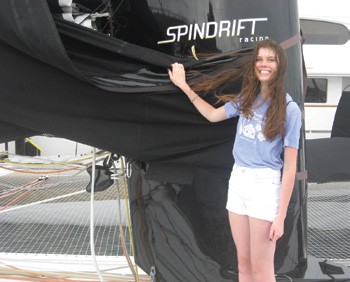 When I started coaching the high school sailing team at The Prout School in Wakefield, Rhode Island seven years ago, I was astounded to learn the sailing season stopped at the end of May. Just when the kids were getting comfortable in the boats, camaraderie was building and I was remembering who was who, it all stopped.
Julia Hopkins, a former member of The Prout School Sailing Team, checks out the wing mast on the 40-meter mega trimaran Spindrift Racing.   © Joe Cooper Sailing
Over the course of the next couple of years as I gained my sea legs in this new, to me, arena, I also became involved with the Junior Safety at Sea Seminars presented by the Storm Trysail Foundation. Then the Ida Lewis Yacht Club in Newport offered a Youth Challenge class in their Ida Lewis Distance Race every August. There was a persistent shift brewing here.
I have great memories of sailing as a youngster and messing around in boats as a teenager and have subsequently learned a lot about everything, all from sailing. These memories got me onto the idea of trying to develop what I now refer to as 'Cooper Kapers' for the high school kids I know. My theory is if the kids learn to love sailing and have a great time, then continuing to sail will grow organically. This idea has been helped by the declining rates of qualified crews to man the local boats and those owners are not in the 'hire a pro' market, so they are fading out of the scene.
Being on a boat, with at least one of their friends (very important), on a nice day with not too much pressure and having someone willing to take the time to explain things to them is a very good way to keep kids interested. But remember that doing this requires you as an owner (and your crew) to take an active role. In terms of what to instruct them in, US Sailing has a great Junior Big Boat curriculum – literally a playbook – and it's printed on waterproof paper to boot. Just follow the instructions and make sure the kids are having fun. The following are some of the ideas and things I have done that fit this profile.
Just go sailing.
If you are going for a sail, checking new sails, moving the boat to or from a regatta, boatyard, cruising grounds, etc., bring a couple of the kids from your club along. There are myriad opportunities for mentoring, technical explanations and sail-trim instruction: anything to do with sailing. I brought half a dozen of the Prout sailors on a trip from Fishers Island to Newport a few years ago. As we sailed into Newport, the America's Cup World Series 45-footers were out practicing. My crew of teenagers was so excited by being in the thick of this that they were still buzzing a couple of days later.
Volunteer at a Storm Trysail Foundation Junior Safety at Sea Seminar.
There are many of these one-day seminars in the Northeast, and one in Newport Beach, CA. Find the local event chairman and volunteer your boat and a day of your time – you'll be surprised by how much you learn. Print and post the flier in your club or marina. This is a great way to meet some dead-keen high school sailors in your area.
Go cruising.
'Cruising' is how the vast majority of sailboat owners use our boats, so set up a day with a few like-minded owners and invite a bunch of young sailors. Sail, say, 10 miles across the bay and anchor, have lunch, swim, chill out and sail home. Bring the Dyer Dhow, Laser, windsurfers and SUPs, and make it fun.
Apprentice racing
If you have a collection of pretty skilled dinghy sailors locally, get a couple of their leaders to organize a youth big boat team. Don't do the actual organizing yourself (sailing is mainly mentoring accompanied by time on the boat), but show them how to do it. For reference, the American Yacht Club in Rye, NY has been mentoring and coaching local high school sailors for several years now. They started out on members' boats, and then some members pooled funds and purchased a dedicated junior big boat, a J/105. This roster of perhaps 30 or so teenage sailors has won class regattas, weeknight races, and the Vineyard Race on their first outing in this Northeast classic. They just won their class, on a 20-year old Tripp 41, in the Block Island Race as part of their preparation for this year's Newport Bermuda Race in the same boat. The crews are all teenagers, with two adults aboard.
Dedicated junior big boat races
The template here in the Northeast is the Dorade and the Beach Point Overnight. These are middle distance races on Long Island Sound and attendance at a Storm Trysail Foundation Junior Safety at Sea Seminar is mandatory for all crew. The skill developed by the young sailors in these seminars and races is invaluable. In the 1996 Dorade Race, that year a day race, one of the kids fell off a 40-footer in hard weather, seas and 25 knots true. The kids crewing the boat pulled off the classic MOB drill, returning and picking up the swimmer, and still finished third.
Sailing industry tours
If you have a sailing boat, you know, or know someone who knows sailmakers, marinas, boatyards, electronics and rigging guys, maybe boat builders, and so on. Organize a road trip to a few of the guys that are in the business of boats. The idea is to make it fun, but also to let young sailors see what's behind the 420s sitting on the docks at the yacht club.
The Cool Boat tour
Granted, Newport is an extreme location with respect to Cool Boats, but in many areas a 50-foot race boat is a big deal. Get a hold of the owner/boat captain and set up some time for the kids to go and have a look at the boat – the dollar tour, if you will. My experience is that they will be all too happy to talk about their boat.
A variation on this was the scene in New York City in May at the finish of The Transat bakerly, a solo race across the Atlantic. Entrants included two 100-foot trimarans, 15 or so IMOCA 60s, and about 10 Class40s. These exotics were berthed at One°15 Brooklyn Marina while the AC45F foiling catamarans in the Louis Vuitton America's Cup World Series were doing battle in New York Harbor. After the Transat, a number of the IMOCA 60s were racing back to France, one of the tris was setting up for a solo record attempt across the Atlantic, and there was a French guy lining up for the same thing but for his size class, a Mini Transat 650, 21 feet long – that would get the attention of any teenager. In early June, several other Class40s visited Brooklyn as part of The Atlantic Cup presented by 11th Hour Racing, which started in Charleston, South Carolina and finished in Portland, Maine.
Follow a regatta.
If there is a local regatta that you are not sailing in, get a few kids on a RIB (or your boat) and go out and watch. Don't forget to keep the kids apprised of what's going on, tactics being used, boatlength rules at marks, spinnaker/crew work, and so on.
Girls just wanna have fun!
Finally, given the increasing participation by young girls in sailing, anytime there is a ladies' event, or better yet, a regular event with a dedicated women's boat, team or crew, contact the team's leading ladies and ask if you can bring some junior sailors, the girls, over to meet the team and have them spend time with each other. Last month, the World Match Racing Tour was in Newport and with a lot of local help I was able to get two young ladies from the Prout Team to spend time with Sally Barkow (former Olympian, Volvo Ocean Race veteran and US Sailing's 2005 Rolex Yachtswoman of the Year) and some of her crew. This morphed into the two young sailors getting to do two races on an M32 catamaran with Sally and the Team Magenta women in the Pro Am in the middle of the regatta (see story/video here). Talk about excitement!
There are plenty of opportunities for scoping out cool boats and getting teenage sailors more involved in sailing than doing laps around the bay in a dinghy. What is needed is the willingness of a few mentors to take it on. I can guarantee from my own experience the effort is well worth it.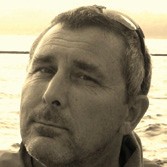 Australian born, Joe 'Coop' Cooper stayed in the US after the 1980 America's Cup where he was the boat captain and sailed as Grinder/Sewer-man on Australia. His whole career has focused on sailing, especially the short-handed aspects of it. He lives in Middletown, RI where he coaches, consults and writes on his blog, joecoopersailing.com, when not paying attention to his wife, teenage son, dog, two cats and several, mainly small, boats.