Story & photos by Molly Mulhern
What do you get when you cross a pair of friends who have loved sailboats for the last 50+ years, a one-tonner looking for a new owner, a pandemic, and Penobscot Bay at one's doorstep? One ton of a refit.
Such is the recent story of Wildwood, a one-tonner designed by Doug Peterson and built by Eric Goetz in the Bristol, Rhode Island yard in 1979-80. She now swings happily on a mooring in the south end of Rockland, Maine, spending summer weekends exploring every nook and cranny of the Maine coast. Midweek she might do some of the same. She even hits the racecourse when her owners are so moved. And no matter which of those activities, Wildwood springs to life under sail, like a thoroughbred kept too long in the barn.
I have to admit to being a complete dimwit about all the one-ton, quarter-ton, half-ton nomenclature, despite 30 years in the nautical book publishing world, where I read a lot about boat design, racing, boatbuilding, and cruising. I did not, however, get it about the rating rules. Truth be told, I still don't. If you ask me to explain what I mean by one-tonner, this is what I will say: it's a sailboat designed to a specific set of criteria, which resulted in boats that were about 36 feet long, with reverse transoms, 50-foot masts, deep keels, small mainsails, and huge overlapping jibs. Plus lots of winches on deck. That's pretty basic, and mostly, kinda right.
What I remember about this class of boats is their tendency to broach, which is one of the first objections to the boat I mentioned to G, my boat partner on Wildwood. And while we—actually he—has experienced this firsthand in our maiden year (I was thankfully hundreds of miles away camping in the Maine woods)—it has not detracted from our pleasure or enthusiasm in the now two-year (plus, we are not nearly done…) project.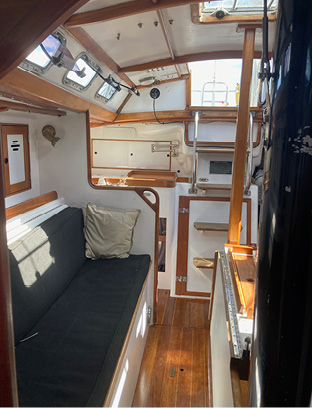 What would entice two friends in their 60s to undertake a 40-plus year old boat in much need of love and care? As with all things boat related: equal doses of sea fever, our mutual insatiable need for adventure, and love of hard work. G is a lifelong boatbuilder, boatyard owner, carpenter, sailboat racer, and cruiser. I am a lifelong casual sailor, and, as mentioned, spent my career publishing how-to nautical books, so we might have known better. Yet I like to think we did know better—something about seeing Wildwood's good bones, her pedigree, the way she could suit our needs for boat to both race and explore the wild shores of New England and beyond. So, when asked, two years ago, if we'd like her, we said yes. We were the third pair to be offered her—third time's a charm.
We began work that first October, just weeks after saying yes, with an eye to get her seaworthy for the following May in Maine. As of that June we were still working out the details of the forepeak chain locker and bow platform for an anchor (no, she had not yet hosted an anchor there—race boat, remember?). The winter had been a sprint—first to get to see what we had, then to prioritize, then to execute. That first year it was clear we needed to attend to basic systems first. We reworked the electrical system, tore out the head and holding tank (replacing it with a composting toilet), redid the engine hosing (fuel lines, redid exhaust), replaced all the hoses on the freshwater system, rebuilt the engine's raw-water intake, and patched a weird soft area in the skeg. Plus the foredeck rework to hold an anchor; build a forepeak anchor locker; add a keel-to-cabin upright in the main saloon to steady the awkward table; find and wire in a solar panel to keep the batteries fully charged when we're off the boat.
Even though we were not in to the water until late June, once in, we sailed her. Hard. Fourth of July weekend we were the only cruisers out—it was cold and windy and we couldn't wait to drop our new mooring (we did the rope work ourselves—a fisherman's mooring—more on that some other time).
Part of what we discovered our first sailing season is that this one-tonner, rigged with a staysail as well as its headsail and mainsail, is a true solid workhorse, a strong, agile, nimble boat that feels different than any fiberglass boat I have sailed. And she should—she is cold-molded mahogany—and still after 40-plus years solid, responsive, and fun to sail. Even when the wind pipes up. It was obvious the suit of sails needed full replacement, so that first season we were able to commission both a yankee cut high-clew jib and a new mainsail, the latter of which we tried out Labor Day weekend. The former we had in time for our first race circuit, the Eggemoggin Reach Regatta and the feeder race that precedes it.
The fun of the first season also included a week-long cruise down to Buzzards Bay, with two trips through the Cape Cod Canal, to deliver an heirloom oil portrait to G's family compound. What better way to return a regal matriarch to her rightful perch?
On the return trip I floated in awe as whales breeched off Stellwegen Bank, kept company with a seagull who hitched a ride aboard in the cockpit during my two night watches—she left at dawn as the sun rose—and were greeted back on our home mooring with a dramatic, fast-moving squall packing gusts over 35 knots that were quickly replaced with hard, short-lived rain, followed by calm and clearing.
The second winter, the one just past, we built a shed for Wildwood in my partner's yard (that first winter we had the luxury of the previous owner's heated garage). The work list was no less daunting: slide the engine forward in the cabin to fully assess the stringers and engine mounts (as well as rework engine itself—rebuilding the transmission, flipping the ring gear, adding a new starter, rebuilding the exhaust manifold, mounting a remote oil change setup, fitting a new shaft seal with vent, reconfiguring, yet again, the water, fuel and exhaust hoses, along with realigning it once all was said and done), painting and re-soundproofing the engine room, reworking the galley with a new larger sink and pull-out faucet (plus pull out the stove, painting and varnishing as much down below as we had time for), dropping the rudder to check all bearings, reworking the "winch farm" on deck (i.e., replacing the several house-top winches with jammers and self-tailing winches). Add to that that I was planning a four-month western adventure far from the Maine coast—which made a six-week dash to launch this most recent season quite the feat. But we did it.
And we even launched her before the solstice last year. That meant our first cruise was again one in which there were few cruisers—the small craft advisory predicting 23+ knot gusts on top of fresh 17 knot sustained winds wasn't enticing to many. We had a blast. The first day the wind was on our port quarter as we sought one of the most sublime anchorages in a nearby island. Of course we paid for it on the second day, our return day, closed-hauled with double-reefed main and a trial of the new staysail reef. Awesome. A bit wet at times—we haven't built the dodger yet. That's on for season three of Wildwood's refit—one-ton of refit still to go. But we're smitten, so it's all a labor of love. ■
Molly Mulhern is a nautical publisher, editor, writer, and champion of all things book- and sailing-related. As past editorial director at International Marine, Molly's aim has always been to publish books that improve the quality of life for sailors and outdoors-people, helping them achieve their dreams. Molly sails and races her one-tonner Wildwood with her partner George out of Rockland, Maine. They would love to encourage other one-ton owners to get in touch—possibly to revive the one-ton racing circuit! In addition to sailing, Molly volunteers her time at the nation's national parks, skis, runs, and pretty much finds any excuse to be outdoors.