The options for an unforgettable sailing vacation are greater than ever. To learn about what's new in chartering, we spoke with Ian Pedersen, Marketing Manager at The Moorings – North America in Clearwater, FL.
WindCheck: What changes are you seeing in the charter industry?
Ian Pedersen: The power catamaran and crewed yacht products are where I see the future of the charter industry. Historically, yacht chartering has been reserved for avid sailors; those adventurers looking to try their hand at sailing in new, exotic destinations on a traditional monohull sailboat. The lure of bareboat sailing certainly has its place and will continue to prosper for years to come. However, increasingly we are seeing the non-sailor market discovering and falling in love with vacationing on the water, and power catamarans and all-inclusive crewed yachts open this world to those who cannot sail themselves but want to experience the lifestyle just the same.
In addition, catamaran sailing has grown exponentially over the past decade. Devoted sailors and beginners alike have fallen in love with this more spacious, relaxed form of sailing. To be sure, some hardcore sailors are monohull purists, but for many charterers on vacation a premium is put on space, comfort, and amenities that make you feel right at home; and modern-day catamarans offer all of the above. Most monohulls are based on performance. Space is limited on deck, in the cockpit, at the helm, and in the galley. By comparison, a catamaran's sole purpose is to maximize space on board. There is twice as much deck space, and the galley, the cabins and cockpit areas are expansive.
One can easily accommodate up to eight guests on a 45-foot catamaran. In addition, new Moorings catamarans come equipped with a generator which powers all the comforts of home: air conditioning, a microwave, hair dryers, stereos with MP3 connections, flatscreen TVs, DVD players, and of course the all-important coffee maker! In short, catamarans these days have become floating hotel rooms.
The only disadvantage (which can be considered an advantage to some) is that a catamaran is not a performance-based vessel. It will not heel over in high winds, and is much heavier in the water. Therefore it is much more stable. In the Caribbean in general, a catamaran's shallow keel means you can sail almost completely worry-free. You can get much closer to shallow shorelines, most notably in the Bahamas, and still have a few feet of water to work with. When you're looking for great snorkeling holes or trying to reduce the distance of your dinghy ride to shore, that extra 50 meters to shore can seem like a long way off. For those looking to truly harness the winds, however, a monohull is still the way to go.
For those seeking a more luxurious sailing experience, all-inclusive crewed yachts are gaining popularity as well. There is certainly a majesty to sailing your own boat with just your friends and family on board. You can do what you want, when you want to do it. If you enjoy sailing yourself, obviously a private charter would be preferable. However, if you're an inexperienced sailor or just looking for a more exclusive vacation, consider a crewed yacht charter complete with a captain and gourmet chef. Imagine waking up to breakfast already made, and drinking your morning coffee on deck while looking out over the horizon as your crew steers you to your next destination. You then decide to go snorkeling for a few hours, and when you return lunch and cocktails are served. Don't know which islands to visit each day? No problem; your crew knows all the best spots to take you. It is sailing in its most serene state.
WC: What are the most popular charter locations?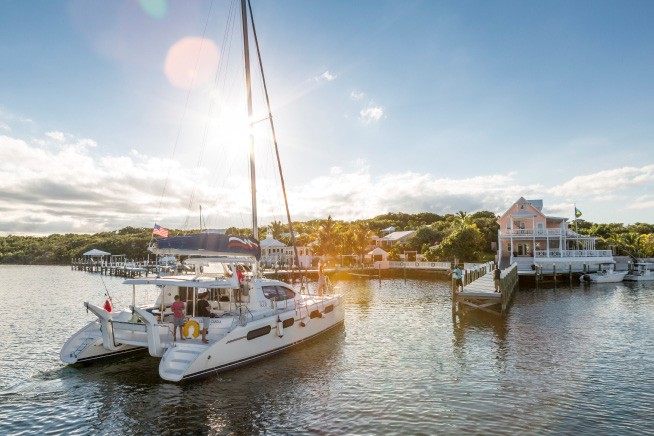 IP: For U.S. and Canadian-based vacationers, most charterers visit the Caribbean due to its proximity and year-round tropical climate, however we also offer charters in the Mediterranean and South Pacific. The most popular destinations we offer are the British Virgin Islands, the Bahamas and Miami, specifically because they are perfect for beginners and seasoned cruisers alike. They are easy to travel to, the waters are calm, navigation is easy, and there is ample opportunity to hop ashore and visit a new beach bar or local marina or restaurant. At the same time, there are lots of opportunities to escape and simply anchor off your own pristine beach for the night. More experienced boaters will enjoy more exotic locations such as St. Martin and St. Lucia, or perhaps the Greek isles or Tahiti where the sails are longer each day, but you are rewarded with some of the most beautiful vistas in the world.
WC: For sailors who want to race, what are some of the regattas you charter for?
IP: If the thrill of racing beckons, why not try it out in warmer climates? The Caribbean racing circuit is healthier than ever, featuring fun regattas in a range of yacht classes to suit racers of every caliber. After the races, there is nothing like dancing the night away with your toes in the sand.
For members of the airline industry, The Moorings hosts the annual Interline Regatta each October in the British Virgin Islands. Effectively kicking off the sailing season each fall, the Interline Regatta has been a BVI institution for the past 34 years, and is an exclusive Moorings event. In addition to this event, The Moorings also participates in the BVI Spring Regatta, the Heineken Regatta in St. Martin, Antigua Sailing Week, the Tahiti Pearl Regatta, Grenada Sailing Festival, and Regatta Time in Abaco.
WC: Which islands do you recommend for sailors with young children?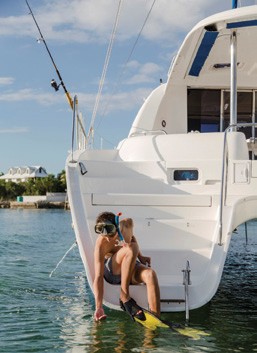 IP: I wouldn't venture to say that particular regions are not ideal for travelers with young children, however a few do stand out as being a little easier to manage while on charter. I would recommend the Abacos, Bahamas, and the British Virgin Islands. In both of these regions the waters are nicely sheltered, and the winds fairly consistent. Only in rare instances will the conditions pick up and be considered "rough" sailing.
There are also plenty of places to go shopping, visit a pristine white-sand beach, go to restaurants and museums, and truly experience everything the destination has to offer. It is the perfect family vacation.
WC: Which islands are the best choices for sailors seeking shoreside activities like hiking, sightseeing and shopping?
IP: For those vacationers seeking a little more adventure, the cruising grounds of St. Martin, St. Lucia and Grenada offer lots of exciting activities on shore, ranging from the world-famous shopping on St. Barth, the world's only "drive-in" volcano and the majestic Pitons of St. Lucia, to the ruins of colonial forts and the colorful, cultural melting-pot of St. George's, Grenada.
To learn more about The Moorings, log onto moorings.com.