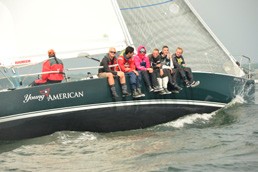 Ninety-eight boats from Connecticut, New York, Rhode Island, New Jersey, Massachusetts, Maryland, Pennsylvania, Texas and Nova Scotia competed in the 81st running of the Vineyard Race. First sailed in 1932, this Labor Day weekend classic is sponsored by Stamford Yacht Club and as always, boats from local waters were victorious in many of the 15 classes.
With the leadership of skipper Peter Becker, the American Yacht Club Junior Big Boat team won, PHRF Class 8, the Corinthian Challenge and the New England Lighthouse Series aboard their J/105 Young American (Rye, NY). © Allen Clark/PhotoBoat.com
Teams can choose to sail one of three courses. The traditional Vineyard Course takes competitors eastward from Shippan Point and out of Long Island Sound the crew of via the Race or Plum Gut, past Block Island and on to the light tower at the entrance to Buzzards Bay, and then westward to the finish in Stamford Harbor, a distance of 238 nautical miles. The 163-nautical mile Seaflower Reef Course stops just short of exiting Long Island Sound, and the Cornfield Point Course checks in at 116 nautical miles.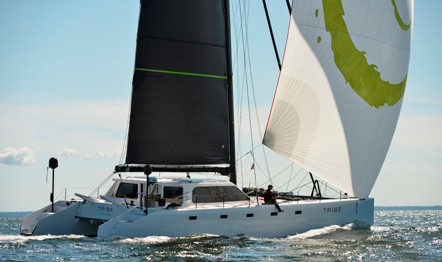 The Vineyard Race is the final qualifier for the Northern Ocean Racing Trophy, New England Lighthouse Series, and Double Handed Ocean Racing Trophy. Event sponsors include North Sails, Chelsea Clock, Mount Gay Rum, Team One Newport, and PhotoBoat.com. For more information, visit stamfordyc.com and vineyardrace.wordpress.com.
The most comfortable sailors in the race were likely the crew of Greg Gigliotti's Gunboat 62 Tribe, winner of the 5-boat Multihull Class on the Vineyard Course.   © Allen Clark/PhotoBoat.com

Co-skippered by Hewitt Gaynor and Tim Curtis, Gaynor's J/120 Mireille (Fairfield, CT) was victorious in IRC Double-handed Class 6 on the Vineyard Course.   © Allen Clark/PhotoBoat.com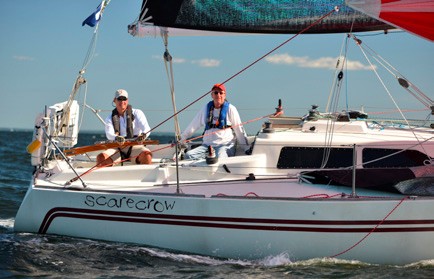 Jim Farrell and Ralph Sheppard sailed Farrell's Soverel 30 Scarecrow (Fairfield, CT) to victory in the PHRF double-handed division on the Seaflower Reef Course.   © Allen Clark/PhotoBoat.com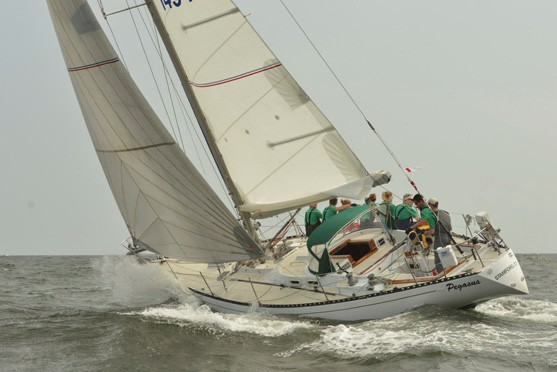 The Breakwater Irregulars team aboard Austin Royle's Tartan 41 Pegasus (Wilton, CT) claimed top honors in PHRF 2 on the Cornfield Point Course. © Allen Clark/PhotoBoat.com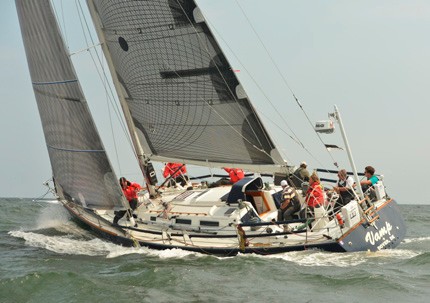 Taking top honors in IRC Class 1 on the Vineyard Course was Lenny Sitar's J/44 Vamp (Holmdel, NJ).   © Allen Clark/PhotoBoat.com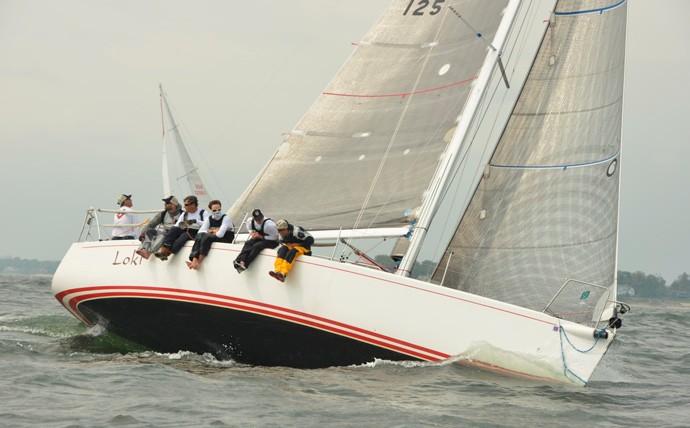 David Rosow's J/109 Loki (Southport, CT) topped the 6-boat IRC Class 9 on the Vineyard Course.  © Allen Clark/PhotoBoat.com