By Colin Rath
Editor's note: This is the ninth installment in a series of dispatches from the Rath family (Colin & Pam, daughters Breana, Meriel and Nerina), who departed Stamford, CT in October 2014 for a worldwide cruise aboard their Hanse 545 Persevere. You'll find previous articles linked below.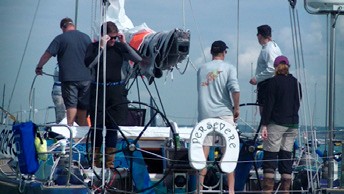 After finishing the Transatlantic Race 2015, we had a week in Cowes, Isle of Wight to readjust to land and restore Persevere to racing status again before our next regatta, the Bicentenary Royal Yacht Squadron Race Week.
Heading out to the start of the Fastnet ©persevere60545.com
The RYS happens to be the yacht club that came up with the starboard right of way rule – that's how established the club is. The other wild thing is the clubhouse is the race committee boat and they use their flagstaff as the starting line and for race signals.
The RYS clubhouse is basically a castle filled with oil paintings and sailing artifacts that are 200 years old – quite a sight. The town of Cowes is busy in the summer with a race week almost every week, ending with Cowes Race Week. This year's 200th anniversary of RYS brought even more boats out on the water, including three J Class boats. RYS had races around marks all week, but we didn't want to beat ourselves up with the Rolex Fastnet Race coming up. So, we only did the Around the Island Race. Which was a beautiful day sail around the Isle of Wight, with 5-knot currents, shifting breeze and a course right through heavy commercial traffic. Racing doesn't get more brilliant than that, the Brits would say. Once the race was over, it was time to do some family travel. I hadn't seen them for a while and kids needed some daddy time.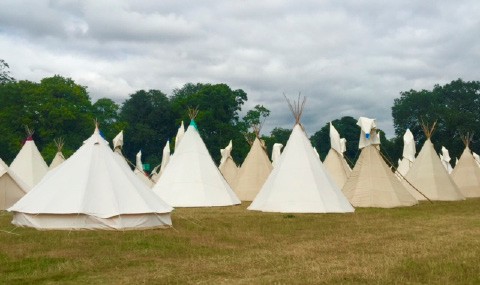 My family went to London for a week and then to Wilderness Fest (wildernessfestival.com) outside Oxford.
Wilderness Festival teepee village  ©persevere60545.com
We had a new crewmember, who joined us in London to help out with home schooling. We flew in Arianna, who just graduated with a teaching degree. She agreed to travel with us for six months and help out. The kids loved her right away, and with non-family member teaching them excelled in school, especially the twins. We had spent six months recruiting Arianna to make sure she was compatible. Now the six of us toured London, doing all the usual London Bridge, Tower of London, and endless wandering the streets of London. Beautiful city, but you need a navigator to use the tube to get around.
After a few days, we drove out to the Wilderness Festival in Oxfordshire, and rented a teepee for four days of the fest. This was not your usual rave. They had eight stages, comedy tents, wilderness crafts tents, empowerment discussions and wood-burning redwood hot tubs, and some of the top restaurants in London had long table dining banquets that we reserved. The kids had a blast making crafts, dancing and we saw an Alice in Wonderland opera. We had nice meals, great music, healthy discussions with locals and enjoyed cricket matches with a sharp wit commentary and multiple streaking interruptions. We found the British quite humorous and enjoyed ourselves. It was an adventure we shall never forget. I would recommend the Wilderness Festival to anyone.
We proceeded to go back to Cowes and prepare for the Fastnet. The crew was returning from travels abroad; some stayed and raced in Cowes Race Week and some new crew was flying in from the states for the race. All would be amassing on the boat, and needed direction to prepare for the Fastnet. The forecast was for light winds, and with the strong tides meant a long race, but it was to pick up later in the week. There were over 350 boats on the starting line. It was quite a sight with the whole channel filled with sailboats from around the world. The navigation screen was just a mass of boat names from AIS positions until you zoomed to the 100-foot screen to actually see anybody. It was nice to see everybody was in the same weather (or lack of it), and we compared our SOG with everyone to see if they had wind or tide advantages.
The Royal Ocean Racing Club takes safety seriously, and requires all entrants to go through a gate prior to starting with their storm trysail and storm jib up…not a bad idea considering the Fastnet's history. Once the masses got cleared out through the Needles, after being carried mostly by the outgoing tide, the fleet began to spread out. Locals kept to shore, and everyone else was scattered about. The first three days were a search for wind, to straight doldrums of making one knot with 35 boats around us.
As we approached the Irish Coast the wind started to pick up, and rounding Fastnet Rock lived up to all it could be. Gray skies, raining, cold and building winds, just as you pictured it, and the Royal Ocean Racing Club has a boat there taking your picture for nostalgia…or proof. We had good winds until the end and placed 39th in our division of 53. Not bad for a first Fastnet. We had a final crew dinner and motored back to Cowes for Pam's Birthday and to start putting the boat to back into cruising mode.
My family had been living out of ABNBs for over 90 days, and were looking forward to moving back aboard. It took me six days to rebuild the boat, put down carpet and move 27 boxes of my family's possessions back aboard. Plus all the repairs that were needed from the races. All looked good to leave for Honfleur, France and we were all set to go when a series of unfortunate events unfolded.
The night before departure, Arianna informed me that she was going home, for personal and family reasons. I told her that was not acceptable, that she had made a commitment, especially since we had paid to fly her over and she had spent a month enjoying England at my expense. Unknown to us, she had made up her mind several days before. She left without saying goodbye to the kids, who were devastated, crying for three days with a deep feeling of betrayal.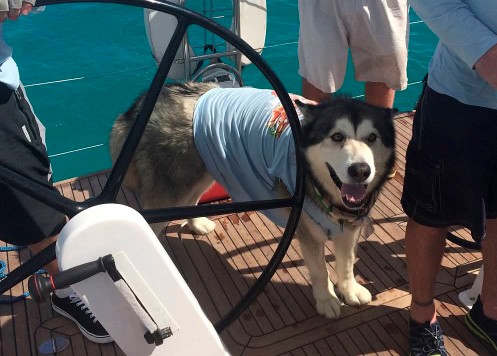 The kids were coming out of that disappointment when tragedy struck. Aspen, our Alaskan Malamute, began having stomach pains the second night in Honfleur We thought it was just gas and gave him a laxative. We walked him around all night until he fell asleep.
Aspen was a friend to all who sailed on Persevere. ©persevere60545.com
In the morning he was bloated and in pain, so we brought him to a local vet. At this point he couldn't even walk. I had to carry him. The vet told us that his stomach had turned and that we must get him to the animal hospital in Le Harve immediately or he would die. We spent a half hour trying to get a cab, but French cabs don't carry dogs and he died in my arms.
Aspen was my first dog. We had visited many vets in several states in the USA to get vaccines for international travel, and never did I hear about the possibility of Aspen turning his stomach. It turns out that there is an operation in which a dog's stomach is sewn to the inside of the body that would have prevented this. We were never told. Aspen was a great dog. He sailed to many countries with us and befriended many people worldwide. He will be missed. Aspen was one of a kind.
Next up for Persevere is the RORC Transatlantic Race (Lanzarote to Grenada) in November. Look for updates on the Rath family's journey in future issues of WindCheck, and track their progress at on their Facebook page.

Previous articles from the Persevere Family Journey:
March 2015 Persevere Cruise: Cuba Libra!
August 2015 Persevere Cruise: Back to NYC