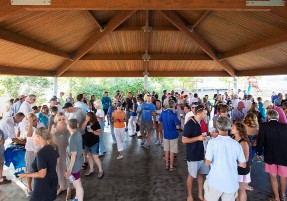 Hundreds of Cedar Point Yacht Club members gathered to commission the Westport, CT club's first major expansion in 50 years, a beautiful open-air pavilion. Westport First Selectman Jim Marpe and Planning & Zoning member Catherine Walsh attended the festivities, and Marpe used oversize scissors to ceremonially cut a giant red ribbon to begin the festivities. CPYC Commodore Harrison Gill officiated at the historical gathering, which was attended by several past commodores and other town and club VIPs.
© Guy Gurney
"Clearly the building is ideal to serve visiting sailors at signature events like the One-Design Regatta, National Championship Regattas, Junior Race Week and similar events, but it also provides a new focal point for dining, sunbathing, dancing, games, social events like weddings, office parties, Wednesday Night Dinners, not to mention utilitarian winter uses by the frostbite sailing program and covered storage for our significant powerboat flotilla and mast storage," Harrison said.
Built to withstand 120-mile per hour winds, the roofed structure measures 50 feet wide and 64 feet long for a total covered area of 3,200 square feet. The patio surface extends out an additional 16 feet along the south and east sides, enhancing opportunities for sunbathing and flexible uses. The club plans to fit the building with removable acrylic side panels for additional weather protection, and has ordered teak furniture for use in the Pavilion and the surrounding sun deck.