By Steve Schwartz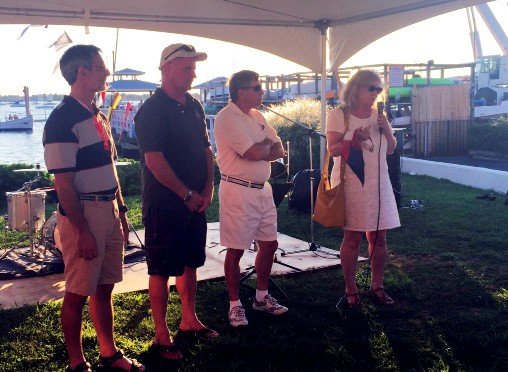 On Saturday, August 22, three Western Long Island Sound yacht clubs joined forces and created a brand new Long Island Sound sailing event. City Island Yacht Club, Huguenot Yacht Club and Manhasset Bay Yacht Club ran the first annual Western Long Island Sound Governor's Cup Charity Regatta. Sails For Sustenance, a Florida-based charity that collects and ships used but still useful sails to Haitian fishermen, benefited from sail donations by participants. At the end of the day, two pallets of sails were sent on their way to Florida.
Adam Loory from Huguenot YC, Paul Strauch from Manhasset Bay YC , Ernie Bivona from City Island YC and Nancy Cronkite, daughter of Walter Cronkite
Thirty-three boats raced in six divisions around an 11-mile long navigational course that began in Eastchester Bay and took competitors around Execution Rocks and Hart Island. The race started at noon in light winds that got even lighter as the day progressed, and while the two fastest divisions sailed the entire course the remaining four classes breathed a sigh of relief as they saw the committee boat at anchor at the drop mark by the Hart Island "Blauzes."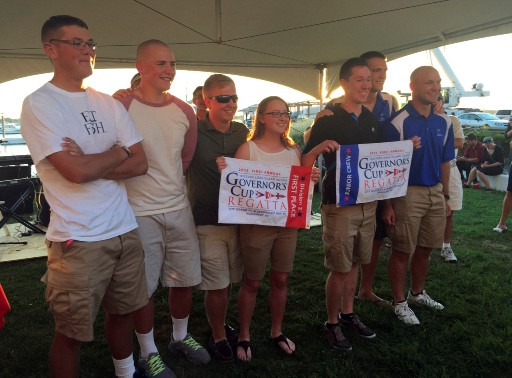 The race was followed by an awards ceremony at City Island Yacht Club, this first year's regatta host club. The hosting of this annual event will rotate between the three founding clubs. First, second and third place prizes were handed out in the six divisions, as well as a team award and a junior crew award won by a youthful group from the United States Merchant Marine Academy at King's Point.
The Division 2 First Place and Junior Team Award winning crew from the U.S. Merchant Marine Academy
The first place winners in each division also have the honor of having their boat's name inscribed on the brand new Walter Cronkite Perpetual Trophy. The tall silver carafe is named for longtime sailor, longtime City Island Yacht Club member, and once "the most trusted man in America," CBS News anchorman Walter Cronkite. Mr. Cronkite's daughter Nancy was on hand to help give out the awards and share her childhood memories of sailing out of CIYC. The plan is for the Cronkite trophy to be on display each year at the host yacht club.
The three clubs began planning the event last December. CIYC Commodore Ernie Bivona says that origins of this unusual three-club sponsorship began at a CIYC board meeting last year. "The board of directors thought it would be a good idea to do something to raise money for a worthy charity," Commodore Bivona explained. "The club had previous charity race experience with The Leukemia Cup Regatta a few years ago, and we were looking to find another organization that would benefit from something like this and we learned about Sails For Sustenance. The fit was perfect…a yachting organization offering gear that helps people feed themselves. We got right on it."
With the event's beneficiary chosen, CIYC reached out to Huguenot YC and Manhasset Bay YC and their response was immediate and enthusiastic. "In Huguenot and Manhasset we found willing and able partners who worked as hard as we did to make this all go great," Bivona enthused.
In an effort to make racing more accessible to all, a navigational course was planned rather than windward/leeward. "It's a way not only to attract very competitive racing boats, but also to bring out sailors who might enjoy a challenging race but normally don't get involved in windward/leeward events," said Bivona. The formula worked. All 33 boats signed up as PHRF entries and ratings ranged from -6 to 228 in three spinnaker and three non-spinnaker divisions.
The post-race awards party, dinner at CIYC was well attended. After an evening of dancing to a live band, many of the racers said that they were looking forward to doing it again in 2016. What does the Commodore think? "Next year it will even be bigger!"
Steve Schwartz of Ardsley, NY is the Regatta Chair at City Island Yacht Club in City Island, where he races his Ericson 36 Glory Days.