By Pepe Bettini, Head Optimist Coach, LISOT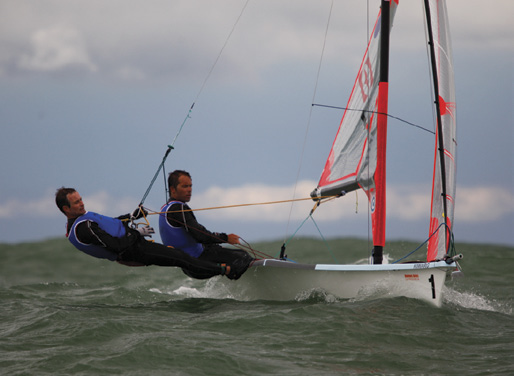 Having the right gear for cold weather racing can mean the difference between standing on the podium and shivering in the RC boat. The author (helm) and his crew, fellow Argentinian Fernando Gwozdz, tied for first place in the 2012 29er Worlds (they lost the tiebreaker and were awarded the silver medal).
© Matias Capizzano
Whether you are a beginning sailor who will visit the water often, or a top sailor who doesn't often end up swimming, you will always get that famous splash just when you're not expecting it, and will always be wet during sailing. Many years ago this was a considerable problem, especially during racing and training early and late in the season when the air or water was very cold. Today it is no longer an issue simply because if you are cold, you haven't chosen the right gear.

© zhik.com
The top brands like Zhik, Gill, GUL, Musto, Atlantis, Henri Lloyd, Sperry Top-Sider and others have developed terrific products for all sailors' success. When it comes to the gear I personally like, and which many of the sailors I coach wear, there are different solutions for different conditions and time of year. For cold weather sailing, to keep your core warm, I like the long john-type suits such as the Zhik Superwarm Skiff Suit or the GUL Code Zero Long John, paired with the Zhik Superwarm Top. These suits are extremely warm, flexible and comfortable, and are key pieces to enjoying a sailing day in a cold weather season. On top of that, you can wear a spray top such as GUL's CZ Hydrophobic Softshell Spray Top or CZ Pro Spray Top. The Zhik AroShell Smock is another great option. All are very comfy and nice looking…and don't forget that looking good will give you 5 more degrees of pointing and some extra speed!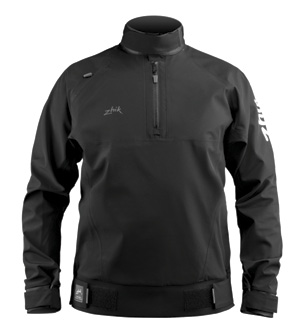 © zhik.com
When it comes to choosing the right footwear, a lot depends on the boat you are sailing, as boots can have either a soft sole or a hard one. For example, when sailing a skiff or cat I prefer soft boots. They give me more flexibility when tacking, which in a 29er involves a lot of physical movement from side to side.
Our head is something that we all need to be able to perform well! So, a good neoprene hat is a very important part of our gear. I never like to cover my ears as I can't hear well, and believe it or not, the wind and water noises are very importantto feel the boat. And of course, it's always nice to be able to hear, "Starboard!!!" instead of "Pim pam pum!"
Hands are the hardest part of the body to keep warm, which is particularly necessary in the early season when the water is still very cold. Some sailors never leave the dock without warm gloves, while others say they simply can't wear them. Personally, I like to sail without gloves even in cold weather because, as a skipper, I like to have the utmost feel of the mainsheet and the tiller. But when I'm coaching in cold weather, I almost always wear gloves.
In some situations, particularly high school and college sailing and the very early spring season training my LISOT (Long Island Sound Youth Sailing Team) sailors do to prepare for Optimist Team Trials (we start training on Long Island Sound in early March), it's critical to have gloves. Most of the top sailors have tried many high performance gloves at one time or another, but most end up going one of three ways.
The basic orange lobster gloves are super-warm, but by the time you are in the water or when you get wet, then you will not be happy at all. And they can be too big to wear. When sailing collegiate 420s, or frostbiting Sunfish or Interclubs, warmth is more important than a light touch on the sheet or tiller. And since none of these boats have a trapeze, skipper and crew can afford to trade off dexterity for warmth.
A second option is to wear warm ski glove liners inside thin rubber Playtex kitchen gloves. The Playtex gloves will usually only last for a few days of sailing, but because they are thin (and inexpensive), they don't hinder your ability to feel the tiller or sheets and can be replaced easily. The third option is a nice pair of gardener's gloves, which are an amazing option for skiff and cat sailing. They are thicker than Playtex kitchen gloves, but not as bulky as the orange lobster gloves.
When it comes trapeze harnesses, it's important to use one that is comfortable. I use a harness that looks like a potato bag – a harness I made myself, but you can buy similar types, such as the Banks Skiff Pro Sailing Dinghy Trapeze Harness. This is definitely the most comfortable harness in the market.
When I used to sail 29ers in cold weather, in places such as Lake Garda, Italy in April, or Lake Silvaplana in Switzerland, I was sponsored by GUL so I was wearing their Code Zero Long John, with the wetsuit long sleeve top, and the Code Zero spray top, soft boots, and a rash guard over my life jacket. No gloves.
When the conditions were extreme, I used a GUL 5mm full wetsuit and a spray top. This was amazing and definitely warm, but I was not able to perform as well as it was too thick for me to move around the boat. Was it cold? That's a good question. I was able to perform just fine, and I must say I was warm, sailing with snow all around me. We used to do two 2-hour sailing sessions a day with hot soup between sessions.
An extra tip for racing days: It's always great to have a heavy weather jacket – the same that the coaches use on their coach boat – to wear between races. In the 20 minutes between races, you stop moving and slowly end up getting chilled without noticing. So it's very important to eat and drink well, as well as stay warm, and once it's time to get back in the action, you can throw that heavy jacket back in the coach boat and have fun. This should help you stay warm and competitive for your next adventure in cold waters!
Pepe Bettini is the Head Optimist Coach for LISOT and a fourtime Silver medalist at the 29er Worlds. He has coached Team USA Opti sailors at several international regattas including the Optimist South Americans and North Americans. In October 2014, he will lead Team USA at Optimist Worlds in his home waters of San Isidro, Argentina. A native of Buenos Aires, Pepe has been sailing all his life.