By Eric Magnusson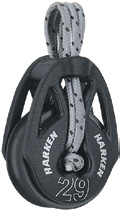 © harken.com
Ever since sailors began competing, they have sought to reduce weight on deck and aloft. Smarter sailors are eliminating metal shackles, replacing them with lashings, soft shackles and splices that allow them to sail lighter with increased safety margins.
Harken's T18 and T2 block range are purpose-built with weight savings, safety and soft attachment in mind. The T2 range contains no metal, which keeps the blocks light and reduces the dangers of saltwater corrosion. They come in single- and double-sheave style, and can be easily spliced or lashed anywhere. The Soft-Attach T2 blocks have a Dyneema loop which provides a quick and secure attachment anywhere you would otherwise use a shackle. The T18 blocks,  available in single- and double-sheave, are crafted from nylon-reinforced carbon fiber for extreme lightness. The T18 and T2 ranges cover many uses from prams to 40-foot keelboats and are very popular with sportboat racers.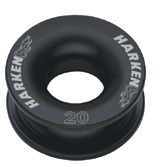 © harken.com
In some places, like highly loaded boom vang cascades and running backstays, traditional blocks have been found to be too heavy and frequently fail because they can't stand up to the abuse. Harken's new Lead Rings are perfect for these applications. These circular anodized aluminum rings have a low friction coating, and are perfectly shaped for splicing into control line systems. They are best used in locations where adjustments are small, like a vang or runner. Lead Rings come in diameters from 8mm to 28mm, which makes them perfect on everything from an Opti to a 100-foot supermaxi.
Eric Magnusson is the running rigging manager at Landfall, and can be reached at 1-800-941-2219 extension 22.