By John Rocco & Jay Primiano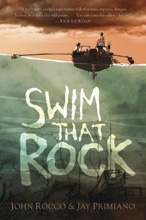 Published by Candlewick Press 294 pages paperback $16.99
After his father is lost in a fishingboat accident, fourteen-year old Jake Cole goes to work as a quahogger on Narragansett Bay. Working hard for long hours, Jake is fiercely determined to save his family's diner from the loan sharks who threaten to repossess it. This well-crafted coming-of-age story is based on the firsthand experiences of co-authors John Rocco and Jay Primiano, who each worked on fishing boats in their youth.
"Jay and I both grew up around fishermen," says Rocco, who created the evocative cover art. "The men in this book serve as the male elders for Jake…when you're eleven years old and you spend ten to twelve hours a day with a bunch of fishermen, the time, the work, and the scars become a rite of passage." There's also a true story behind the title Swim That Rock, although Primiano elaborates, "It's about Jake's personal challenge in dealing with his feelings and beliefs, even when he thinks no one else believes in him. It's not unlike swimming with a big rock."
Recommended for readers age twelve and up, this is a wonderful book to read to your kids. John Rocco, who lives in Los Angeles, CA, is the author and illustrator of several books for children including Blackout, a Caldecott Honor Book. Jay Primiano is a poet, performer and author who started working on a commercial lobster boat at age eleven. A resident of Jamestown, RI, he spends much of his free time teaching his daughters how to catch dinner.