By Paul Jacobs Photos by Nancy Kaull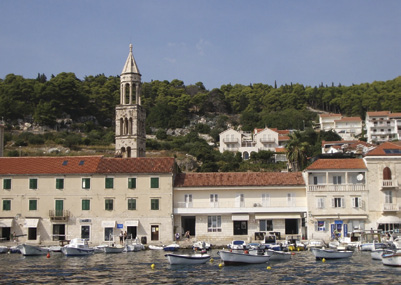 Editor's note: This is the second installment of a two-part article that began last month. If you missed our March issue, you can read Part 1 at windcheckmagazine.com.
© Nancy Kaull
Friday, 25 September provided 5-7 knot NE winds. We sailed NW on a beam reach 15 nautical miles to the town of Hvar, on Otok Hvar, founded by the Greeks in the 4th century BC! The Croatians often "double name" (e.g. the town of Korcula on Otok Korcula, the town of Hvar on Otok Hvar, etc.). Hvar was quite  charming; a mixture of old and new. A long stone quay and central plaza with many shops are surmounted by an ancient fortress. With a balky outboard engine, we always had two oars and two PFDs in the dinghy. Fortunately, the outboard worked fine and we were soon walking about the plaza, eating a rare treat: ice cream!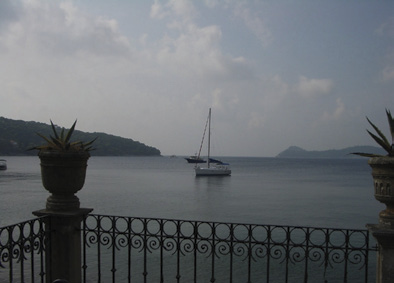 © Nancy Kaull
After wandering about town, (where we found a North Sails loft!), we returned to Vadla, started the engine, weighed anchor, and sailed towards Uvala Vinogradisce ("vino-grad-ee-chay"), which includes multiple coves. One appealing anchorage had two restaurants and 19 boats at anchor, although many departed prior to sunset. We took the dinghy to the dock at a restaurant with white umbrellas on its terrace, climbed stone steps cut into the hillside, and found polished walnut floors, palm trees, linen tablecloths, fine china, and upscale menus. Fish ranged from 300-400 kuna ($60-$80) per person! The wine list was extensive for an isolated restaurant in a small harbor on an offshore island, with Bordeaux wines from 350 kuna per bottle, and 1,200 kuna for a Moet & Chandon Champagne. Deciding that we were not in a position to shift the balance of payments between the United States and Croatia by ourselves, we simply had two local
Croatian beers, and the daily special of stuffed green peppers with a special sauce that was superb. Dinner came with grilled onions, zucchini and French fries, for a total of 222 kuna, ($45 including tip). We walked down the steps in the dark, and thankfully the dinghy engine worked nicely.
Our goal on Saturday was to sail to "The Blue Grotto" on the island of Bishevo, approximately 4.2 NM SW of the larger island of Vis, the west end of which was 17 NM from the SW of Uvala Vinogradisce. We sailed on a broad reach at 4 knots for about two hours, when at 10:30, as usual, the winds died away and once again we had to turn on the engine. Motoring and sailing continued on and off for the next three hours. With such light breezes we were puzzled by the rather confused sea state, with 2- 3-foot waves arriving from two different directions.
The entrance to The Blue Grotto is only about seven feet wide and perhaps three or four feet high so one must enter by dinghy, and the waves near the entrance can make that dangerous. If one's timing is just a bit off, a wave could elevate the dinghy and there would be a very real danger of smashing one's head against the rock entrance. Also, we would have to leave Vadla in a small harbor around a point and out of sight on Bishevo, which did not feel like the right thing to do in confused seas. Sadly, we had to abandon a visit to The Blue Grotto. We decided to sail back about 29 NM towards Vela Luka, in a natural "swallow tail" harbor near the west end of Otok Korcula. It was now Sunday, and church bells were ringing in the distance as we sailed into the harbor.
In Croatian "Luka" means "good," so it seemed reasonable to assume this would be a good place to stop. Things were very quiet in the town of Vela Luca, so we moved Vadla over to the fuel dock, and tied up there so that we'd be first in line to buy diesel when they opened Monday morning. Unfortunately, during some swells the previous night, the Adriatic Pilot (a very heavy hardcover book) fell off the navigation station and its corner landed on the big toe of my right foot. Thus, I was a bit gimpy and not excited about a lot of walking, so we picked a restaurant only 50 meters away, also to keep an eye on the boat while we had an early dinner. Fish was again 300 kuna à la carte. Nancy had calamari and I had Weiner schnitzel, which was very good.
The fuel dock opened at 7 am Monday. We took on 25 liters of diesel, then motored to a nearby cove, anchored, and had a terrific breakfast consisting of an egg omelet with sautéed mushrooms, fried onions and cheese, and pan-fried potatoes and toast. The air was 75° F and the water was still 72° F, although October was only days away. After washing and drying the breakfast dishes, we went for a swim. With little wind, we relaxed in the cockpit. Nancy then went on an ice expedition. Success!…or as much success as one could hope for in a place where the locals drink water or other beverages on a hot day with no ice!
Ever resourceful, Nancy would not give up. She recognized a woman who worked at the restaurant where we had previously dined who spoke some English, asked her where we might buy some ice, and she took Nancy about 100 meters to a fish market with lots of shaved ice. The woman at the fish market spoke no English, but with her translator, Nancy was able to purchase two large bags of ice for 40 kuna.
We then sailed in light northerlies (5-7 knots, later 10- 11 with rare whitecaps), on a course of 100° M for Skervenja Luka (Sher-ven-ya Ly-uka) or "hidden harbor" on the island of Lastovo (Lash-tow-vo). The limestone cliff near the harbor entrance was dazzlingly white, so sunglasses were handy! Once inside, the harbor was lovely and very well protected, hence the water was as still as a millpond. It was definitely time for a swim, to cool off.
The small harbor was not very deep, so the water was 73° F. It was so clear that we could easily see pebbles on the bottom in 17 feet. There were vacation homes lining the harbor, and a restaurant with three boats present. We wondered how a restaurant in an isolated location could stay in business, but they were obviously serving meals on tables under umbrellas placed on a nice stone patio surrounded by blue water, and myriad conifers to the water's edge. The fragrance of the air was delightful. For us this was the quintessential example of a beautiful little spot that was far from the beaten path! We had another lovely dinner in Vadla's cockpit, sipped some Croatian plum brandy and listened to the first two of the six CDs of Tolstoy's War and Peace, my all-time favorite book.
We awoke at about 7 am on Tuesday, with the sun shining through the pine trees on the top of the hill to the east. It was a slightly hazy morning. There were now eight sailboats and one powerboat in the harbor of Skervenja Luka. After breakfast we weighed anchor around 9 am, and sailed 21 NM to the incredibly beautiful Luca Polace on Mljet. This was initially great sailing at 6.5 knots on a beam reach in about 10-12 knots of true wind with whitecaps! This lasted until just after 11 am when, as usual, the wind died away for the noon doldrums. We motored awhile, cut the engine between Lastovo and Mljet, cooled off with a swim in 114-meter deep water, and continued under power. Just before Mljet, at 2 pm, the breeze returned and was too good to pass up, so we continued sailing. With a following breeze we ran down the fiord "wing and wing," and then beat back up, tacking many times in the narrow passage, as an exercise to see how the Jeanneau 36i performs upwind in light air. She is not a racer, but we averaged about 90° double tacking angle; not bad for a cruising sailboat.
At 5 pm we entered beautiful Luca Polace, found an isolated spot probably within 100 yards of where we were anchored eight days earlier, dropped the anchor, swam to check it, and then shifted into to relaxation mode. Nancy marinated chicken in a lemon & mustard sauce with brown rice and steamed carrots in herb butter for supper, served with Cabernet Sauvignon. While we cleaned up, we listened to the last four discs of War and Peace. Times change, weapons change and political systems change, but people basically are little different than they were in 1812. We still have similar fears, aspirations, and frustrations with the twists and turns of our lives…it is just that Tolstoy tells the story so phenomenally well. We retired at 10 pm in a very quiet harbor, by the light of the moon, with the fragrance of pine needles. It does not get better than this!
The last day of September sported blue sky, a few clouds, and bright sunshine. We had uncommonly good weather throughout this voyage, although we would have liked a bit more wind. Be careful what you wish for! Around 10:30 am the breeze arrived so we sailed on a close reach at about 4 knots. We intended to stop at Okuklje, which the Adriatic Pilot indicated was another fine anchorage, but with a nice breeze we sailed around to Saplunara on the southwest side of Mljet, arrived at 5 pm, dropped the anchor in a deserted cove, and tidied up. The last thing I remember was glancing at my watch and noting that it was 9:33 pm.
Thursday, 1 October was significantly cooler (69° F), with the wind out of the east at 10-15 knots with gusts to 20. We weighed anchor and beat about 8 NM towards Otok Lopud. The wind direction slowly veered and we were soon close reaching at 7 knots, as the limited miles whizzed past. We arrived at almost the identical spot where the wrench went into the Adriatic eleven days ago, anchored, and took our final swim in 72° F water. Nancy was unusually hungry, so she made a lovely brunch of potatoes browned in the skillet, fried eggs and toast. After brunch we took the dinghy ashore and explored the tiny town.
Lopud is very quaint, with beautiful stone buildings, more narrow passages and stone terraced restaurants livelier than others we had seen. Apparently Otok Lopud is a vacation destination for many people from Dubrovnik, and this might have been the last major influx of the season. We took the dinghy back to Vadla and read for a while. The wind was out of the SE; an unusual direction in Croatia, but we had a weather shore and about 140 feet of chain out, so all was well. Listening to the local weather forecast in Croatian was an exercise in futility. However, for the first time since we arrived in Croatia we saw cirrus clouds. As a sailor of more than a few years, it has been my experience that when one sees cirrus clouds the weather will change within 12 hours.
© Nancy Kaull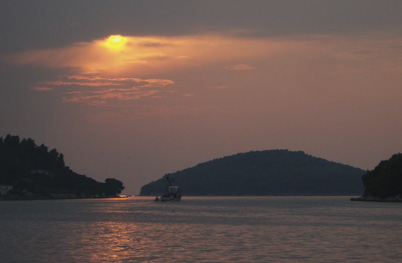 Two hours later the sky filled with clouds, and for the first time we saw no stars in the evening. I reread the portion of the Adriatic Pilot regarding local winds. Most common is the Mistral, a NE to NW wind usually starting in the morning and lasting most of the day. Next is the Sirocco, typically out of the S or SW but occasionally from the SE, it typically brings storms and rain, but is not common in summer. However, it was now October! The Bora is a classic katabatic wind mostly out of the NE, with cold air tumbling down steep mountain slopes, and channeling through mountain passes. The Bora can be very dangerous, with gusts to 60-80 mph in one location, while one mile away the water can be dead calm! From the look of the sky it seemed a good bet a Sirocco would arrive within 12 hours, with much wind and rain. Indeed, at 9 pm we heard thunder and saw some lightning. It began to rain at 10, but with the dodger up we could leave the companionway open to keep fresh air circulating below throughout the night.
Friday morning it was pouring. We weighed anchor, bid farewell to Lopud, and power-sailed with mainsail only as we returned to the Sunsail base. The base was only 8 NM away, so we headed up the river and arrived just after 11 am. The long pier was fully occupied by other boats. Thus, we maneuvered Vadla in the rain, in close quarters, at low speed, to squeeze into one of the few available spaces. At such times, I try to keep the boat moving at 1.5 knots. Too slow and one loses steerage, too fast and a mistake can mean serious damage. During our approach a nice fellow from another boat helped with our docklines. We were soon safely tied to the dock stern-to, with a mooring line off the bow, two to the quay, a springline, and two fenders on each side.
Nancy noticed that many Europeans back up their vessels by standing forward of the wheel while intentionally facing backwards so the boat will behave like a car: turn the wheel to the left, the stern goes to the left, turn the wheel to the right, the stern goes to the right. That seemed like a good idea; we will practice it on Clair de Lune in Rhode Island. If it works well, we will adopt that approach on future voyages. It really is never too late for an old salt to learn a useful new trick!
The rain decreased to a soft drizzle by 1 pm, so after a nice brunch of eggs, potatoes and toast (we like what we like!) we both showered in the clean marina heads, dressed, and took the bus to Dubrovnik, as we had spent little time in this very beautiful old city. A stone wall built in the 11th century surrounds most of Dubrovnik. Except for the tower, the scene reminded me of ocean waves breaking on the rocks at both Monterey, CA and Beavertail on Conanicut Island, RI, two of my favorite oceanside locations in the US. I have no knowledge of who designed the wall or the many workers who built it, but I do know that they did a great job. It not only still stands, but its remains in remarkably good condition.
We walked about the city for three hours. When the rains returned in earnest, we ducked into a cozy coffee shop, where Nancy had tea, I had coffee, and we both ate local pastry that was much like an apple tart. Wandering through narrow stone streets with tight turns was almost like a maze. We probably would have gotten lost, except that one could always tell where the Adriatic was, either by distant view or the muffled roar of waves on the rocks. It continued to rain, sometimes extremely hard, so at 4:40, with some considerable regret at remaining sights unseen we wandered back to the bus station and returned to the Sunsail base.
On Saturday morning we packed our gear, cleaned the boat, and went through the Sunsail de-briefing, noting that except for the windlass and outboard engine problems so early in our voyage, everything worked well, and we never hit anything but wind and water. We then took the bus to the transfer point, changed to the airport bus, and were at the British Airways counter in 45 minutes, and boarded our flight back to the UK. We had a smooth flight back to Boston, took the bus to South Station and the train to Providence, drove home, unpacked, and resumed normal life. We had a truly memorable voyage in an enchanting place that through our Sunsail owner privilege program had cost just $300 for the fuel and turnaround fees, plus food, beverages and airfare, for two weeks in one of the most beautiful places we had ever sailed. We learned about kuna, friendly people, and a better way to steer in reverse. Life was good, and had gotten even better!
This article is excerpted from the forthcoming book Voyages. Nancy Kaull, a native of Newport, RI, and Paul Jacobs, who was born in New York City, have been sailing together for 12 years. They reside in Saunderstown, RI. Since 2009 when they purchased the Jeanneau Sun Odyssey 36i Sandpiper based in Tortola, BVI, Nancy & Paul have sailed as part of the Sunsail owners program in Abaco, Bahamas; Tortola, St. Martin, St. Barths, St. Kitts, Nevis, Anguilla, St. Vincent & the Grenadines, Granada and Carriacou in the Caribbean; Dubrovnik, Croatia, Tugutreis, Turkey and Vounaki, Greece in the Mediterranean; and Raiatea, Tahaa, Huahine, Bora Bora and Maupiti in French Polynesia.
Special thanks to Daniela Clark at TUI Marine for her assistance with this article.