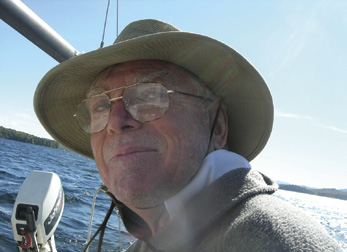 As the founder of Sea-Legs, a non-profit organization in New London, CT, Dick Lathrop has used sailing to provide wider horizons for more than 1,000 underprivileged young people in southeastern Connecticut.
© Judith Saide
"I started sailing at Thames Yacht Club," says Dick, who is a New London native. "My mother and father sailed a 110, and I had several other mentors at the club. An excellent sailor named Stan Secora took me under his wing, and had me crewing on his International 12 when I was seven years old because I was light! I also had a great relationship with Fred Minson, who gave me a lot of responsibility to sail his larger boat when he wasn't available. I was a member of the sailing team at Boston University, and I got to the 1960 Olympic semi-final eliminations in the Finn."
Dick, who coached sailing at Dartmouth College and Mitchell College, says his career as a teacher and college professor was the inspiration for Sea-Legs. "I taught science and math, and wanted to give kids a hands-on example so they could see the usefulness of knowledge and make a connection with subjects they were struggling to learn," he explains. "I thought they would benefit greatly from experiences in the natural world, and sailing has lots of practical applications. If you pull a sail in, you see a result from your action."
"I spoke with the City of New London's Director of Recreation and he said, 'We're a town surrounded by water, and 85% of the kids do not know how to swim.' Most kids here didn't have the water as part of their experience, so I decided to do something about that. When we started Sea-Legs in 1998, I took some kids from an after-school program down to the boat. One of them said, 'I didn't know there was a lake in New London.' He'd studied geography, but the concept that he could get on a boat here and go anywhere in the world hadn't clicked yet. In his first two-hour sail, he got an education that was worth more than eight years of school!"
"Most junior programs focus on competition. Kids learn to race Optimists around the buoys and do things geared toward becoming excellent helmsmen or crew. That's a highly motivated idea, but it has absolutely no traction with kids from poor families or kids who are afraid of the water. We start with a group of kids on a 32-footer, and the first thing we emphasize is that we're a team – responsible for one another's safety and the operation of the boat. The Sea-Legs ethic is cooperation, not competition."
"Our kids are very interested in how a boat is designed, and that you can live on one. Some are very apprehensive when they take that first step, with a fear of the water, fear of tipping over, and fear of sharks. We sail with these kids all summer and then ask, 'Does anybody want to be a leader in our program next year?' Of course all hands go up, and that's where we get traction. They take swimming lessons over the winter and the next season they're on a pathway to leadership, helping new kids overcome their fears."
"Our sailing fleet consists of a Kirby 25, a C&C 26, and an Endeavour 32, our flagship. In a typical season, between 60 and 100 kids come sailing with us. These kids grow up with us. They start at age nine, and many stay with us until they're 18. They take on more responsibility year after year, and by the time they get to high school they have a maritime identity. They see themselves as sailors, and that's our goal."
"Kids that have shown an interest in boating and proven to be responsible are offered apprenticeships that involve repairing and restoring our fleet. We have been given about 15 smaller boats. Some of them are used in our sailing program. All our boats are used to train apprentices. Eventually, every boat in our fleet is sold and the revenue allows us to pay our apprentices and offer scholarships.
We also have a very good success rate of getting kids into college. One fellow, an orphan, had never been aboard a sailboat. On his first trip, I could see immediately that he had gained a grasp of sailing. If we were sailing close-hauled, he could work out which direction we'd be going when we tacked. He was brilliant and an excellent leader, and he became a star in our program. He applied to The Williams School and was accepted a grade level ahead of his age. The school agreed to pay half of his tuition, and we established a scholarship for the other half. He's now in college, with an internship at an international avionics company."
"Our apprentice program has a shop in downtown New London, and in addition to graduates of our sailing program who work on Saturday mornings, we're planning to have groups from the Homeless Hospitality Center. These folks will learn boat restoration and earn some money."
"Our 6th Annual Benefit Night is Thursday, May 1 at Latitude 41º Restaurant in Mystic, and Bruce Kirby is our guest of honor. People are invited to come and have a beer with Bruce at 6:30 pm, then we'll retire to the lecture hall where he will give a talk on the History of Boat Design." For tickets to this event, contact Dick at 860-912-5393 or captain@virtualvoyages.net (write "tickets" as the subject). For more information, log onto sea-legs.org.
"Access to the water means access to other things," says Dick. "Once these kids are given opportunities, they'll go with them."