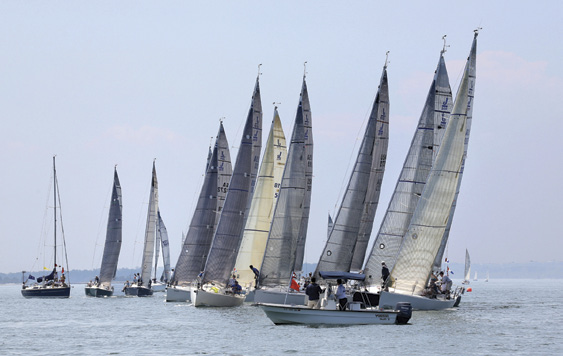 Cedar Point Yacht Club in Westport, CT is gearing up to host its annual OneDesign Regatta on May 31 & June 1. This event is becoming a Long Island Sound classic, offering great competition, great refreshments and entertainment ashore, and no-fuss arrangements put together by scores of CPYC volunteers, all racers themselves. Open to any keelboat class over 20 feet LOA that can muster a sufficiently large fleet, the event frequently hosts national and regional class championships. "Last year's Cedar
© Barry Hyman
"Last year's Cedar Point OneDesign Regatta was the biggest ever," said Regatta Chair Halsey Bullen, "and this year's looks likely to be bigger. We are delighted to be hosting the New England Championships for the J/70s, the East Coast Regatta Series windup for the J/109s, and, for the second year in a row, the Soverel 33 Nationals. It also looks like the J/105s and Beneteau 36.7s will make the cut, and the J/30s, J/92s, and Viper 640s have a shot as well. We have 68 boats registered, months before the first gun. We're planning two racing circles for the regatta, and CPYC will be running its own fleet races on a third circle. Not easy for our small club, but we managed it pretty well last year and our team is looking forward to doing it even better in 2014."
The burgeoning and now International J/70 class will be showing the biggest growth at the event. Last year, the regatta was the first one-design event for the Western Long Island Sound Fleet 15, and Gary Tisdale & Adam Burns' Pig's Ear (Youngstown, NY) topped the 9-boat fleet. For this year's New England Championship, with qualification for the class's first World Championship on the line, Cedar Point has had to limit the fleet to 40 boats and there is already a waiting list. Tim Healy of Jamestown, RI, the 2013 J/70 National Champ, will be racing and also leading a North Sails clinic on Friday, May 30 to help others learn how to make the hot J/70 go even faster.
The J/109 class is making the Cedar Point event the conclusion of its East Coast Regatta series, which also includes the Annapolis NOOD. That should bring out perhaps 15 of these powerful racers, up from 11 last year, with many coming from beyond the Sound.
In the Beneteau 36.7 class, William Purdy and crew of Whirlwind (City Island, NY) will be defending their victory last year, when they were awarded the Rex Marine Trophy for Best Overall Performance. That trophy was a three-foot-tall fully detailed model of the classic J Class anger, and another is up for grabs this year.
"The Viper 640 class had 27 boats at last year's event, their New England Championships," said Bullen. "A more modest turnout seems likely this year. The Soverel 33s enjoyed last year's Nationals so much that they asked us to host it again. The J/30 class has been part of the event since it began 12 years ago and are working to keep that string going. The J/92s enjoyed a rare opportunity to race one-design at last year's event, and we hope they can repeat. And we'd be pleased to accommodate other classes, too. Classes have until May 20 to get sufficient boats registered to participate."
Ashore, everyone will be fed on Friday, Saturday and Sunday night, not to mention breakfast daily. All of those meals included in the entry fee, as is the Saturday night raffle, with many prizes donated by generous sponsors.
The 2014 Cedar Point OneDesign Regatta is presented by Fairfield County Bank and McMichael Yacht Brokers. "Other sponsors so far include North Sails, West Marine, Landfall, Rex Marine, Quantum Sails, and BRYAC Restaurant & Raw Bar, which will put on the raw bar on Friday evening," said Bullen, adding, "More sponsors are welcome to join in! The regatta supports Save the Sound's educational and legal efforts to improve the quality of our wonderful playground." For more information and to enter, visit cedarpointyc.org and click on "Regattas."