By Jerry Allen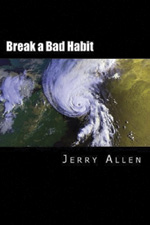 Published by Island Dog Publishing 421 pages paperback
Charter boat captain George Attwood, introduced in author Jerry Allen's first novel, The Resort, is hired by wealthy businessman Arthur Fulton for a cruise along the New England coast. With terminal cancer and his life nearing an end, Fulton charters Attwood's classic wooden sailing yacht Bad Habit in an attempt to reconcile his two feuding sons. He must choose which of them to give the helm of his company, and is hopeful that this final cruise will provide the answer.
When Attwood wakes one morning to find Fulton missing, he heads for Bad Habit's mooring in Edgartown while the Coast Guard conducts a search. Soon after, a megayacht owned by Athos Kallistos arrives on Martha's Vineyard, reigniting a bitter rivalry between Fulton's younger son and the Greek billionaire, whose code of ethics includes ordering his crew to steal lobsters from pots in the waters around the island. With this conflict brewing, the arrival of a powerful hurricane that will force everyone's hand is imminent.
A native New Englander, Jerry Allen owns a cabinetmaking and boat carpentry shop on Martha's Vineyard. His other novels include The Resort, Bad Habit at Martha's Vineyard, and Cast and Blast.