By Susan Ryan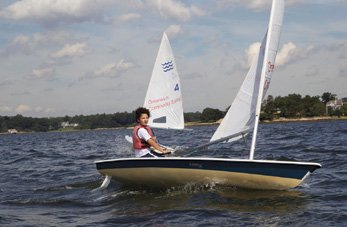 Learning to sail opens young children to an expanding world of ideas and the possibility of broader horizons.
– Tom O'Connell, the new Chair of the Young Mariners Foundation
© Susan Ryan
Jacob Romero spends his after-school hours at the Boys & Girls Club and was one of 12 students from Greenwich, CT chosen for the Young Mariners program – at first timid, insecure and a little afraid of the water and very apprehensive of the sharks he thought were out there. After a fun year of swim tests, CPR training, intensive on-water sailing at Greenwich Community Sailing, 'big boat' days given by local yacht clubs, and completing the United States Power Squadrons® safe boating course, Jacob is now a mentor for the current program; confident, proud, and happy to encourage the timid newbies that are looking for those sharks.
The Young Mariners Foundation (YMF) was founded in 1997 by a Stamford family who wished to create a meaningful memorial to their son, who was an avid sailor. Since then, the program has grown and now includes children from underserved families in Greenwich. Over 2,300 students have participated and benefited from the program. Approximately 80% are in the free/reduced fee lunch program at school, and others are chosen because they are struggling in school due to learning or physical disabilities. Based on the Connecticut STEM (science, technology, engineering and math) standard, the curriculum is implemented through a combination of swimming, classroom activities and field trips.
Our interventions have consistently shown that students involved in our programs:
• Increase their comprehension in math, science and social studies.
• Learn greater confidence and the importance of teamwork.
• Develop higher problem-solving abilities.
• Gain respect for themselves, the process of civic engagement and nature.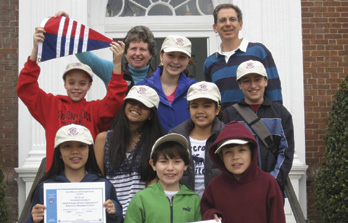 © Susan Ryan
Kevin Wing won't know anything about STEM, but is certainly the beneficiary of this education policy. When asked what was good about the YMF he said, "It's helped me in my school work. I learned about angles in sailing school, and that helped me understand angles in regular school. I used to get mostly Ds and Cs – I wasn't doing well in math and writing. Now I get Bs and As, and my As are in math, science and social studies. I get Bs in writing, but I don't think sailing helped me with writing." However, we believe that his increased selfconfidence will indeed have helped him in everything – including writing – and his mother vehemently agrees.
The Third Annual "Keeping Kids on Course" event in celebration of the YMF will be held Thursday, May 1 from 6 to 9:30 p.m. at the Indian Harbor Yacht Club in Greenwich. Please join us in honoring outgoing Board Chair, Paul Norton. With a steady hand on the tiller, Paul has led the YMF for the last four years and devoted his time and resources to providing STEMbased educational enrichment to underserved and at-risk students in the Stamford and Greenwich Public Schools.
Cocktails, light supper, dessert and coffee will be served, and there will be silent and live auctions. Ira Flatow, the Emmy award-winning host of NPR's Science Friday, a Stamford Resident and keen sailor, will be attending along with many members of the Connecticut boating community and, of course, some Young Mariners. Also being honored are Rolland Rosati and Konrad Wasnieski, two of our remarkable Junior Instructors who are about to graduate high school and head to college. They are success personified.
If you would like to receive an invitation to the event, please call the Young Mariners Foundation at 203-348-9000, or email events@youngmarinersfoundation.org. For more information, visit youngmariners.org.
Susan Ryan is the Past District 2 Commander of the U.S. Power Squadrons.