By Stewart Thomas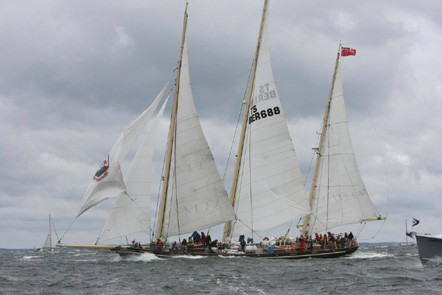 Friday, June 14, 2013 – Thank you, Marion! With your numerous United States and Bermuda flags flying throughout town, and your friendly hospitality, you have taken great care to make us all feel welcome. We would start the race in five hours. As the crew woke up on mainland soil for the last time, the weather was terrible – and perfect. It was 50 degrees, raining, and very windy, with gusts up to 25 mph. This was great for Spirit of Bermuda, a big boat with lots of sail area, a big keel, and a big crew. Spirit loves a stiff breeze.
Thirty-two sailors from around the world sailed the 112-foot Spirit of Bermuda in the 2013 Marion Bermuda Race.  © Spectrum Photo/Fran Grenon
Our crew has divided into two watches, and we have made some good-natured bets on which watch can get Spirit going at top speed.
We are prepared. Our navigator has circumnavigated the globe numerous times, our sail master knows Spirit and treats her like a spoiled daughter, and our captain and crew know every aspect of this beautiful yacht.
The Spirit crew assembled at 10 am, received bunk assignments, stowed our gear, and got ready to set sail. Because of our large number, we were "hot-bunking" (persons from different watches sharing the same bunk). Space is tight, and we brought lots of gear – not because we overpacked, but because this race demands it. The first 36 hours are set in the cold Northern Atlantic still remembering its cold winter. The water was cold and the wind was chilly. Foul weather gear, boots and gloves were required, especially because it was raining.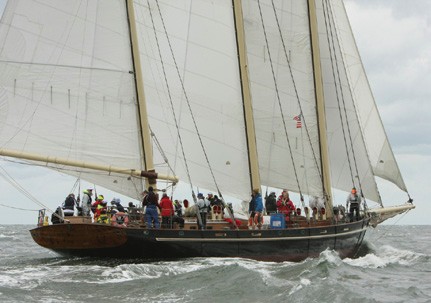 After we motored out of the shallow Marion harbor into open water, we started the process of raising sails: mizzen main, fore main, inner jib, mainsail, and finally the outer jib sporting a huge Bermuda crest. Even with our large crew this process takes an hour. Then, as the cannon sounded, we crossed the starting line under full power doing 12 knots with high-fives declaring that, after months of planning and anticipation, we were finally racing to Bermuda! We screamed down Buzzards Bay, leaving New Bedford to starboard and Woods Hole to port –
The race started in blustery conditions with gusts to 25 knots.   © Spectrum Photo/Fran Grenon
Martha's Vineyard visible through the hole – last was Cuttyhunk Island left to port, and we were in the North Atlantic.
First night
The sea was confused. That precious low-pressure system that gave us the lovely breeze, passed over us and Spirit slowed down. The seas, however, did not. With little wind to provide direction, the North Atlantic turned into a washing machine set on high agitation. Even Spirit, weighing 120 tons, was tossed around like a cork. At one point, we stopped completely: 0.00 knots. But this is not to say we were not moving. What we lacked in forward progress we made up in pitching fore and aft, and rolling side to side – not what we wanted. Finally, a hint of a breeze began to organize out of the north. Growing steadily, the breeze got us up and going again. After a slow jibe over to starboard tack, we rode the heavy seas down toward Bermuda, well past all sight of land.
The shortest route to the finish line was to sail the rhumbline on compass heading 164 degrees. But the strategy of this race is to know when to deviate from the rhumbline to gain an advantage. The most common strategy is to sail to the Gulf Stream and ride its favorable currents and warm breezes toward Bermuda. The Stream is constantly moving, changing, and shifting, requiring constant monitoring to catch it precisely. This is the primary focus of our navigator Larry Rosenfeld, who regularly downloaded updated color maps and charts showing the Stream's current position.
By sundown, we had settled into our routine. Chef Ben served a delicious spaghetti primavera, with fresh chopped parsley and grated parmesan cheese. Our watches went down to four hours, with those off watch heading to the bunks for a quick rest. Now began our task of learning how to sleep amid loud noise and constant movement. Some of us were better at it than others, but we managed. The sun set, a half-moon rose in the southeastern sky, a north wind blew us southward, countless brilliant stars presented themselves, and the Milky Way reminded us of our tiny place in the universe. Phosphorous plankton illuminated our wake, and the occasional dolphin surfaced to greet us and escort us on our way.
Saturday, June 15
It was a crystal blue day, with winds a steady 10 to 12 mph with an occasional whitecap. Breakfast was pancakes, bacon, and eggs cooked to order. Spirit was cruising at 6 to 8 knots. We wished for more wind, but there was not a cloud in the sky and weather reports showed nothing organizing on the horizon. So we set our course for the nearest entry point of the Gulf Stream and peeled off the foul weather gear to bask in sunshine and shorts lazily cruising toward Bermuda.
Searching for a favorable entry point into the Gulf Stream using multiple color maps and projections, our navigation team pored over various scenarios and plotted how to take advantage of the Stream's favorable current. The experienced crew knew that the race can be won by the yacht that best solves the puzzle of the Gulf Stream. Unfortunately, Spirit found this puzzle tough to crack. The projected "knuckle" of the Stream that was to extend north into our waypoint never materialized.
The weather was beautiful: not a cloud in the azure sky and wind from the northwest at 10 to 15 mph. The Atlantic was deep blue and clear with steady seas. The spirits on Spirit were high. As the crew got to know one another better, watches settled into their routine and we shared good-natured humor and cheer. Someone mentioned a desire for fresh fish, so we threw out the fishing line. No bites. Chef Ben prepared a delicious butternut squash and curry soup and a savory onion soup, which we quickly devoured. We all agreed this was the best-fed crossing we could recall. Meals were served at watch changes, so 12 tired sailors came down from their watch at once, peeling harnesses and foulies and scurrying about. At the same time, another dozen bleary-eyed sailors crawled out of their tight bunks, clambered about getting dressed and using the head, then scarfed down a meal before scampering up on deck. We had settled into sea life and were developing our sea legs. Those prone to seasickness were feeling better, and we all moved about the ship more nimbly.
The Gulf Stream is identified by its warm water and warm breeze. And if we could enter it in the right place, it might give us as much as two extra knots of current to push us toward Bermuda. But while the water temperature rose from 63 to 70 degrees, we couldn't quite find the sweet spot of warm water and strong current.
Sunday, June 16
Daybreak, breakfast, and another crew change…the night was beautiful and uneventful. Because we were now on the eastern side of the Stream, the warm breeze meant less foul weather gear to put on and pull off. Dolphins playfully rode our bow wake, providing a reassuring escort. A Saudi tanker appeared, first on radar, then visually, off our port bow. We were on a collision course, so we adjusted our waypoint to pass behind the tanker. Bearing off caused us to lose speed, but we passed safely behind the ship and resumed our course.
This was the best day yet. The sun passed across a nearly cloudless sky, and the wind freshened to 15 mph, crossing directly across Spirit's beam. This provided optimal conditions, and we took advantage. Spirit clocked over 10 knots on a beam reach for almost 24 hours. Assuming this beautiful weather continued, our projections had us crossing the finish line Tuesday evening.
Monday, June 17
At 3:00 am, Starboard watch had relieved Port watch and sent two crewmembers forward to stand bow watch. Light cloud cover veiled the otherwise brilliant stars. Wind was a steady 12 mph and Spirit cruised along on calm seas at 9 knots. We went about our morning chores, such as cleaning the heads – some perhaps doing jobs for the first time.  In the afternoon, we sighted a huge U.S. Navy ship passing to our stern. The dolphins paid us another playful visit, and we sighted many man-o-war jellyfish.
The Gulf Stream's elusive currents were a distant memory, and with yesterday's favorable conditions we now expected to cross the finish line Tuesday morning…much better than our earlier forecast.
As the sun rose gloriously amid light clouds that diffused the rays onto an expansive sky canvas with hues of red, orange, yellow, blue, and green the wind laid a bit as well, slowing Spirit to 6 knots. But the crew's spirits remained high. As our familiarity with one another increased, laughs become louder and conversations more meaningful. We learned each other's tastes in music, the books each is reading, our various sleeping habits, and who keeps a messy bunk. We knew who loses his gear and who loses his temper. We have become like a small family. Often, conversation turned to estimates of how much longer until we arrived in Bermuda, what time of day we would cross the finish line, and what we planned to do first when we hit dry land. A tasty adult beverage was a popular second choice. Showers were the unanimous first choice!
Tuesday, June 18
Beautiful sunrise but no wind…gorgeous clouds but no wind…lovely calm seas but…no wind! Spirit of Bermuda weighs 120 tons. She is a champion in heavy weather. She is the yacht you want when the seas are rough or the wind is high. But for the last two days, a high-pressure system over the mid-Atlantic had produced very little wind to drive us home. So we kept sailing – slowly; averaging about 3 to 5 knots. We were 65 nautical miles from the finish line. Our current navigation tracking software models calculated that we would reach Kitchen Shoals at around 10 pm assuming current weather projections, and much sooner if the wind increased.
Spirit was in this race because Preston walked the plank. Spirit pays for its programs by hosting fundraisers, one of which is a "Walk the Plank" dinner in which our skipper, Preston Hutchings, raised lots of money for Spirit by walking the plank. Together with his friend Patrick McGee from Dallas, TX, who spends much of his summer in Bermuda, they donated the necessary funds to charter Spirit for this Marion Bermuda Race. We were competing for the Captain Ed Williams Trophy, named for the late professional captain from Bermuda who used sailing as a means of teaching. We were delighted that Captain Williams' son Ed was a member of our crew. We were deeply grateful to Preston and Patrick for making this race possible through their generous support of Spirit of Bermuda.
We come from all over the globe: Hong Kong, Dallas, Blackpool, Boston, County Cork, Paris, Lancashire, and of course, Bermuda. This diversity was enriching. We enjoyed stimulating conversations and struggled with various accents and senses of humor. Many of us had family and friends waiting anxiously in Bermuda, making our torturous pace difficult for everyone. Sailing this yacht in light air is quite difficult. Bermuda was directly into the wind and, even though this Bermuda rig was designed to go to windward, she does not perform this task as well as modern yachts. The helmsman must carefully balance a course that keeps the boat headed as close to the wind as possible without stalling
Amen and Alleluia! Wind and fish! Two great things happened at the same time. First, the wind burst open, gusting up to 22 knots. We heeled over and accelerated. We were back in business and might make the finish before nightfall. Great! To top that off, the fishing line we had dragged without any luck for four days through the doldrums suddenly started to scream: Fish on! But we were moving so fast, we could not catch the fish. It simply couldn't be dragged in…it was big. And to catch the fish, we had to stop moving. What? Now? After praying for wind for three days?
Thus begat the classic conflict: fish or sail? For the first time in days, we were sailing over 8 knots. Fantastic! But we could not just cut the line. What to do: fish or sail? Some said sail on. One crew offered to buy everyone fresh sushi as soon as we landed in Bermuda if we cut the line. Others said we had to stop to land the beast. After a spirited debate, we headed into the wind and luffed the sails. For 20 minutes we intentionally stalled so we could land the fish. Finally, amid much reeling and running, shouting and advice, we pulled a 60-pound tuna onto the aft deck! We bore off, trimmed the sails, and celebrated. The sailing contingent re-plotted our course and reset the sails. The fishing crew filleted the tuna and hosed down the deck as we anticipated fresh fish for lunch and a fine finish.
Wednesday, June 19
Having feasted on tuna tartar, tuna sashimi, seared tuna steaks, and tuna pasta with ginger soy sauce, we set our sights on our final approach to Bermuda. All signs were positive, as the wind was up and its direction called for a direct course to the finish. But this is sailing, and things happen. First, the mid-day wind dropped, slowing our progress and adding about eight hours to our estimated time of arrival. Then, the wind shifted so that the finish line was directly to windward!
Recall that Spirit does not go upwind as well as modern yachts, especially in light air, so we had to beat a wide zig-zag toward the finish after dark. With the sun setting and the finish line hours away, Spirit's spirits began to sag. Suddenly, at just the right time, Patrick performed a miracle and produced, out of nowhere, some welcome frosty beverages and snacks…just what we needed. We all cheered, paused for a fabulous team photo, and resumed our course with renewed enthusiasm. The wind increased after sundown, but we just couldn't get to the finish line. We sailed to distant laylines, only to find them short of the mark. We tacked back and forth, searching for the finish line in the dark. Because the outer and inner jibs overlap, the outer jib must be furled each time we tack. Tacking is time consuming and labor intensive, and causes the yacht to slow to a crawl.
The finish line was located between a buoy in the ocean and St. David's Light, but there were dozens of lights in the water: boats, buoys, markers, etc., making it difficult to discern the finish line lights. We finally crossed the line at 2:43 am, concluding our race of 645 nautical miles from Marion to Bermuda. Now another race began – to clear customs. We were instructed to fly our quarantine flag and hold in St. George's Harbor until sunup.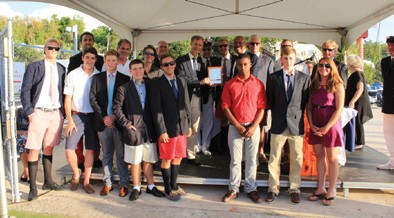 This provided an opportunity for a champagne toast to a safe, fun, and exciting race. We had been up all night, but spirits soared as we celebrated accomplishing our goal of winning our division. We folded and flaked our sails, packed our gear, made the boat shipshape, and raised our ceremonial colors to fly throughout the week-long celebration.
The crew shows off the Captain Ed Williams Trophy at the Royal Hamilton Amateur Dinghy Club.   © Spectrum Photo/Fran Grenon
As dawn broke on a beautiful morning, we pulled in to Hamilton Harbor and docked at the Royal Hamilton Amateur Dinghy Club. Loved ones greeted us with cheers, hugs, and a few tears of joy and relief. We were tired but proud. We started the race as 32 separate individuals from all over the globe. Many of us were complete strangers. We all stepped way outside our comfort zone. Just like the objective of the Bermuda Sloop Foundation, we united over a common purpose. We worked together to accomplish our goal, and in the process we became a team…even more…we became a family. As we stepped off the yacht, I realized that this crew – Preston, Patrick, Alan, Larry, Karen, Ben, James, Sean, Tre, Gus, James, David, Elijah, Steve, Neil, Chris, Mark, Chris, Ed, Will, Max, Deb, Amy, Luke, William, Oliver, Dylan, Dan, Rauiri, Alistair, Willie, and Stewart – we have become the Spirit of Bermuda.
For more information on the Spirit of Bermuda and the Bermuda Sloop Foundation, visit bermudasloop.org. And, find more information at the Marion Bermuda Race website.