Mystic Seaport and Plimoth Plantation Collaborating on Mayflower II Restoration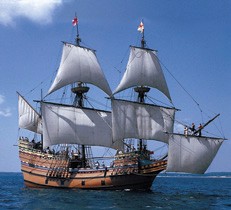 Plimoth Plantation in Plymouth, MA and Mystic Seaport in Mystic, CT, both acclaimed New England history museums, announced a collaborative project to restore and repair Mayflower II, a full-scale reproduction ship owned by Plimoth Plantation. The ship arrived at Mystic Seaport's Henry B. duPont Preservation Shipyard on December 14.
A cohesive restoration plan will be established in conjunction with Plimoth Plantation's Maritime Artisans Program, led by the museum's Associate Director for Maritime Preservation and Operations, Whit Perry. Inspections revealed the ship is in need of a major refit, which is normal for a nearly 60-year-old wooden ship.
© Plimoth Plantation
The ship arrived at Mystic Seaport in December, and a multi-year restoration, honoring the ship's original construction and using traditional methods with the goal of restoring the ship to her original state, is now underway.
"Part of our mission at Mystic Seaport is to pass on the skills and techniques of traditional shipbuilding and historic preservation to the next generation," said Steve White, President of Mystic Seaport. "We are very excited to have the opportunity to help restore Mayflower II so she can continue to tell the story of the Pilgrims and their brave journey to America."
"Mystic Seaport is the clear choice for restoring Mayflower II," said Ellie Donovan, Plimoth Plantation's Executive Director. "She will be in good hands with the Museum's skilled craftspeople and shipwrights. The staff and boards of both museums share pride in this collaboration and profound respect for this treasured ship." The restoration is scheduled for completion prior to 2020, the 400th anniversary of the Pilgrims' arrival, and Mayflower II is available for visitors to view at Mystic Seaport throughout the restoration process. For more information, visit mysticseaport.org and plimoth.org.
Marion Bermuda Race Adds Offshore Youth Challenge, Pre-Race Yacht Rally and Crew Finder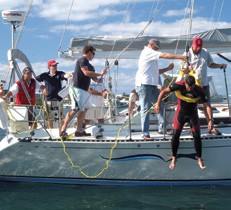 The Twentieth Marion-Bermuda Cruising Yacht Race, a 645-mile ocean race for amateur sailors from Marion, MA to St. David's Head, Bermuda, starts Friday, June 19, 2015. For years, the Marion Bermuda Race has financially supported youth sailing programs in North America and Bermuda. In continuing its mission to foster youth sailing, the race has added an Offshore Youth Challenge class for sailors between the ages of 16 and 23. "The Marion Bermuda Race recognizes that there is an age gap in participants of offshore racing, and understandably so," said Ray Cullum, Marketing Chair. "It requires significant experience and financial wherewithal to participate in a major offshore event such as Marion Bermuda. ©marionbermuda.com
We can help on the financial side by offering low cost accommodations in Bermuda, but where we can really be a factor is by promoting the Offshore Youth Challenge and convincing seasoned skippers to fill out their crew with enthusiastic, capable youth sailors. For years, the Naval Academy and Mass Maritime have fielded boats with a select group of 18- to 23-year-old sailors and done very well."
"If you belong to a yacht club or boating organization, you most likely have a pool of young sailors that would be extremely excited about sailing in an offshore race like the Marion Bermuda," Cullum continued. "But you don't have to belong to a sailing organization. You can put an excellent crew of young adults together from friends and family you sail with. The requirements are simple. Youth crew must be between the ages and 16 and 23 and each boat must have a minimum of four youth crew (additional requirements can be found on the Marion Bermuda website). We have already received an excellent response to the addition of the Offshore Youth Challenge, and a number of boats are ready to participate."
Special housing and dining arrangements in Bermuda will be available for youth sailors, who are encouraged to attend a safety at sea seminar as prescribed in the Notice of Race. Toward that end, race organizers are hosting a Safety at Sea Symposium and Practical Training at the University of Massachusetts in Boston on March 21 & 22. Sponsored by Kingman Yacht Center, Team One Newport, Landfall and Hinckley Yacht Services, the symposium features a very experienced group of speakers who will address topics of vital interest to all serious sailors.
Also new for 2015 is a cruising yacht rally from Maine to Marion in advance of the race. Called the M2M2B, the rally will be an enjoyable and convenient way for Maine-based skippers to sail to Marion as they stage their boats for the race to Bermuda. Hosted by Harraseeket Yacht Club in South Freeport, ME and sponsored by The Hinckley Company, Points East Magazine and Brooklin Boat Yard, M2M2B begins with a welcome reception and dinner at Harraseeket YC on Sunday, June 14, 2015. Yachts will depart South Freeport on Monday, June 15 on an overnight passage to the Cape Cod Canal and onto Marion. M2M2B participants will receive special recognition at the Marion Bermuda Race welcome reception at the Beverly Yacht Club in Marion on June 18. A trophy will be awarded to the first yacht to complete the rally course on corrected time.
A new Crew Finder on the race website allows sailors that want to sail in the race or on the return voyage and skippers looking for crew to exchange information. The secure database will make it easy to match crew skills (navigation, medical, etc.) and experience with the needs of the skipper.
Organized and run by members of The Beverly Yacht Club, The Blue Water Sailing Club and The Royal Hamilton Amateur Dinghy Club, the Marion Bermuda Race is a Corinthian event, with each entry skippered by its owner and none of the crew paid to participate. It is the only ocean race that still awards a trophy for the fastest passage on corrected time by a celestially-navigated yacht.
For more information, visit marionbermuda.com.
East Coast Ocean Series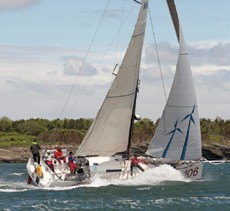 The organizers of three East Coast offshore races have teamed up to create an overall point standings and trophy for sailors to race from Fort Lauderdale, FL up to Newport, RI between April and June. The first event in the East Coast Ocean Series is the Fort Lauderdale to Charleston Race, which starts April 11. This leg will offer teams the option of competing in Sperry Top-Sider Charleston Race Week (April 17-19). The second leg will be the inaugural Ocean Race North, a new offshore event from Charleston, SC to Annapolis, MD that starts May 22. The third leg is the 35th edition of the Annapolis to Newport Race, which starts June 5.
© Billy Black
To participate in the series a boat must race in all three legs, although the same sailors do not need to be on board for all three races. A final trophy presentation and party will be held in Newport following the Annapolis to Newport Race. Signing up for the series is free, and can be completed when registering for the Fort Lauderdale to Charleston Race.
The 408 nautical mile Fort Lauderdale to Charleston Race is presented by Lauderdale Yacht Club, the Storm Trysail Club and Carolina Yacht Club. "We're excited that with the creation of the Fort Lauderdale to Charleston race, there's a new way to get sailors, their boats and crews to Charleston in time to enjoy Race Week," said Race Director Randy Draftz. "The Fort Lauderdale to Charleston Race is also a great first leg of the East Coast Ocean Series. The race starts the Saturday before Sperry Top-Sider Charleston Race Week, and if you're not keen on buoy racing you can sign up for Race Week's Pursuit Class and of course you can then enjoy the next leg, Ocean Race North, up to Annapolis."
The middle leg of the series, Ocean Race North, is presented by Manuka Sports Event Management in Newport, RI, organizers of The Atlantic Cup presented by 11th Hour Racing. "Once we decided to move The Atlantic Cup to a biennial event, we knew there would be a need for an event to bring boats north after the winter," said Race Director Hugh Piggin, Manuka's Co-founder and Managing Partner. "It made perfect sense to tie these three events together and create a unique series to further grow offshore racing." Ocean Race North is open to Class40s and yachts with a current ORR certificate. Class40s, which will be sailed doublehanded, will sail a course of 473 nautical miles, while ORR boats will sail a 512 nautical mile course. Entry details and Notice of Race can be found at OceanRaceNorth.com.
The 475 nautical mile Annapolis to Newport Race is hosted by Annapolis Yacht Club and Newport Yachting Center. In addition to IRC, PHRF and Double-Handed Divisions, and the Cruiser Division that was initiated in 2013, the Annapolis to Newport Race will also have a Class40 division. "Annapolis looks forward to welcoming all East Coast Ocean Series and Ocean Race North participants," said Race Organizer Dick Neville. "Competitors planning on racing in the Annapolis to Newport Race will be hosted by members of the A2N Hospitality Committee." Visit annapolisnewportrace.com for more information.
The Oakcliff Challenge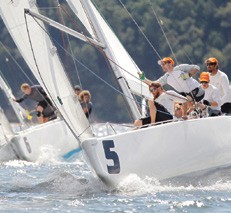 Oakcliff Sailing in Oyster Bay, NY is hosting the inaugural Oakcliff Challenge on June 12-14, 2015. "We created this as a result of the recent discussions in Scuttlebutt about the growing demand for a more exciting, varied, social racing format," said Bill Simon, Oakcliff's Race Program Director. "We are inviting all yacht clubs, sailing centers and college sailing teams to join Oakcliff for three days of multi-format racing. This new and exciting format is a great opportunity to race the sleek Match 40 in high-intensity short course racing, and to learn and apply many of the match racing tactics that will take your fleet racing to another level."
© oakcliffsailing
"A one-day clinic will be run by rules and tactics expert Dave Perry to get teams up to speed in the Match 40s," Simon continued. "Anyone who has been to a Dave Perry clinic can testify to how entertaining, educational and fun the day is. Day two will be a day of short fleet races with real-time coaching, and day three will see the champions crowned after an ISAF grade 5 match race regatta. There will be a fleet race winner, a match race winner and an overall winner. We expect a lot of fun and camaraderie, and teams are welcome to stay in Oakcliff's new Bunkhouse and spend their evenings commingling and socializing." To learn more or to request an invitation, contact Simon at bsimon@oakcliffsailing.org.
New Initiatives for 50th Anniversary Block Island Race Week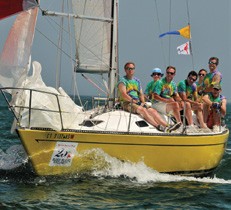 The Storm Trysail Club's Block Island Race Week XXVI will be held June 21-26 in Block Island, RI. With this iconic regatta celebrating its 50th anniversary, the organizers have implemented several new initiatives that include inviting new classes boats, growing youth participation and focusing on environmental awareness. "We hope to have a record turnout to mark the 50th anniversary," said Event Chairman Peter Rugg. "We have assembled a serious A-team to manage the on-water and shoreside aspects of the regatta." With a tradition of world-class regatta management, the Storm Trysail Club is calling on the breadth and depth of its membership to make this landmark event the best one to date.
Dick Neville will again serve as Principal Race Officer, while Onshore Co-Chairs John Fisher and Eric Kreuter and Administration Director Marcy Trenholm lead the shoreside efforts. A dozen other club members are handling other aspects of the regatta's preparation.
"June 2015 marks 50 years since the first Block Island Race Week was held, and the Organizing Committee is pulling out all the stops to make this iconic regatta a memorable one," said Participation Director Joe Cooper, who will be racing his Mini 650 Bushranger in the PHRF Doublehanded class. "A very aggressive outreach to classes and individuals has resulted in registration running almost 45% ahead (39 boats at press time) of the same time for the 2013 regatta."
Several one-design classes are holding major championships at Race Week, including the J/109 Class (North American Championship), the J/105 Class (East Coast Championship), and the Swan 42 Class (New England Championship and qualifier for the East Coast Championship). At press time, the fast-growing J/70 Class had two entrants.
Organizers are also reaching out to several other communities of sailors. The popular Doublehanded Class will return, and invitations have been sent to dedicated shorthanded boats including Class40s and Mini 650s. In the same vein, the organizers are promoting the Classics class for traditional wooden boats. Entrants in the Doublehanded and Classics classes will have one race per day around fixed marks on Block Island Sound, with distances appropriate to conditions. The Race Week committee is also organizing a number of other elements that will embrace junior and youth sailors, conservation, and care of the sea. Particulars will be announced in coming months.
Conceived by Everett Morris and Jakob Isbrandtsen, Block Island Race Week was modeled on Cowes Week in Great Britain. The first Block Island Race Week, created to emphasize both sailboat racing and shoreside fun, was held in 1965. Sailed in odd-numbered year, the event has become a favorite New England summer regatta and a way to enjoy the camaraderie of sailors, family and friends. A detailed survey conducted after Race Week 2013 revealed that sailors return because it is a fun family event with great racing, and that more than 80% of participants found out about Race Week 2013 via word of mouth from their mates. For more information and to register, visit blockislandraceweek.com.
Emily Catherine Fedorko Foundation Supports Safe Boating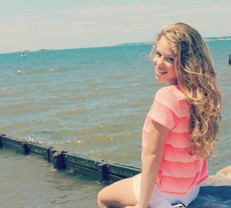 The family and friends of Emily Fedorko, a 16-year-old honor student and athlete from Greenwich, CT who lost her life in a boating accident on Long Island Sound last summer, have established a foundation in her memory.
The Emily Catherine Fedorko Foundation provides funding to support education, advocacy and awareness of boating and water sport safety for adults and children, and will also honor areas of interest in Emily's life including gifts for academic and athletic endeavors.
"Being avid boaters and a family who has grown up spending summers on the shore, we felt it was also important to honor Emily's love for the water," said
© emsway.org
Emily's parents, Pam & Joe Fedorko. "We are very grateful to our community and local businesses for their support to our family and the foundation."
Several Greenwich businesses and organizations have hosted fundraising events, and bracelets designed by the Fedorkos in Emily's memory are available at many local retailers. The foundation will have a booth at the Progressive® New York Boat Show (January 21-25, 2015 at the Jacob Javits Convention Center in New York, NY), as well as the Norwalk Boat Show in September, to build awareness of boating safety. Plans for the spring include providing training for all ages on basic boating and towing skills.
For more information including upcoming events, where to buy the Emily Bracelet, and links to boating safety tips, visit emsway.org.
New Viper 640 Class Website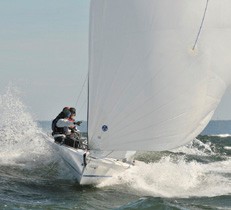 The Viper 640 Class Association has redesigned its website to support a modern, growing class. "From its founding, the class was launched with an interactive website that allowed our members and prospective members to access information, share stories, share boat tuning tips, and engage in friendly banter on the forums," said Viper 640 Class Administrator Buttons Padin. "The growth of the class as an international organization with fleets in Europe and Australia in addition to the USA, Canada, and Bermuda has presented us with the opportunity to upgrade our website and build a global platform."
© Allen Clark/PhotoBoat.com
"The new website has arrived in time for a very exciting 2015 sailing season around the world," Padin continued. "It includes the winter series in Sarasota, FL, the EFG Viper PanAmerican Championship in March in Miami, Long Beach Race Week in California, the Euro Cup on Lake Garda, Italy, the Canadian Championship in Kingston, Ontario, a series of championship regattas in the UK, and the Viper 640 North American Championship in Larchmont, NY in October."
Visit Viper640.org for more information.
Black Rock Sailing School Adding a Facility in Warwick, RI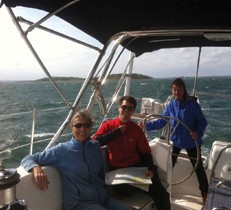 Black Rock Sailing School has opened a new location in Warwick, Rhode Island!  Located just six minutes off of I-95 and only twenty minutes from the Connecticut border, this new location at Brewer Yacht Yard – Cowesett offers instant access to the beautiful and protected waters of Narragansett Bay.
With a focus on quality – not quantity, this award winning sailing school offers internationally recognized certifications through the American Sailing Association (ASA), as well as a sailing club fleet consisting of late model Harbor 20s, Colgate 26s, J/80s, J/105s, and Hunter 33s – with  reciprocity between the school's Massachusetts and Rhode Island locations.
If you are interested in daysailing, coastal cruising, bareboat charter certification, coastal navigation, docking techniques, women's-only classes, performance cruising, or "adventure" cruising classes along the New England coastline and beyond, then check out www.blackrocksailingschool.com to learn more about how Black Rock Sailing School has become "New England's foremost sailing school" since opening their doors in 2008.
Black Rock Sailing School will also be at the Providence Boat Show, January 23 – 25, 2015 and the New England Boat Show in Boston, MA, February 14 – 22.  Stop by their booth to meet some of their instructors and learn more about their program.
Registrations are already being accepting for the 2015 sailing season!
Destino 25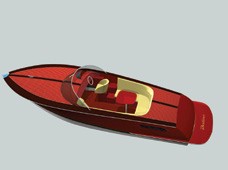 The latest modern classic runabout from the drafting table of Destino Yachts in Branford, CT is the lovely Destino 25. The new design resembles the smaller Destino 20 in both lines, style and execution, but the new bigger version will give the owner opportunity to take friends along for cocktails, and there's enough room forward to accommodate a head.
The Destino comes standard with a built-in icebox, U-shaped seating with a lounge and cockpit cover, easy-access steps behind the helm seat, and a
© destinoyachts.com
retractable pole for extra boarding support. It also features the usual Destino abundance of custom one-off hardware and windshield. Options include a custom made umbrella, sun pad over the aft deck, bar sink in the cockpit, full cover, trailer, transom and swim ladders, ski pole or a transom hook for tubing.
"This is a custom made-to-order boat, so the client will have all the opportunity in the world to make it his or her own," said master craftsman Ole Nielsen, Destino's Founder and President. "The Volvo 380 hp V-8 engine with the duo-prop outdrive will get this baby going 40+ mph. Of course virtually any propulsion system can be installed, be that shafts, jet drive or perhaps a diesel engine. The boat will be in a cold-molded construction, and will be offered either with a painted hull or veneered with mahogany and finished off bright." For more information, visit destinoyachts.com.
Sailo Expanding East Coast Operations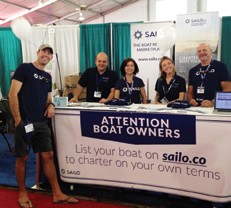 Sailo, Inc., a New York, NY based online boat rental marketplace, is expanding its operations to the entire East Coast this spring. By introducing the cultural shift from a consumer ownership society to a sharing society to boating, Sailo connects boat owners, renters and captains via an easy matchmaking platform.
Boaters of every level of experience can view and compare boats and captains based on date, location, price, size, and user reviews, and create custom trips  without any of the usual hassle.
"When I first came to the US, I was amazed by how difficult it was to simply rent a boat, especially when marinas are packed with unused boats accumulating maintenance fees," said Sailo founder and CEO Adrian Gradinaru. "Sailo makes renting  a boat simple and seamless for everyone, whether you're a user going for an afternoon sail, an owner looking for a better way to charter your boat, or a captain looking to fill your free hours."
"Sailo offers owners both a way to monetize their boats and peace of mind thanks to their insurance and access to licensed captains," said co-founder Delphine Braas. Sailo currently has boats available in New York City, New Jersey, Miami, Fort Lauderdale, Palm Beach and Key West, with more locations coming soon. Visit sailo.com for more information.
Davenport Landing to Revitalize Stamford Harbor's West Branch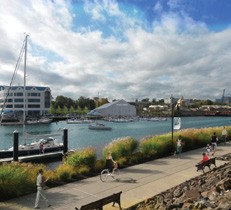 Building and Land Technology (BLT), the developer of Harbor Point in Stamford, CT, recently unveiled plans for a redevelopment of a 14-acre stretch of land the company owns along the West Branch of Stamford Harbor. Designed to increase public access to the Stamford waterfront, Davenport Landing incorporates a mix of public spaces, residential apartments, restaurants, offices and a boatyard.
Plans for the boatyard, at 28 Southfield Avenue, take into account feedback from the Harbor Commission and other constituencies. The full-service boatyard will have deep water  slips; a 60- to 80-ton lift suitable for larger
© harborpt.com
boats and a mast crane; winter storage for more than 500 boats including 154 boats on-site, 100 boats in-water on-site, and 252 boats at the additional storage facility at 205 Magee Avenue; heated indoor storage for boats for winter work; year-round repair facilities; fuel dock; laundry, showers and restrooms; snack bar; pump-out station; dinghy dock; transient dockage; paint facilities; spar storage; boat sales and brokerage; outboard and inboard engine repair and service; marine refrigeration/air conditioning service; and marine electronics sales, installation and service.
In addition to the boatyard, BLT plans to restore the marina at the nearby 14-acre peninsula site at Harbor Point with 220 slips and improved public access. Seasonal and transient slips are also available at Stamford Landing, Harbor Point North Marina, Harbor Point East, and the Crab Shell restaurant. Davenport Landing will have several waterfront restaurants, and many others are located within a block of the Harbor Point Waterfront.
For more information, visit harborpt.com.
Erica Pagnam Joins WindCheck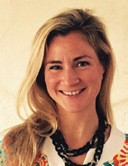 Erica Pagnam has joined the WindCheck crew, and will be working on Business Development and Advertising Sales. Born and raised in Essex, CT, Erica has deep roots in the boating community. Her sailing experience began at age 6 when her father purchased a 30-foot Hunter. At 12, she took sailing lessons at Pilots Point Marina in Westbrook, CT, and during high school she worked at The Chandlery (now Brewer's Marina) as a summer dockhand. "I was responsible for the safe arrival of boats large and small and the general operation of the docks," she recalls. "I was the initial liaison between the boater and his marina, so I took my job seriously."
Erica graduated from the University of Connecticut with a B.A. in Communications and started a career in media and advertising. Having worked for 10 years at Fox and Time Inc., Erica has a diverse background in both sales and marketing. "I am excited to have joined WindCheck Magazine!" she enthuses. You can contact Erica at erica@windcheckmagazine.com.