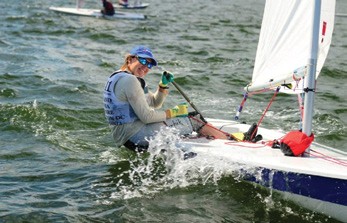 Margaret Podlich, President of the Boat Owners Association of The United States (BoatUS), is the 2014 Darlene Briggs Woman of the Year. The award, sponsored by the Marine Retailers Association of the Americas and Boating Industry Magazine, is presented annually to an outstanding woman in the marine industry.
Podlich has served in various capacities at BoatUS for 20 years. She began her career with the association in 1994, when she was recruited to run its non-profit BoatUS Clean Water Trust. © boatus.com
In 2005, she was promoted to Vice President of Government Affairs. As President, she oversees membership activities, recruitment and retention efforts, government affairs and lobbying responsibilities, and consumer and public affairs. She is also active with the Recreational Boating Leadership Council and the American Boat & Yacht Council, currently sitting on the ABYC Board of Directors, and has served on the U.S. Coast Guard's Boating Safety Advisory Council.
Podlich (shown racing her Laser) was raised in a sailing family. After racing at Tulane University, she competed in several national and international events, including finishing fourth in the 2011 Rolex Women's International Keelboat Championship. She was also a member of the three-woman Team Cronin Yngling crew that competed for a place on the 2008 U.S. Olympic Sailing Team.
"To be in the select group of women who have received this award before me – who build, sell, service and provide 'homes' to the boats that are critical to our half-million members – is very humbling," said Podlich. "I hope the industry recognizes that today, women play a central and growing role, and can offer a valuable perspective when it comes to increasing our customer base."
The award was established in 1987 in honor of Darlene Briggs of Wayzata Marine in Wayzata, MN, the first retail marine saleswoman in Minnesota and the first female member of her state marine trades association.