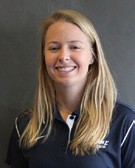 SUNY Maritime in Throggs Neck, NY has hired Morgan Wilson as assistant coach for the Co-Ed Dinghy Sailing Team. "It is great to have Morgan on board," said Head Sailing Coach Zach Runci. "She brings a great new positive attitude to the team."
© maritimeathletics.com
Wilson comes to Maritime after coaching various private teams along the East Coast in regional and national events. A sailor since the age of seven, she put together a strong junior career that saw her finish in second place at the U.S. Sailing Junior Women's Singlehanded Championships. The Maryland native earned her degree in International Studies from Old Dominion University in 2011. As a member of the ODU Monarchs, she qualified for the ICSA National Singlehanded Championships in each of her four seasons with the team.
An avid triathlete who also competes in the local J/24 fleet, Wilson is currently pursuing a Masters in Political Science.
"I'm excited to be joining the coaching staff, and really looking forward to the spring semester," said Wilson. "I'd like to thank Zach for giving me the opportunity to be a part of the program, and look forward to contributing to the growth and success of the team." The Maritime Privateers' spring schedule resumes in mid-February.
To learn more about SUNY Sailing visit SUNY Dinghy Sailing and SUNY Offshore Sailing.