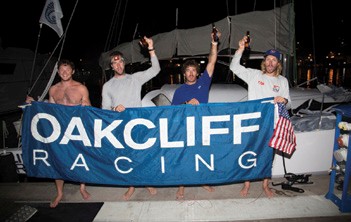 On December 12, Oakcliff Ocean Racing Team finished first in class and second overall in the RORC Transatlantic Race. Dan Flannigan, 23, Hobie Ponting, 23, Chris Kennedy, 26 and Andrew "OD" O'Donnell, 27, completed the 3,100 nautical mile race from Lanzarote, Gran Canaria to Grenada aboard Oakcliff's new Class40 with an elapsed time of 12 days, 13 hours, 15 minutes and 41 seconds.
Andrew O'Donnell, Dan Flannigan, Chris Kennedy and Hobie Ponting celebrate their victory in the RORC Transatlantic Race.   © RORC/Arthur Daniel & Orlando K Romain
"That was epic," exclaimed navigator Ponting at the finish. "We have crossed an ocean – the first time any of us have done it – and it feels fantastic. The last 24 hours was the hardest of all. We had very little wind and it was frustrating having spent days charging along at 20 knots. We have all worked so well together and we have finished this race better friends than we started."
Only two months ago, Oakcliff Sailing in Oyster Bay, NY received a call that the Bodacious Racing Team in Chicago, IL wanted to donate their Class40 to Oakcliff. The detail that the boat was in Hamble, England was quickly remedied when the core of the Oakcliff Ocean Racing Team created and executed a plan that had them flying to the UK with coach Jeffrey MacFarlane, a top shorthanded sailor and an Oakcliff graduate. After taking delivery, the team sailed to the Canary Islands for the start of the race.
"This is just one of the exciting and life-changing opportunities that Oakcliff is providing to young hungry athletes who come to Oyster Bay to test themselves in the extreme world of ocean racing, the uber-competitive match racing world or to aim for the Olympics" said Oakcliff Executive Director Dawn Riley. Applications for Oakcliff's 2015 training programs can be found at oakcliffsailing.org.