The Wisdom of the Waves: Any Time, Anywhere, Any Way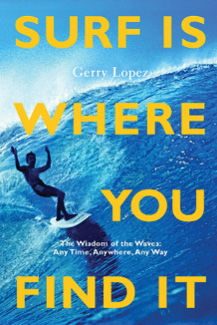 By Gerry Lopez
Published by Patagonia 416 pages paperback $24.95
Our friends at Patagonia have released a revised third edition of what many consider the finest book ever written on the sport of surfing, penned by one of the most revered surfers of all time, the man known as "Mr. Pipeline."
Born and raised in Hawai'i, Gerry Lopez is a legendary surfer, surfboard shaper, journalist, actor, and Patagonia Ambassador. In addition to appearing in such films as Big Wednesday and North Shore as well as numerous surf documentaries including the superb Riding Giants, Lopez also portrayed the character Subotai in Conan the Barbarian.
Regarded as "the coolest surfer on Earth," quiet, serene Gerry Lopez is a free thinker who incorporates Eastern principles and philosophies into his daily life. One of the first surfers to practice yoga in order to improve his surfing, his fearless barrel riding technique made the most difficult maneuvers in the sport look not only easy but also meditative. A waterman's waterman, Lopez shares a collection of forty-one stories about dropping into terrifyingly monstrous waves, epic wipeouts, discovering new spots, and heroes encountered over a lifetime on the water.
This re-launch of Surf Is Where You Find It (originally published in 2008 and reissued with hundreds of amazing photographs) is timed with the release of a new documentary film, The Yin and Yang of Gerry Lopez, produced by equally legendary surfer and skateboarder Stacy Peralta.
Now living in Bend, Oregon with his wife Toni and son Alex, Lopez relishes riding "frozen waves" as an avid snowboarder. An early adopter of wind surfing, kite surfing, tow surfing, SUP surfing, river surfing and foil surfing, he employs his impeccable craftsmanship by building snowboards. You'll find more information at gerrylopezsurfboards.com.
Surf Is Where You Find It preserves memories of bygone surf eras and commemorates those who helped shape surfing as we know it today. You are strongly encouraged, dear reader, to order copies for your favorite young watermen and waterwomen at patagonia.com. ■