By Molly Mulhern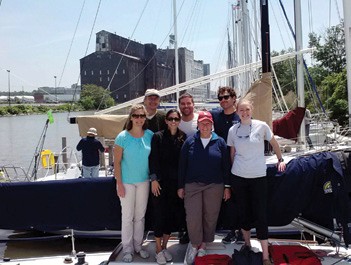 Can you remember how you learned to sail? Chances are you were taken aboard someone else's boat  —  your family's, the one at your local sailing club, your neighbor's — where someone else was at the tiller, had commissioned the boat, had planned the outing. Sailing is unique in that it involves a host of things that have to be coordinated: the boat, a crew, access to water, etc.
The Discover Buffalo Sailing Program has proven to be a great way for skippers and eager crews to meet one another.   © Diana Augspurger
Of course, you can dive in and buy a boat and struggle on your own to learn the ropes, literally, and many do. But rewards come in spades for those of us who were lucky enough to have a mentor or teacher who took our sailing education as their responsibility. And it is just this realization that has prompted many yacht and sailing clubs to begin and foster mentoring programs. The organization and aims of these programs vary, as does their age, from long-term to brand new, but they all share the idea that sailors grow sailors.
Nicholas Hayes, the author of Saving Sailing and an ardent supporter of the sport, is lukewarm about mentoring programs in clubs, seeing them flawed because they depend on passionate volunteers. Such programs often start in a flutter of enthusiasm and then sputter out as those who started them move on or away. This is a legitimate observation, yet not a reason to say "No" to this enthusiasm. We should foster any and all sailing mentoring, however imperfect. It is simply a core way to pass along our love of sailing.
If you doubt the value of such programs, consider what mentoring has done for the Buffalo Harbor Sailing Club (BHSC) in Buffalo, New York. This paper club, with no facilities, boasts over 350 members, with high retention rates from its various mentoring programs. Established in 1977, BHSC is the antithesis of the stuffy, blazered pedigreed yachting scene. Its focus is sailing, with a good dose of racing thrown in. For years, the club has run a popular women's mentoring program that attracts over 200 women annually.
Recently the club began a Discover Buffalo Sailing program, which, for only $60, introduces new sailors to the sport via a 4-week mentored sailing program. The program attracts around 60 folks per year, with 10 to 14 member boats hosting new sailors. They focus the sailing introduction on 30- to 45-year-olds, 30% of whom later join the club. BHSC also runs a Learn to Race program that assigns an experienced racer to a boat for three weeks of racing. Included is a dockside lecture on starts and procedures. Participants in the program are allowed to race for the rest of the year for the cost of a crew membership ($50). The Learn to Race program attracts anywhere from two to four new boats each season.
Buffalo sailor Greg Toole tried the Discover Buffalo Sailing Program in 2013, then quickly found a regular crew spot on one of the race boats. Toole reports, "In only three years with the club I've gone from knowing next to nothing about racing rules, strategy, and tactics to learning that it will take the rest of my life to learn everything! Perhaps more importantly, I've made some really good friends in the process." Toole is now a mentor for the program.
To the south, the Percy Priest Yacht Club in Nashville, Tennessee — another strong "paper club" with no facility but boasting 280 members — began a mentoring program five years ago to ensure that members who enrolled in their boat program had the appropriate skills to use the club's O'Day 23 or Catalina 22. The club's boats can be used for a nominal fee — thereby removing boat ownership costs — and with the help of the mentors (all approved by the Vice Commodore) new skippers gain the confidence and skills to sail off on their own. Piercy Priest also takes a warm and welcoming approach to gain new members by offering two free Learn at the Helm sessions. After those initial tastes of water and wind, the club hopes participants have caught the bug and will join the club for its very reasonable fee, continuing their lessons throughout the rest of the season.
On the left coast, the Santa Cruz Yacht Club in Santa Cruz, California has a highly structured mentoring program that accommodates three to five new sailors a year. This member only program — a big contrast to Buffalo's public program — matches a mentee with a mentor as a means for the mentee to "become proficient in racing, seamanship, cruising under sail, power, and regatta management." Because each mentor-mentee relationship is unique, the learning can be tailored to the new member's needs. A club volunteer interviews the mentees to assess their learning desires and matches them to the appropriate mentor, sealing the deal with a contract so that goals and feedback are shared.
For many clubs informal is best, as it has been for the women in the Beverly Yacht Club in Beverly, Massachusetts, who have benefited from a women's racing network since 1925. This program encourages veteran women racers in the small boat fleets — the Bullseyes and H-12s — to pass the tiller to crew in the second race during the Ladies' Racing Series. These second races aren't scored in the traditional manner so they don't impact the boat's standings, but they are competitive (and the first race in the series is scored) and provide the novice helmswoman a dynamic, mentored way to skipper. New skippers quickly learn tactics, boat handling, and live racing rules. As Deborah Elfers, a winning H-12 skipper in the Beverly Yacht Club says, this program "has encouraged impressive fleet growth, with women buying their own boats, and racing them as they move up in the fleet." You won't find it on the website, but if you are around the club you'll hear about it; if you're female and itching to hop on a race boat your way will be easier because of this legacy.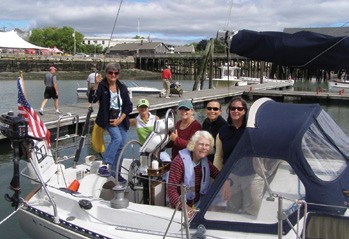 For the first time in its long history my club, the Rockland Yacht Club on the coast of Maine, is unveiling a mentoring program to share knowledge and promote networking. Amongst us we have lots of varied sailing experiences and interests — offshore, singlehanding, night racing, women's boat ownership — that could shared by such a program. It's too early to tell if members will raise their hands to seek mentoring. We are beginning with a dryland, informal evening for women sailors, where we aim to create a program to help one another increase our sailing comfort, experience, and knowledge.
Participants in Rockland Yacht Club's women mentoring program prepare to set sail.   © John and Helen Kuhl
Sailing mentoring programs certainly come and go, as Hayes suggested. Search the web and you will find a few clubs that have mentoring programs. Go one step further and attempt to contact them and you may find a dead end. Passionate volunteers gone missing? Perhaps. But don't let those realities stop you. All it takes is one of us to ignite another sailor to make it worthwhile.
So what about it? Can you find a way to invite someone with less knowledge aboard this summer? Maybe just share a picnic without actually leaving the mooring if they seem apprehensive (and many are). Or if they seem the adventurous type, invite them aboard for that weeknight race. You never know what you might learn from each other, or how you might influence one another. If each sailor in the U.S. and Canada invited just one newbie aboard this summer, we'd grow sailing.  ■
Molly Mulhern is a nautical publisher, editor, writer, and champion of all things book- and sailing-related. As past editorial director at International Marine, Molly's aim has always been to publish books that improve the quality of life for sailors and outdoorspeople, helping them achieve their dreams. She is now consulting and acquiring books for a New York trade publisher. Molly sails and races her Tanzer 22 Ripple out of Rockland, and her J/34C Astraea out of Camden, Maine. Molly is helping the Rockland Yacht Club set up a sailing mentor exchange, volunteering her services as Women's Sailing Mentor.