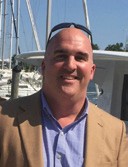 Boating industry advertising and marketing veteran Elio Betty, who joined BoatUS Magazine in 2009 as Director of Advertising, has been appointed Publisher. Betty came to BoatUS after six years with Soundings Publications, where he was National Sales Manager and credited with significantly growing Soundings Magazine's national advertising base. Betty previously held service and managerial positions in the Connecticut marina industry and was the Harbormaster in Rowayton, CT.
Betty developed BoatUS Publications' digital advertising solutions, helping advertisers tap into online and social media, and he also contributes to the Association's marketing efforts working to grow partnerships. In addition to being BoatUS Publications' advertising chief, he was also recently tasked with media planning for BoatUS and the marine insurance division of its parent, GEICO. A resident of Madison, CT, Betty enjoys sailing and fishing on Long Island Sound with his two middle-school-aged sons.
BoatUS Magazine is one of many benefits of membership with Boat Owners Association of The United States (BoatUS), the country's largest recreational boater advocacy, services and safety organization with more than half a million members.
For more information, visit BoatUS.com/magazine.