By Joe Cooper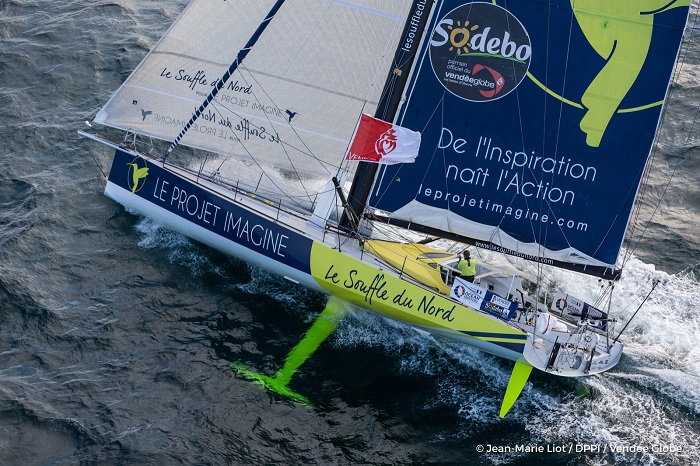 Most of us probably get a variety of sailing info in our mailboxes on a daily, if not hourly, basis, from the America's Cup on down the celebrity chain. Some of us get info on the Vendée Globe. Fewer, in the U.S., would know that at Christmas, Frenchman Thomas Colville blitzed the solo circumnavigation record by eight and a half days, finishing his solo circumnavigation aboard a 102-foot trimaran in 49 days.
© Jean-Marie Liot/DPPI/Vendee Globe
And as I write, (30 Dec), Francis Joyon and five of his mates are blasting across the southern Indian Ocean on their 102-foot trimaran, having a crack at the outright record of some 45 and a half days set in 2012. So at one point a couple of weeks ago there were the remaining, at the time, 25 (of 29 starters) or so Vendée boats, Colville and Joyon all in various parts of the Atlantic and Southern oceans and half a dozen of them travelling at speeds approaching those of the AC cats, viz. 30 knots.
How on earth did we get here from Robin Knox-Johnston's then (still?) epic, first solo non-stop passage of 312 days? Answer: One boat at a time. There is a significant dichotomy between those who 'sail around the world' and those who 'circumnavigate,' and another one for circumnavigating solo and the 'Everest' being those who circumnavigate, solo, non-stop. Rich Wilson, currently underway and moving up the ranks in the Vendée Globe (story at WindCheckmagazine.com) cites, in his book on his last race in 2008/9, that less than 50 souls that have done 'The Big One' solo, non-stop.
When, or if, people think about 'round the world sailing, most likely Joshua Slocum comes to mind. He is, I feel, viewed in some areas as the Godfather of solo sailing. But he has a lot offspring around the world. During World War II, an Argentine named Vito Dumas circumnavigated, of sorts – he was never in the northern hemisphere. On the other hand, he did sail around the Three Capes, the traditional measure of the Southern Ocean portion of the trip. Dumas sailed with no radio, reason being, he writes, he did not want to be thought of as a spy. Ah, the things solo sailors had to worry about in the 'old days.' His yacht of choice predated Knox-Johnston's Suhaili: Lehg II was a 31-foot Colin Archer double-ended ketch.
My early reading in this field, as a kid and then a teenager, included the post war adventures of the Hiscocks. Eric and Susan were among the first to make a go of sailing and funding themselves by writing books and giving lectures and slide shows. Their circumnavigations were in (yet again) a 30-foot wooden boat. NB: All the early pioneers in sailing of any stripe sailed, almost universally, wooden boats with wooden spars, cotton sails, no electronics of any sort, no life raft, and were generally totally reliant on their own smarts. Francis Chichester, Commander Bill King*, Alec Rose, Bernard Moitessier (finally a steel boat), Chay Blythe and Knox-Johnston were my heroes. I read, read again and re-read these books.
Why did this activity – adventure – grab me so much? Perhaps I should've been French, for I think the same way about such sailing as they do. We sail at least as much for the adventure as for the sailing. Moitessier was as much a poet and yogi as a sailor. His stream-of-consciousness narratives from the Southern ocean describe huge waves with tumbling crests, shadowed by the effortless gliding albatross' endlessly paralleling the sea surface with unspeakable grace and simplicity.
As with all things in life, life itself evolves. Following the first Observer Single-handed Trans-Atlantic Race (O.S.T.A.R.), won by Chichester, Francis took off on his great adventure along the Clipper Way, his crack at the voyage around the world to beat the times of the wool and tea clippers from the late 1800s. I was fascinated by his tales and always wondered then, as I do today, 'What Would I Do, in his/their position?' There are so many examples of seamanship beyond description that, if compiled, would comprise a hefty tome. A quick sound bite: Miles and Beryl Smeeton, sailing a 46-foot ketch Tzu Hang from Melbourne, Australia to England in 1956. In the middle of nowhere, in a blow, Beryl steering, boat gets pitchpoled (i.e. stern over bow) down a wave. Appropriate damage, mast by the board, doghouse ripped off, and boat up to the gunnel in water inside the boat: the foregoing is from the book.
The following comes to me one person removed from a participant, one John Guzzwell. Picture the scene (difficult if you have not been offshore in 45-plus knots): nonetheless, imagine (wooden) spars, torn sails, and rigging all over the place, water everywhere, wreckage bobbing around, waves pouring over the boat, wind howling and Beryl in the water at some distance from the boat with, it turns out, a busted and bleeding collarbone. Smeeton and Guzzwell are on deck and Beryl, after swimming back to the boat, single-handed as it were, grabs the gunnel with her good arm and shouts, "I know where the buckets are."**
Other women have had great adventures in the Southern Ocean, mostly less harrowing than Mrs. Smeeton's. An Aussie woman, Kay Cottee, completed a solo circumnavigation in 1987/8 in a production 37-footer beefed up for the purpose. Ms. Cottee was the first woman to circumnavigate non-stop. Her passage was about 10 years after fellow antipodean, a Kiwi, Naomi James, lit off around the world after having been sailing for six weeks. In what would today be hailed as gross fill-in-the-blanks, she managed her lap in 272 days aboard a 53-foot Van de Stadt production boat.
There were relative traffic jams at sea in those days, too. Krystyna Chojnowska-Liskiewicz of Poland was an earlier variation on 'first around the world' and finished just a month or so ahead of James. Ms. Chojnowska-Liskiewicz stopped en route and entered the North Atlantic via the Panama Canal; James' passage was the good ole' fashion 'under the Three Capes' version.
As the tale goes, after the 1980 O.S.T.A.R., a few of the lads were having a quiet one in the Pub on Goat Island and the idea came up that there ought to be something harder to do than the O.S.T.A.R. That is, harder than sailing upwind, across the North Atlantic, in late spring at, sometimes, north of 50 degrees. OK, what could be harder than that? Thus was born the BOC, a four-leg stage race for solo boats up to 60 feet, with the first race subsequently starting in Newport in the fall of 1982. At first it was the race for adventurers, with steel ketches, production Swans, cruising double-enders and old IOR boats comprising the bulk of the fleet. Except for the guy who won, Philippe Jeantot, a Frenchman, sailing a purpose-built boat, sponsored by a bank.
The BOC carried on under various names until it seems to have petered out a few years ago. Sometime in 1988 or 1989, Jeantot decided there was a market for something tougher than sailing around the world solo and stopping only four times. Do it non-stop and without assistance, and so The Vendée Globe was born.
Originally sailed in so called 'Open" boats with standardized lengths of 50 and 60 feet (the 50s were eventually eliminated), the VG has remained the Gold Standard of offshore sailing, solo or frankly with crew. As for today's speeds? Well, around Easter time 1993 I was in France and heard a radio interview with Bruno Peyron aboard an 86-foot catamaran, approaching the finish of something trying to be harder than the Vendée Globe. The Trophée Jules Verne was an idea cooked up by Peyron and some of his mates (probably at a café in La Trinite, France's version of Newport). Basic premise? Sail around the world in under 80 days, hence the name. Romantic even in the naming of their races are the French. The radio clip I heard was Peyron closing the finish in just under 80 days: 79 days, six hours and change. Between Easter 1993 and December 2016, developments in sails and materials, weather data gathering and interpretation, lighter and stronger cordage replacing wire in almost all applications on elite boats – and in the past three years, foils – have given us boats capable of the speeds presently demonstrated. The finishing time for the 2012/13 Vendée Globe was 78 days, 2 hours. At the current pace, the leaders in the Vendée are on track to blitz this time. The two leaders are cracking on at a pace good for a 65-day circumnavigation. The most obvious breakthrough this time is the foils.
It should be noted that the phenomenon of foiling appears to have burst forth fully formed from the 2013 America's Cup. Well, foiling on boats has been around for over 100 years but became much more public after that year's regatta. Behind the ruckus of the America's Cup there is a man who, for over 30 years, has been using foils on multihulls. L'Hydroptere is the life's work of one man, Alain Thébault, a Frenchman. Jules Verne must be smiling.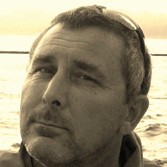 Australian born, Joe 'Coop' Cooper stayed in the US after the 1980 America's Cup where he was the boat captain and sailed as Grinder/Sewer-man on Australia. His whole career has focused on sailing, especially the short-handed aspects of it. He lives in Middletown, RI where he coaches, consults and writes on his blog, joecoopersailing.com, when not paying attention to his wife, teenage son, dog, two cats and several, mainly small, boats.