By Dave McLaughlin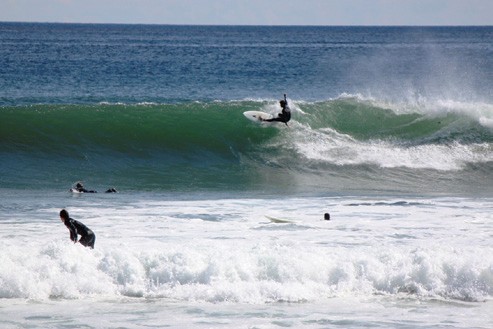 After encountering problems with parking along the Cliff Walk in Newport, Rhode Island after a great day of surfing on a cold winter day in 2006, and growing concerns about water quality in the aftermath of frequent sewage spills and beach closures in Easton's Bay later that year, a group of surfers founded Clean Ocean Access (COA).
Thanks to the efforts of Clean Ocean Access volunteers and partners, surfers along the Newport Cliff Walk enjoy good access and clean waters along Aquidneck Island's shoreline.   © Dave McLaughlin
COA now comprises folks from all ocean activities who share a common thread of living coastally inspired lives, cultivating friendships with a unified desire of working together, taking good care of the environment, and living healthy lives.
In 2016, COA marked 10 years of working hard to protect the environment. While our accomplishments are significant, the importance of our future efforts requires a laser focus. COA has demonstrated that our grassroots citizen science approach brings about meaningful, measurable change, is scalable and transferrable, and is leading the way for the convergence of environmental stewardship and social justice.
COA's mission is "Action today so future generations can enjoy ocean activities," with an exclusive focus on Aquidneck Island's communities of Newport, Middletown and Portsmouth. Our three core programs are strongly held together by community events: (1) Eliminating marine debris from the shoreline (CLEAN) and changing human behavior to improve ocean health; (2) Improving water quality (OCEAN) for permanent year-round clean water, from healthy watersheds to marine ecosystems; (3) Working to protect, preserve, maintain, and expand shoreline access (ACCESS) for residents and visitors.
Last year started with a breath of fresh air as our island-wide effort to prohibit smoking along the shoreline was fully in place, so our CLEAN program went forward with our combined efforts of twice monthly beach cleanups, expanding our flexible cleanup program with participating groups including IYRS School of Technology & Trades, KVH Industries and The Pennfield School, and maintaining our adoption of Sachuest Point National Wildlife Refuge. For the entire year, we removed over 16,000 pounds of debris from the shoreline with the help of over 1,100 volunteers!
Meanwhile, our OCEAN program expanded from our weekly collection of 10 water samples (a program we've been doing since 2006) to working to determine the source of the pollution at area beaches by expanding our efforts into the watershed. A great team of citizen scientists collects 12 water samples and 8 sediment samples two times per month. During the summer, we identified a pipe leaking raw sewage along the cliff walk and with great support from the City of Newport and the Rhode Island Department of Health, we collected a sample, shared results and action was taken at the Breakers Mansion to fix the source of the problem.
Back on land, a small army of dedicated volunteers kept a close watch on the 50 access points to the shoreline on the entire island, to ensure that residents and visitors alike have public access to the shoreline. Along the Cliff Walk in Newport, a property owner has moved a fence 18 inches into the public right of way. The encroachment has removed 16% of the public space, and this is a battle we will fight this year. Protecting public access was the issue that brought COA to life, and it remains our highest priority.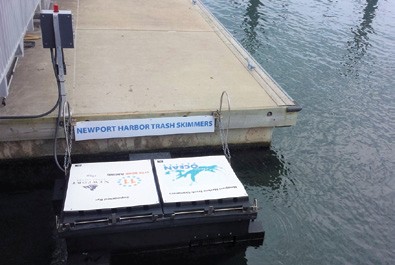 However, one of our big projects for 2016 was to address the problem of trash in Newport Harbor. We did this by installing two trash skimmers near Perrotti Park, in partnership with the City of Newport Harbormaster, all made possible with funding from 11th Hour Racing. With our project partners Casey Marina, Casey Tree Specialists, Mac Designs, 6SQUARE communications and Toner Electric, we successfully installed the skimmers in early August 2016 and they are delivering great results!
Trash Skimmers in Newport Harbor are preventing litter from drifting out into the Ocean, and energizing Clean Ocean Access' effort to promote environmental stewardship. © Dave McLaughlin
The trash skimmers operate 24 hours a day trapping floating debris, soaking up oil sheen, and improving the marine ecosystem and water quality. They are a highly effective method of addressing surface debris, require very little maintenance, and use a small amount of electricity. Besides just removing floating debris from Newport Harbor, our objectives are to inspire, educate and empower the community to make simple changes to reduce the sources of debris, such as reducing the use of single use plastics, and ensuring that no trash ends up as litter. Marine debris is a solvable problem, and the solution starts with smart choices on land! Whether it is the winds or waves that draw us to the water, or simply walking along the waterfront, these experiences connect us to nature and must be the reason that we act (now) to sustain life on our planet.
2017 is a critical year for COA, and our goals are for a balanced approach of building a sustainable organization and maintaining the value proposition of our environmental work. Our environmental efforts are underway to eliminate single-use plastic bags from all retail establishments on Aquidneck Island by Earth Day 2017, partnerships with local non-profits and municipalities will position us to implement Green Infrastructure to reduce stormwater runoff to improve water quality, and we will remain vigilant to protect the public access to the shoreline.
Our current efforts and future goals are only possible because of people acting now. As a non-profit, we rely on the community we serve to help us deliver our mission. You can help our efforts by donating today to fuel our efforts to continue into 2017. For the latest news on volunteer opportunities with COA, please visit us at cleanoceanaccess.org.
Dave McLaughlin is the Co-Founder and Executive Director of Clean Ocean Access and an enthusiastic year-round surfer.