Provisioning at the Supermarket for Your Boat, Camper, Vacation Cabin, and Home Emergencies.
By Janet Groene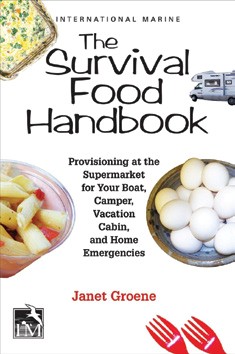 There are many excellent cookbooks for sailors, with recipes for preparing such delicacies as freshly caught mahi mahi or spiny lobsters. Those books do not cover emergency provisions, however, while The Survival Food Handbook is the essential guide to eating well when the refrigerator has broken down or you've run out of propane.
Author Janet Groene honed her galley chops as a longtime liveaboard sailor. With a two-burner Primus stove and a tiny refrigerator that was only operational when the boat was in port and connected to shore power, she learned to bake bread, make salads, can meat, and create memorable meals from supermarket provisions while cruising remote islands.
In addition to a variety of 'can-to-table' recipes, this book has valuable tips on planning, shopping and stocking your larder for the long term; buying essential provisions inexpensively; extending the life of fresh, canned and packed foods; creating sustaining meals without a stove or fridge; and eating healthy meals in adverse circumstances. The Survival Food Handbook is much more than an excellent resource for cruising sailors. In these turbulent times, everyone should own a copy.
Janet Groene is the author of Cooking Aboard Your RV, the creator of the popular blog BoatCook.blogspot.com and the boating content provider for LiveLifeLocal. She and her late husband Gordon lived on the go (and off the grid) for ten years, both in a camper and aboard their sailboat Sans Souci. She is a fulltime freelance travel writer whose home base is in rural North Florida.