Multihulls Coming to Block Island Race Week XXVII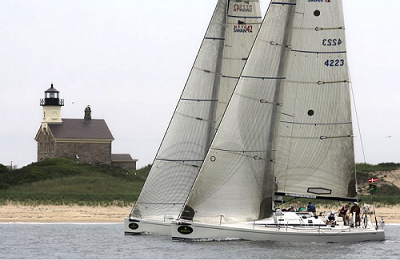 The Storm Trysail Club's Block Island Race Week is a New England summer tradition for hundreds of sailors, and several class championships are up for grabs.
© Stephen Cloutier/photogroup.us
With an invitation from the Storm Trysail Club to catamaran and trimaran owners to compete in Block Island Race Week, the 27th running of this biennial event, scheduled for June 18 – 23, 2017 in Block Island, RI, may be the most exciting one yet. "I've heard plenty of positive responses to the multihull division offering and have unofficially heard forecasts that we will have classes of multihulls," said AJ Evans, Block Island Race Week Chairman and Storm Trysail Club Rear Commodore. "I'm looking forward to the yacht club bar chatter turning into entries. There's still plenty of time for that to happen."
Storm Trysail has also rescinded the Plus One crew limit for boats in the Performance Cruising classes that would've restricted crew size to the tens digit of a boat's length plus one (i.e. a boat between 30 and 39 feet could carry four crewmembers). "We are amending the Notice of Race to remove the Plus One limit for the Performance Cruising Division," Evans explained. "While Plus One is intended to make racing more accessible by requiring less crew and thus lower logistical and housing hurdles, there are a number of skippers who want to bring the whole family and not just a few sailors. This is exactly the type of fun, family sailing we aim to promote at BIRW, so an amendment was appropriate. We will still offer Plus One sailing for other boats if there's enough interest…we are pretty flexible to accommodate whatever sorts of competition the sailors want."
First held in 1965, BIRW has long served as a regional or national championship regatta for various classes and this year is no exception. "Race Week is certainly developing into a championships regatta," said Evans. "We are very pleased to have received championship designations for IRC and PHRF, and one-design classes including J/88, J/44, J/109, J/105, and C&C 30."
"As should any race organizer, we will also be striving to obtain a high level certification from Sailors for the Sea, and are building on the lessons we learned during the 2015 Race Reek to become more efficient at achieving this goal," Evans continued. "The marine environment is a critically important consideration for (near) future generations of sailors."
Registration for Race Week XXVII is open at www.YachtScoring.com, and you'll find more information at blockislandraceweek.com. "We expect this to be another memorable edition of the Storm Trysail Club's most iconic event," Evans enthused.
SailAhead Expanding its Mission of Healing Veterans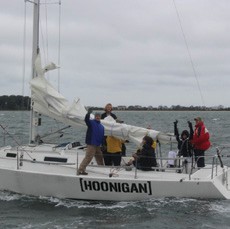 Founded by brothers Sean and Kilian Duclay of Huntington Station, NY with support from family, friends and Oakcliff Sailing, SailAhead is a non-profit organization with a mission of healing wounded Armed Forces veterans through sailing. SailAhead has ambitious plans for 2017, including development of its racing team.
© sailahead.org
"Last year was a very moving year for SailAhead as 219 new members, identified as SailAhead's mates, have joined our ranks," said 19-year-old Kilian Duclay. "These 219 mates have at least two things in common: They were once soldiers and they each took their own lives. Each mate is a casualty of the ravages of PTSD and depression endured by so many veterans in America today. With the permission of the families of these vets, SailAhead duplicated each of their nametags. We take them along when sailing with veterans, honoring the spirits of our 219 mates each time we set sail. We've also designed a 219 flag which has become our banner. When this flag's flying on our flaghip, you know the 219 mates are on board."
"According to the VA, at least 22 veterans commit suicide daily," said Sean Duclay, 17. "Twenty-two a day means 220 veterans every ten days…so why 219 as opposed to 220? This is because the one missing in that equation is the life saved…the lives SailAhead is trying to save."  In addition to the 219 mates, the numeral 2 on the flag symbolizes how SailAhead was started by two brothers and the 19 represents the age of Michael Blanco, a Long Island native and U.S. Marine who took his own life in 2010.
Since its inception and with many dedicated volunteers, SailAhead has held 1,000 veteran outings on the water. "We strongly believe that drugs cannot begin to compare with what effects nature can have whilst combating PTSD within the minds of people," said Sean. SailAhead has evolved from healing wounded veterans through sailing to expanding so far as introducing not only sailing, but much more to what the ocean has to offer for our veterans."
"This year we're working in conjunction with additional yacht clubs on the South Shore to create more group outings," said Kilian. "We're also holding our annual 'Let's Take a Veteran Sailing' event with Centerport Yacht Club, the Long Island Maritime Museum/Snapper Inn sail on Priscilla, Adaptive Day with the VA, the WaterFront Center Certification Program, offshore races, and much more. We also intend to grow our racing team. This team will be led by a Special Forces Green Beret veteran, and we are in need of a racing sailboat. Some of these brave men and women went to hell and back for our nation, and those who can help ought to extend their hand to them." For more information including volunteer opportunities and how to make a donation, visit SailAhead.org.
Strong Entries for Marion Bermuda…and Front Row Seats for the Cup!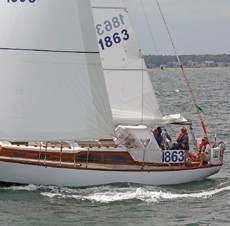 Entries for the 21st Marion Bermuda Race, which starts in Buzzards Bay, MA on Friday, June 9, are coming in at a good pace. Fifty yachts, including 18 newcomers to the race, had registered at the beginning of January. That's four more than the final entry total for the 2015 race.
© Spectrum Photo/Fran Grenon
This resurgence may be due to the fact that the 40th anniversary edition of this 645-mile open ocean challenge for cruiser type yachts ends just before the start of the 35th America's Cup Finals in Bermuda.  "Cup events (May 27 – June 27) include an America's Cup superyacht regatta, a J Class regatta, the Red Bull Youth America's Cup and the Cup Finals, all happening as Marion Bermuda yachts are coming into Bermuda," said Talbot Wilson, the Marion Bermuda Race Press Officer. "This will be a spectacular opportunity for Marion Bermuda racers who choose to vacation in Bermuda after the race."
"For race participants who choose to stay for the Cup races and festivities, the America's Cup Event Authority has established the first and only dedicated travel website for America's Cup spectators to view and book packages to attend the 35th America's Cup," Wilson continued. "Marion Bermuda participants will have slips available at the Royal Hamilton Amateur Dinghy Club for the Cup Finals on a first come, first served basis. Special accommodation packages are available. Visit americascuptravel.com for more information.
If you're interested in booking hotel accommodation only, email bermuda@travelplaces.co.uk and a dedicated team member at Travel Places Bermuda Ltd., will assist you. For bed & breakfast accommodations or other Bermuda properties, visit bermudarentals.com."
The early entry fee is $950 for yacht and skipper, and jumps to $1,100 after April 10. The entry fee for a service academy or ".edu" defined organization is $475, and $625 after April 10. For both entry fees, each additional crewmember is $50. Yachts have until May 27 to complete their entry, but are always encouraged to enter early and be prepared.
"One of the important safety requirements to plan for is to make sure that at least 30% of those aboard the boat, but not fewer than two members of the crew including the person in charge, shall have attended a one-day or two-day US Sailing Safety at Sea Seminar within the last five years, or other courses as accepted by US Sailing," said Wilson. "The Marion Bermuda Race offers a Safety at Sea Symposium March 11 & 12 at the University of Massachusetts, Boston."
The entry fee includes professional briefings on weather and the Gulf Stream at the Skipper's meeting, an 'on-call' professional medical diagnosis and consulting service provided by the George Washington University Maritime Medical Access Facility during the race and on the return passages, and use of the transponder for the position tracking system during the race. The Marion to Bermuda Race is organized and run entirely by hundreds of volunteering members of The Beverly Yacht Club, The Blue Water Sailing Club and The Royal Hamilton Amateur Dinghy Club for the Marion Bermuda Cruising Yacht Race Association. For more information and to register, visit MarionBermuda.com.
Going Faster at Oakcliff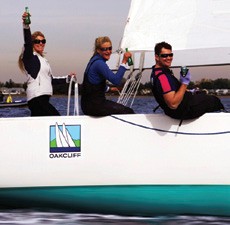 Oakcliff Sailing in Oyster Bay, NY continues to innovate and expand their programming 'on demand.' "Last year we designed and held the first Onboard Media Reporter (OBR) camp, and it will be offered again this coming summer," said Dawn Riley, Oakcliff's Executive Director and US Sailing's 1999 Rolex Yachtswoman of the Year. "But perhaps the most action-filled week of 2017 will be our new foiling camp, to be held August 25 to 30. This will dovetail into our growing high performance fleet that includes a just donated Ultra 30 from Team Zombie."
"Our full-time Sapling and campstyle Acorn programs will train people in match racing, high performance, foiling and offshore sailing," said Riley. "These athletes, who live, eat and breathe sailing 24 hours a day in Oyster Bay, also learn how to maintain a boat from winches to engines, and put together a small business. In the last few years, Oakcliff has trained over 150 of these sailors and all graduates are either in school or gainfully employed. Applications for 2017 are open, and we do expect to sell out so please spread the word to any and all interested athletes. We don't want anyone to miss out!"
Oakcliff's programs are not only for top athletes, Riley explained. "We are open to all sailors who become supporters. Match racing, fleet racing and classic sailing are all on the table. Actually, we are really hoping that our supporters, lots of whom are WindCheck readers, will be able to form regular teams this summer. As our fleet continues to grow, we have more opportunities for sailors to get together and become regular teams on one particular boat. One of these is our beautiful Waterwitch. She's getting a bit of a winter re-fit and will be sparkling when she comes out of the greenhouse. It would be nice to have her racing regularly in our Classics series. If you can't wait for the summer, Bill Simon, our Race Director, has organized an Advanced Race Management Seminar for February 4 and 5, and we'll have an umpire seminar in the spring. We're also hosting a celestial navigation seminar February 11 and 12."
"I just returned from the World Yacht Racing Forum in Malta," Riley continued. "A quick summary from that event is: foiling is everywhere… not just the America's Cup and Moths but everywhere, including the Vendée Globe. This Vendée is turning out to be a great race to watch, moreso than any in  recent memory. That's pretty incredible, considering that in the right conditions the foils add about 5 knots to the already incredibly fast speeds the IMOCA 60s are hitting."
"There's also a big push to make our sport even more 'green' than ever before, and our sponsor Interlux is providing a really cool, non-toxic bottom treatment called Intersleek 900. It's a silicone/fluoropolymer coating that does not contain any biocides. Intersleek is fast from a racing perspective, and anything that grows on it slides off at 4 knots. The tricky part is it's so slippery that you have to tie the Travelift slings together when you haul out so the boat doesn't slip out! How cool is it that we are right in the middle of technology at every end – from foils and bottom coatings to sail design and race management? The bottom line is you (and we) never know what's next at Oakcliff, but it's never boring!"  For more information, call 516-8020368, email race@oakcliffsailing.org, or visit OakcliffSailing.org.
Heather & Nate Atwater Leading Offshore Sailing School Flotilla Cruises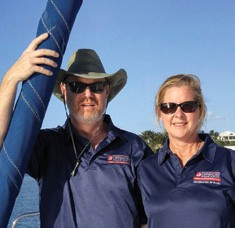 With the launch of Colgate Offshore Sailing Adventures™, Offshore Sailing School is doubling its focus on special sailing events at its key resort operations and broadening the scope of its cruising program for graduates and sailing enthusiasts. As part of the new initiative, Offshore has retained the services of Heather & Nate Atwater of Madison, CT to develop and lead an expanded roster of flotilla cruises. Heather & Nate are charged with exploring and formulating new flotilla cruise options, and personally guiding each flotilla adventure. "With the Atwaters at the flotilla cruise helm, we are excited to open participation in these cruises to all sailors, as well as Offshore Sailing School graduates," said Offshore Sailing School's President and CEO Doris Colgate.
Nate, whose sailing resumé includes many deliveries on boats from 45 to 60 feet between New England, Florida and the BVI, worked for Offshore Sailing School as an instructor and manager in New York and Florida in the early 1990s. He met Heather when he brought the school's sails for repair to her father's sail loft, Hild Sails, in City Island, NY. Heather, who grew up sailing with her family, worked at Hild Sails from 1988 to '95. From 1995 to '98 she was in charge of marketing and sales at Island Nautical, Inc., also in City Island. An experienced yoga practitioner, she will conduct yoga sessions for interested cruise participants.
Members of American Yacht Club, Off Soundings Club and Sakonnet Yacht Club, Heather & Nate own a 1980 Pearson 40 named Moonshine that they plan to move aboard early this year. They are leading Offshore flotilla cruises in St. Lucia in March and Italy's Amalfi Coast in September, and are currently adding more summer flotilla cruises this year and planning cruises for 2018.  "The flotilla cruise development position at Offshore Sailing School begins to fulfill our sailing bucket list," said Nate. "Our goal is to transition back into full time sailing and see the world under sail, so this is a perfect fit for us."For more information on flotilla cruises, course schedules, locations and other programs, visit OffshoreSailing.com or call 800-2214326.
All Events Can Now Achieve Sailors for the Sea Clean Regattas  Platinum  Certification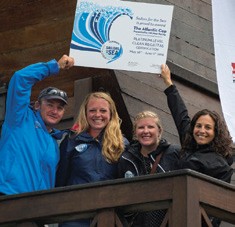 Sailors for the Sea, a Newport, RI-based conservation organization that engages, educates, inspires and activates the sailing and boating community toward healing the ocean, has announced that all sailing events can now achieve Platinum level certification within its Clean Regattas program.
 © Billy Black/The Atlantic Cup
"In 2016, we celebrated the successful end to the 10th year of the Clean Regattas program, the largest yet with more than 195 regattas certified and 41,000 sailors participating," said Hilary Kotoun, Sailors for the Sea's Social Impact Director. "Since its humble beginnings in 2006, the program has evolved to set the highest standard of sustainability for water-based events, with 1,051 Clean Regattas and more than 400,000 sailors participating over the past decade."
"The Clean Regattas program takes major ocean health issues – such as plastic pollution, runoff, and marine debris – and empowers sailors to take action while improving their local waterways," Kotoun continued. "Whether regattas choose to eliminate single-use plastic bottles or clubs switch to porous concrete that filters toxins out of runoff, boaters are taking action globally to protect the ocean with the Clean Regattas program."
Developed alongside the 34th America's Cup in San Francisco, the Platinum Clean Regattas certification has empowered large sailing events to reach a very high level of sustainability, with required carbon offsetting and an emphasis on the impact of spectators' environmental footprint.
"With increasing demand from many events that have achieved Gold level certification for multiple years, our 2017 Tool Kit now provides a roadmap for achieving Platinum certification by meeting 70 of the 75 sustainability indicators, which are sub-categories of the Best Practices used to meet Clean Regattas certification," Kotoun explained. "We are proud to offer Platinum certification for events that go above and beyond to ensure that all facets of their regatta are environmentally friendly. For the events that have achieved Gold level certification for multiple years, this is a great opportunity to further develop their sustainability best practices." "We also want to remind regatta organizers that when it comes to sustainability, participation is better than perfection! We would like to invite all regattas around the world, whether it's your 11th or first time participating in the program, to help us break the record of Clean Regattas annual participation by having more than 215 events participate in the program in 2017!" For more information and to get involved, contact Robyn Albritton at robyn@sailorsforthesea.org or visit SailorsfortheSea.org.
Warrior Sailing is Growing the Sport, One Veteran at a Time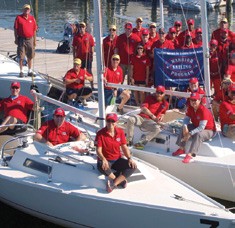 Warrior Sailing is a growing program servicing wounded, ill and injured service members and veterans around the country. Since it began in 2013, Warrior Sailing has hosted 12 training camps graduating over 170 new sailors into the sport. As a mobile program, Warrior Sailing now offers American Sailing Association certifications and has partnered with over 40 clubs, facilities and centers in sailing locations like Newport, Charleston, San Diego, St. Petersburg and Annapolis, to name a few.
© warriorsailing.org
"The key to Warrior Sailing is to expose our participants to the various aspects of sailing while breaking down barriers for both visible and non-visible disabilities," explained Jen French, Warrior Sailing Founder and a Paralympic silver medalist in the SKUD-18. "Our overall achievement is growing the sport in a fun, safe and inclusive manner."
"Working to meet the demand for core programming, 2017 is slated to be another year of growth," French continued. "Warrior Sailing is planning to return to partnering locations and to build new relationships in areas not currently covered. As an official program of the USMMA Sailing Foundation, we leverage the donated vessels to offer unique experiences like competing in Sperry Charleston Race Week, sailing in the Vineyard Cup, or making boat deliveries along the coast."
"As a non-profit organization that strives to provide training at no cost to our veterans, we are seeking sponsorships, partnerships, fundraising regattas and donations to make the programming happen. For instance, Adam Keyes, a triple amputee Army veteran, is the recipient of the Lockheed Martin Fighting Spirit Scholarship to gain advanced training from Warrior Sailing."
"More importantly, programming support allows us to impact the lives of our participants. We are changing one life at a time, like Mike Murphy, who attended the Annapolis camp. 'I never sailed before,' said Mike 'and I had the best day of my life.' Look for us at regattas around the country, or when a training camp is hosted near you. Stop by the docks and thank our veterans." For more information, log onto WarriorSailing.org.
NESS Extending its Reach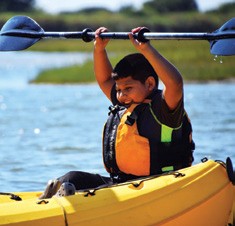 New England Science & Sailing Foundation (NESS), a non-profit ocean adventure education program in Stonington, CT, is broadening the reach of its programs to engage students in experiential learning that builds confidence, teamwork, and leadership skills.
© nessf.org
"This will be another exciting year of growth and expansion for NESS!" said Caroline Pierce, NESS Marketing Coordinator. "We will continue to not only strengthen our partnership with the New London Public School System, but also expand our partnerships to include area schools in Norwich and Hartford.
"In 2016, outcomes-based research and program quality assessments became deeply engrained in our operating systems," Pierce continued. "We look forward to expanding this discipline in 2017 as it is critical to NESS's ongoing success and securing future funding sources. For example, through our surveys we have learned that leadership, teamwork, and communication skills among 8th graders at the Bennie Dover Jackson Middle School in New London, CT who fully participated in NESS programs increased more than double those who did not participate in NESS. The increase in self-esteem among 6th graders more than tripled for those who participated in NESS versus those who did not."
"We are looking forward to the installation of an elevator in the Sailing Center and more ramps to the floating docks to make our Stonington location ADA compliant. Also on the sailing front, in 2017 NESS will continue to leverage the success of its 420 high level racing partnership with the Wadawanuck (Wad) Club (a partnership formed in 2016) and expand to get more students out on the water competing. By joining forces in 2016, NESS and the Wad Club are creating a stronger racing team of local sailors."
"In terms of events, we look forward to our annual community event, 'NESS Fest,' on June 24, 2017. This is a fun, family-oriented celebration that will feature food, lots of free activities including sailing, kayaking, and stand up paddle boarding. Also, NESS Summer Programs for kids will start up on June 26 (online registration opens on February 1)." For more information, visit nessf.org.
The Moorings Offers All-Inclusive Charters in Cuba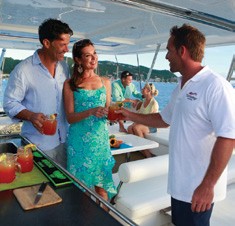 The Moorings is now offering Crewed yacht charters in Cuba. Unlike other Cuba vacation options, this exclusive charter will provide guests with an all inclusive travel experience complete with a dedicated staff including an expert captain and gourmet chef on board, and a personal driver and local tour guide onshore. It's an incredible opportunity to experience Cuba via cultural immersion, from the comfort of a premium yacht accommodating private groups of up to 10.
© Geoffrey Ragatz
"The Moorings 7-day Cuba Crewed yacht vacations will be based out of two marinas – Marina Hemingway in Havana and Marina Gaviota in Varadero – with the Moorings 5800 sail catamaran providing deluxe accommodations for the entire length of the vacation," said Ian Pedersen, Marketing Manager of The Moorings – North America. "The largest and most exclusive yacht in The Moorings fleet, this 58-foot yacht offers unrivaled comfort complete with five en-suite guest cabins."
"Educational in nature, this Moorings Crewed yacht vacation provides an authentic Cuban cultural experience," Pedersen continued. "Each day, guests will disembark and be met by their dedicated tour guide and driver. Notable attractions include visits to the famous Hemingway House, Tobacco Farm Benito, the Callejon de las Tradiciones, the Hotel Nacional, and the historically significant Revolution Square."
With several major U.S. airlines offering flights to Havana and Varadero, traveling to Cuba is fast and convenient. Departure dates are limited, as this exclusive Cuba vacation will only be available in March, April, and May, 2017. Yachts can be reserved by calling a Moorings Vacation Planning Specialist at 888-9526017. To learn more, visit Moorings.com/crewed.
BVI Airways Introduces Jet Service to the British Virgin Islands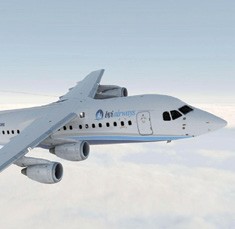 BVI Airways (BVIA), headquartered in Tortola, BVI, will be offering non-stop jet service from Miami, FL to Tortola, BVI within the next few weeks. This will be the first-ever regularly scheduled passenger jet service between the USA and the BVI. The airline will be flying British Aerospace Avro RJ 100 Avroliners that seat 86 passengers, including 12 in Premier Class. Flight time will be approximately 2.5 hours.
© gobvi.com
"While the BVI has long been known as a sailor's paradise, getting there has long been known as being a bit of a nightmare; often meaning taking a flight to San Juan, PR and then boarding a small prop plane to Tortola, or flying into St. Thomas, USVI and then taking a cab to the ferry to the BVI," said Ron Weiss, BVI Airways' Director of Marketing. "Getting directly to Miami from most U.S. cities is much easier and generally less expensive than flights to San Juan or St. Thomas, and BVIAirways' aircraft will be far more comfortable than the planes out of San Juan. Think of BVIA as reaching, as opposed to beating, to the BVI."
"Once BVIA completes its government certification process, tickets will be available from Expedia and Priceline, your local travel agent, or directly through our website," said Weiss. The website was under construction as this issue went to press, although visitors can sign up for email alerts on ticket availability and the best deals. BVIA expects to start service late this winter, hopefully in time for the BVI Spring Regatta in late March. For more information, visit gobvi.com.
New Facility at Lake  Champlain Community  Sailing Center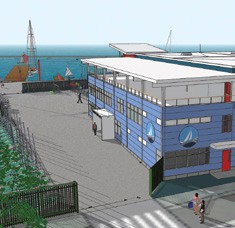 The Community Sailing Center (CSC) a non-profit organization in Burlington, VT with a mission to provide community access to Lake Champlain, has broken ground on its Community Waterfront Campus & Sailing Education Center.
© CommunitySailingCenter.org
Construction is underway and CSC expects to complete the project this year. Designed by renowned architect and CSC founder Marcel Beaudin, the 22,180-square foot building will have year-round classroom space, new boats and docks, restroom facilities, indoor storage, locker rooms, offices and maintenance facilities.
"For more than 22 years, the CSC has operated from the abandoned Moran Plant, a Department of Public Works garage and a tent," said Mark Naud, CSC's Executive Director. "Despite our modest quarters, we have provided award winning programs for thousands of adults and children every year and serves as the only organization in Burlington that provides direct access to Lake Champlain. The Waterfront Center will allow us to expand program offerings to a greater population, and continue our mission to provide lake access and life lessons for all."
In 2016, the CSC served over 6,200 individuals and collaborated with 71 community partners to provide educational lake-based experiences.  For more information, visit CommunitySailingCenter.org.
Storm Trysail Safety-At-Sea Video Library Now Available Online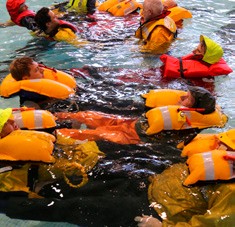 The Storm Trysail Foundation is one of the world's leaders in the development of safety-at-sea strategies and techniques. For over a decade, Storm Trysail Club members have been conducting Junior Safety-at-Sea Seminars at yacht clubs across the U.S., and in recent years the adult-focused Hands-On Safety-at-Sea Seminars have taught thousands of racing and cruising sailors how to protect themselves at sea.
"One of the mainstays of the Hands On Safety-at-Sea Seminar is a series of instructional videos that participants view online before attending the event," said Butch Ulmer, Past Commodore of the Storm Trysail Club. "This 10-video library is now available to all sailors, featuring over two hours of safety-at-sea strategies, techniques and tips developed by some of the world's top ocean sailors and introduced by Storm Trysail Club member Gary Jobson.
For a one-time fee of $40, sailors receive a lifetime subscription to the full library to view over and over. You and your shipmates will be better prepared in the case of an emergency whether racing or cruising, in coastal waters or offshore, under sail or power. And, as Storm Trysail adds more videos to its library, subscribers will have access to the expanded collection. The first ten videos cover:
Practical Man Overboard Recovery
Understanding Weather
Understanding Offshore Weather
Flares and Pyrotechnic Devices
Storm Sails
Shipboard Firefighting Strategies
Fighting Shipboard Fires Personal Safety Equipment
Cold Water Survival & Life Rafts
Deploying a Life Raft.
To order a subscription to the Storm Trysail Foundation's complete Safety-atSea Video Library, log onto stormtrysailfoundation.org/21-safety/114safety-at-sea-videos. While you're at it, why not purchase additional subscriptions for your loyal crewmates?
One Simple Question Available for Download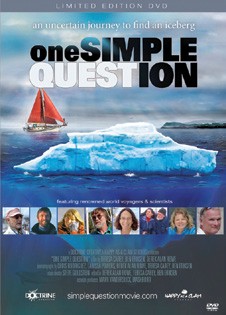 Adventure sailors and frequent WindCheck contributors Teresa Carey & Ben Eriksen Carey have announced that their award-winning documentary film One Simple Question: An Uncertain Journey to Find an Iceberg is now available as a private use digital download from Reelhouse. One Simple Question is about the couple's decision to simplify their lives by living aboard a small sailboat.
In 2011, Teresa, Ben, and their cat Dory sailed their Bristol Channel Cutter 28 Elizabeth 1,600 miles northward from Huntington, New York with the goal of seeing an iceberg in the waters off Newfoundland. As we noted when this wonderful film was released on DVD, school teachers and sailing instructors are advised to show it to their students.  To download the 84-minute film for $18, log onto reelhouse.org/morsealphastudios/one-simple-question.  ■