By Hank Schmitt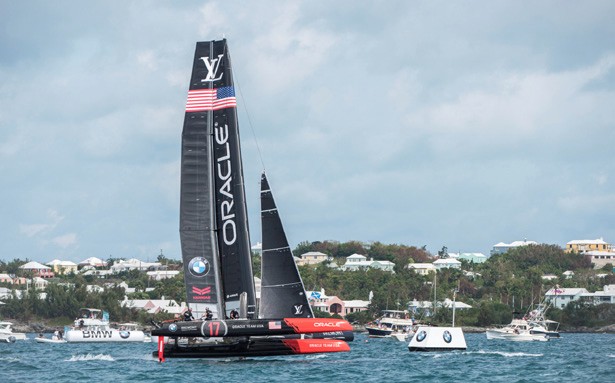 The America's Cup Qualifiers and Finals in Bermuda are rapidly approaching. Qualifier action begins May 26, 2017 and the Finals run over two weekends, June 17 & 18 and 27& 28.
© ACEA 2015/Photo Ricardo Pinto
Tickets are now on sale (see americascup.com/tickets). If you're planning to be there for the Finals, you should purchase any VIP Tickets to the "Longtail Lounge," Goslings "Dark 'n' Stormy Island Bar," and grandstand seating now. You aren't required to buy general admission tickets in advance, but better safe than sorry. Before buying any tickets, you first have to know where you'll be staying. Bermuda has only 4,000 hotel rooms.
The best option is to simply sail there. Bermuda is a short (four to six days on most boats) sail away from most Northeast ports. You can still anchor out for free and there will be launch service in St. Georges Harbor during the Cup Finals. This is new just for the Cup, so you won't have to bring a dinghy.
The Marion Bermuda Race has moved their dates ahead to overlap with the Cup, and boats will be docking in Hamilton. If you have a boat and want to race to Bermuda, you can contact them at marionbermuda.com. They also have a crew link on their website.
The Bermuda One-Two (bermuda1-2.org) is also a biennial event that coincides with the Cup this year. But this is strictly a BYOB (Bring Your Own Boat) event with few crew options. Their doublehanded return race to Newport starts June 15, leaving as the Rally to the Cup arrives.
The Rally to the Cup (sailopo.com) is a one-off event inviting boat owners planning to sail to Bermuda, to go as a group. They will dock at the St. Georges Dinghy and Sports Club after the One/Two departs. The Rally also has space "Along the Wall" inside by Ordinance Island. Much of the "Along the Wall Bulkheads" in town are being replaced or repaired this winter for the arrival of visiting yachts in June. This will be a long lasting upgrade as a result of the America's Cup.
If you have a boat in the Caribbean or want to get on a boat sailing up from the Caribbean, there's a feeder race from Antigua to Bermuda (antiguabermuda.com) starting Friday, May 12, a few days after Antigua Sailing Week. The Spirit of Bermuda and yacht America will be competing, along with other boats from the Antigua Classic Race Week and Antigua Sailing Week. Some will need crew.
If seeing the America's Cup by boat is on your bucket list, consider checking that box this year!
Hank Schmitt is the owner of Offshore Passage Opportunities, a crew networking service based in Halesite, NY. Visit sailopo.com to learn more.