By Colin Rath
Editor's note: This is the seventeenth installment in a series of dispatches from the Rath family (Colin & Pam, daughters Breana, Mariel and Nerina), who departed Stamford, CT in the fall of 2014 for a worldwide cruise aboard their Hanse 545 Persevere. You'll find previous articles linked below.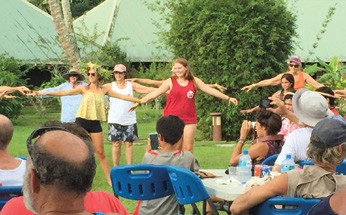 We arrived early in the morning at the bay by Hanavave at Fatu Hiva. It's a wide bay that is only protected on two sides and there are gusty winds that come down the valley at 50 knots, so you have to make sure you have a good hook. Otherwise you can literally get blown out to sea, especially with the large tide changes, because there is nothing stopping you if your hook slips. The water goes from 100 feet deep to 700 right away, so your anchor would have nothing to rehook on.
The girls enjoyed dancing at the Tahiti-Moorea Rendezvous. © persevere60545.com
We went snorkeling that day and enjoyed the nearby reefs and clear water, and then barbequed some fish we caught on the way over. I spent the night on anchor watch as the winds howled – not the most comfortable anchorage. After a day of exploring yet another exotic island, we decided to move on. We had been at remote islands for several months, and frankly wanted to get somewhere that had a dock, laundry machines, power to plug in and real stores…you know, civilization. So it was decided to head for Tahiti, which was only a 3-day sail away. We could also get some things repaired (or so we thought). We also signed up for the Tahiti-Moorea Rendezvous with Pacific Puddle Jump and Latitude 38 for the following weekend. The event would have a lot of kids, and the girls were excited.
The sail to Tahiti was uneventful, another reach sailing at 7-8 knots, fishing, working on the boat, watching movies, and school work. The sailing in the Pacific is really a joy if you watch the weather. We had countless sailing days of following rolling seas, starry nights and steady winds making it a real pleasant journey. We have been really luck with our adventure aboard Persevere. Don't get me wrong, we've had some really bad, rough seas days, but the majority of our 20,000 plus sailing miles have been event-free. Following trade routes, constantly downloading weather updates, and having a well equipped boat and a good crew has the world to do with it. We caught sight of Tahiti and Moorea at dawn on the third day. We had reserved a dock at a marina outside the city of Papeete. Marina Tiane was a little more expensive than the ones in town, but was within walking distance to a supermarket (we had not seen one since Panama), and it had laundry machines and repair facilities.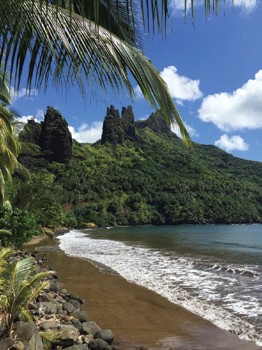 Tahiti is surrounded by a reef that is about two miles from the island, and there as cuts in the reef about the width of about four boats to enter. Each cut has a rip tide. To add the fun, you don't see the channel until you are about 1/3 mile away on a clear day. The reason you start to spot it is there is a group of surfers next to it riding the waves. Enter only at slack tide or the tide going with you, because the channel is a serpentine access, usually with a dogleg to the left and less than 5 feet of depth on either side, which is why you only do it during the daytime. It could be rough outside and glassy once inside the reef – the transition travel angle is the trick. It's not really a problem, just something you have to keep in mind. Once inside the reef, the channel is well marked. We made it into dock and got hooked up, only to find out that we were moored right next to another New York Yacht Club boat. Small world.
Much of lovely Tahiti has not changed since the HMS Bounty dropped anchor there in 1789.   © persevere60545.com
We spent the week getting resupplied and checking out Papeete. The girls got the traditional flower head dress. They had a whole market of 30 stalls of people just making the amazing flower crowns. The girls had lost their glasses overboard and they had to be replaced. We rented a car, scoured the island for parts, food and attractions. It was good to be back in a city (even a small one) for a while, but soon we realized why we left home and went on this trip. Plus, we had a week before we were doing the Tahiti-Moorea Rendezvous (tahiti-moorea-sailing-rdv.com). They had over 60 boats signed up and girls looked forward to it. After changing all the motor oils, fixing what needed to be fixed, and getting all the laundry done, we were ready for the rendezvous.
They had a big event in Papeete the night before with dancers, gave out event t-shirts and food tickets and had a lot of booths on attractions on the rest of the French Polynesian islands. It's easy to see how you could get lost here for a few years, as many travelers do. We ran into a lot of other boaters that we'd met in previous islands along the way. It really becomes a small world because there are only a couple hundred foreign boats bouncing along these island chains. You keep on running into each other, over and over again.
The next day was a pursuit race to Moorea for the Tahiti-Moorea Rendezvous, which is only 15 miles away from Tahiti. The wind didn't hold up, so we all motored behind the race committee boat (like Long Island Sound in the summer), through another dangerous reef cut into the harbor at Moorea and anchored. The next morning we were awoken with fresh baguettes delivered to the boat. A big day of events was awaiting ashore, including a complete lunch buffet, dancing, outrigger canoe races, tug-o-war, and stone throwing (you try to throw huge rocks as far as you can). Meriel quickly joined a group of girls and set up their own canoe team. They did pretty well, coming in second in their heat.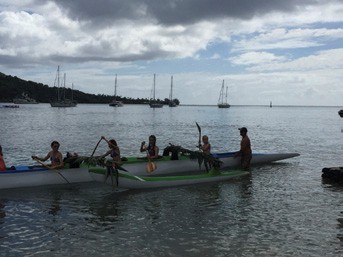 Pam and I joined another canoe team and made it to semifinals. It was a beautiful day and fun was had by all. They had a local band play that night with another feast. The girls had a lot of fun being with kids their age again. We enjoyed it so much we decided to stay in Moorea with a few other families for another week after the rendezvous.
Meriel Rath and her teammates did very well in the outrigger canoe race.  © persevere60545.com
The harbor is well protected and Moorea Yacht Club has great food and excellent wi-fi, so we dropped hook right in front and spent a week exploring and snorkeling with three other families from France and England. It was a nice way to spend the summer. The other boats sailed back to Tahiti and we stopped in Marina Tiane one last time before sailing to Bora Bora.
Look for updates on Persevere's journey in future issues of WindCheck. You can track the Raths' progress on their Facebook page, "Persevere60545." Colin's book, It Is What It Is, can be purchased on ColinRath.com or at Amazon.com or any major bookstore. Look for his next book in the fall of 2017.
Previous articles from the Persevere Family Journey:
January 2015 Persevere Cruise: The Most Important Rule of Cruising: Let the Weather – Not Your Timetable – Determine the Schedule.
March 2015 Persevere Cruise: Cuba Libra!
April 2015 Persevere Cruise: Serious Fun at the St. Maarten Heineken Regatta
May 2015 Persevere Cruise: Kirk Kelly's 50th Birthday in Rincón
June 2015 Persevere Cruise: From the Persevere Log: Dominican Tree House Village
July 2015 Persevere Cruise: From the Log of Persevere: Havana – The Tale of Two Cities
August 2015 Persevere Cruise: Back to NYC
September 2015 Persevere Cruise: Transatlantic Race 2015
October 2015 Persevere Cruise: Sail On, Aspen
November/December 2015 Persevere Cruise: Europe 16: The Adventure Begins
January/February 2016 From the Log of Persevere: Bay of Biscay
March 2016 From the Log of Persevere: Into the Med
April 2016 From the Log of Persevere: One Word: Gaudi
May 2016 From the Log of Persevere: Atlantic Odyssey & Holidays in Tenerife
June 2016 From the Log of Persevere: Carnival in Martinique 
July 2016 From the Log of Persevere: Central America
August 2016 From the Log of Persevere: San Blas Islands and the Panama Canal
September 2016 From the Log of Persevere: The Lost Land of Galapagos
October 2016 From the Log of Persevere: 21 days at Sea to Marquesas
November/December 2016 From the Log of Persevere: That Pacific Paradise that is Marquesas