By Dermot O'Flynn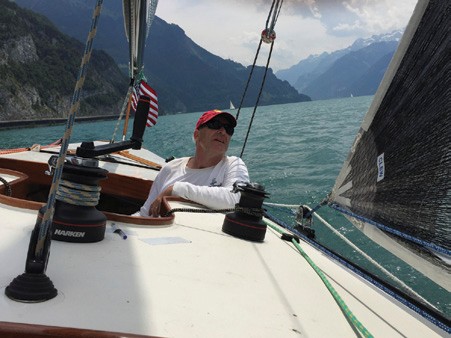 In January 2014 my father Dermot O'Flynn passed away suddenly at the wonderful age of 94. A father, a great surgeon, and a yachtsman who enjoyed any opportunity to be out and about near or on the sea, he left me many happy memories. He also left me an Olympic Sailing gold medal from the 1948 London Olympics. The medal was won by Jim Weekes, an American who crewed on a 6 Metre yacht called Llanoria.
The author sails Llanoria on Lake Lucerne before the 2016 6 Metre European Championships.
Designed by Sparkman & Stephens, Llanoria was owned by Herman Whiton, a past member of Seawanhaka Corinthian Yacht Club in Oyster Bay, New York, a wonderful club that is steeped in yachting history.
The 1948 London Olympics was also known as the Austerity Games, due to the economic climate in England after World War II. On the crew registration for the Sailing events, which were held in Torbay in southwestern England, Jim was listed as James Weekes. The other members of the crew, all from Seawanhaka Corinthian Yacht Club, were Herman Whiton, Alfred Loomis, Michael Mooney and James Smith. Besides winning the Olympic gold medal in 1948, Llanoria also won the famous Seawanhaka Cup and then went on to win the Olympics for the second time in 1952, as well as the One Ton Cup in 1951 and 1957. No other yacht has ever won two Olympic gold medals.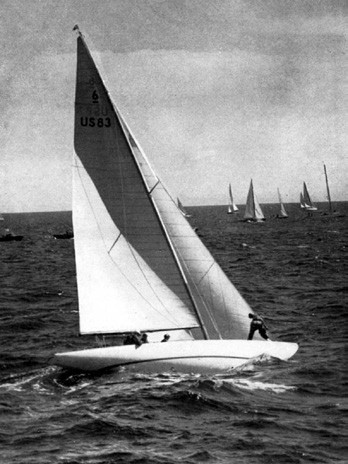 The 6 Metres were the largest and most prestigious yachts competing in the 1948 Olympics, which also included Dragons, Sunbeams, Stars and Fireflies. The famous yachtsman Paul Elvstrøm won his first gold medal that year sailing a Firefly dinghy, so Jim and the crew were in good company.
Llanoria sailing for her second Olympic gold medal in the waters off Harmaja, Finland in 1952

My father was gifted the medal in 1981 by Jim's wife Kay, who had been a long-term patient and friend of my father. In a letter she wrote:
"This token comes with my deep affection. No other man deserves it better other than the one who won it. No sailors in my family – hand it down to one of yours when the time comes."
My father made the decision to hand down the medal to me, probably because I survived the 1979 Fastnet Race in a Ron Holland Half-Tonner, sailed across the Atlantic in a 35-foot Camper & Nicholsons yacht in 1981, had a second overall in The Middle Sea Race in 2000, and loved sailing all types of boats whether they be dinghies, IRC racing yachts or classic cruising yachts. On the 30th anniversary of the '79 Fastnet I revisited Fastnet Rock in a Sport 16 dinghy to raise money for the Royal National Lifeboat Institution, a registered charity that provides 24-hour search and rescue service off the coast of Ireland and the United Kingdom.
After keeping the medal under lock and key for a while, I came to the decision that it did not belong to me or my family and should be returned to Seawanhaka Corinthian YC, and so my journey started. Very quickly I discovered that Jim Weekes had only one living relative named Townsend Weekes, who was also a member of Seawanhaka, and he was delighted to hear the medal would be coming home.
Townsend informed me that Jim was originally from Oyster Bay, he had three siblings, and the Weekes family has a long history with Oyster Bay dating back to 1653 when Francis Weekes settled there. Jim's grandfather was one of the earliest members of Seawanhaka Corinthian Yacht Club and both his brother Arthur and brother-in-law Porter were commodores. Jimmy, as the family called him, was a terrific athlete who loved sailing and was the best rifle shot of his three brothers. Like his brothers, he had a distinguished career in the U.S. Navy in World War II as an executive officer on a cruiser in the Pacific. Nobody can remember how Jimmy was selected to sail on Llanoria for the Olympics in 1948, but obviously Herman 'Swede' Whiton liked the 'cut of his jib.'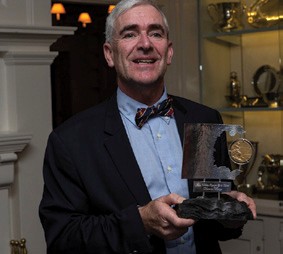 Having discovered who Jim Weekes was, my attention was drawn to Llanoria US 83 and whatever happened to her. My journey started by accident when I was delivering an Alden 54 called Tara from St. Petersburg, Russia to Stockholm, Sweden via the Finnish Archipelago. We happened to spend two wonderful nights at the Helsinki Yacht Club. The club has a half model of Llanoria and a photo of her winning the Seawanhaka Cup.
Dermot O'Flynn with the James Weekes Olympic Gold Memorial Trophy, which he commissioned
My next port of call was the famous yacht designers Sparkman & Stephens in New York City. They very kindly went through their records and found a line drawing of the yacht, which was designed by Olin Stephens and built by Henry B. Nevins, Incorporated in City Island, New York in 1948. Sparkman & Stephens sent a copy of the drawing to me, although at that time they had no record of Llanoria's present location.
I kept digging for more information and finally got in touch with Matt Cockburn, Secretary of the Puget Sound 6 Metre Association, who gave me the amazing news that Llanoria had been totally refurbished by her current owner Peter Hofmann whose family had purchased her in 1980. Matt also told me that she had just won the 2015 6 Metre World Championships (Classic division) at La Trinite Sur La Mer, France, helmed by Eric Jespersen.
I then contacted Peter, who was fascinated by the story of the medal. He kindly agreed to me joining him and the crew of Llanoria for a sail as they prepared for the 6 Metre European Championships on Lake Lucerne in July 2016. What a joy to sail with a crew who knew their yacht and to watch them tune the rig, adjust the sheets, move the mast and create the perfect sail shape for 6 Metre sailing in 8- 10 knots of breeze.
In memory of James Weekes, I agreed with the Commodore, Vice Commodore and Flag Officers of Seawanhaka Corinthian Yacht Club through a deed of gift to present the medal as 'The James Weekes Olympic Gold Memorial Trophy,' which will be presented annually for an outstanding international sailor who is a member of Seawanhaka.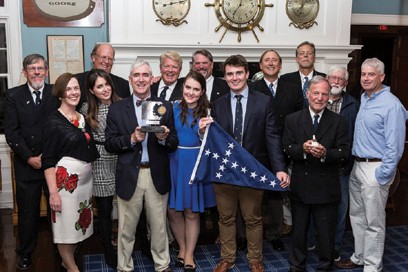 The trophy, designed by De Capo Goldsmiths in Dublin, Ireland, represents the coastline of Torbay in Irish Silver with Jim's gold medal suspended in the center of the 1948 6 Metre race area. It is placed on a piece of Irish Bog Oak from Fota Island, which is over 800 years old. The reason the oak was chosen was that on the day my father died, his parish priest said to me upon hearing the sad news, "Dermot, a great oak has fallen."
Dermot, his family and Seawanhaka Corinthian YC flag officers at the trophy presentation ceremony
Dermot O'Flynn lives in Dublin, Ireland and is a member of the Royal Irish Yacht Club in Dublin and the Royal Cork Yacht Club, which was founded in 1720 and is the oldest yacht club in the world. In addition to three Fastnet Races, the Middle Sea Race and the Round Ireland Yacht Race, he has cruised extensively in the Baltic, North Sea, Scotland, France, England and of course Ireland. After owning a Beneteau First 25 and First Spirit 300, he and his wife Orla have 'gone back to basics,' enthusiastically racing a Dublin Bay Water Wag. Designed in 1886, the Water Wag is the world's oldest one-design dinghy.