Welcome to our (or at least my) first WindCheck Product Review. We are diving into this realm for a number of reasons. The primary driver is that while innovation in sailing is ongoing, we all know that there are lots of traditions that sometimes limit the adoption of things that ultimately make the sport more fun, safer, and more accessible. This review fits those criteria to a tee. Second, they are advertising in the magazine! So writing a review is the least we can do. But I challenge anyone to find unwarranted favor in our review…hopefully you know us better than that by now.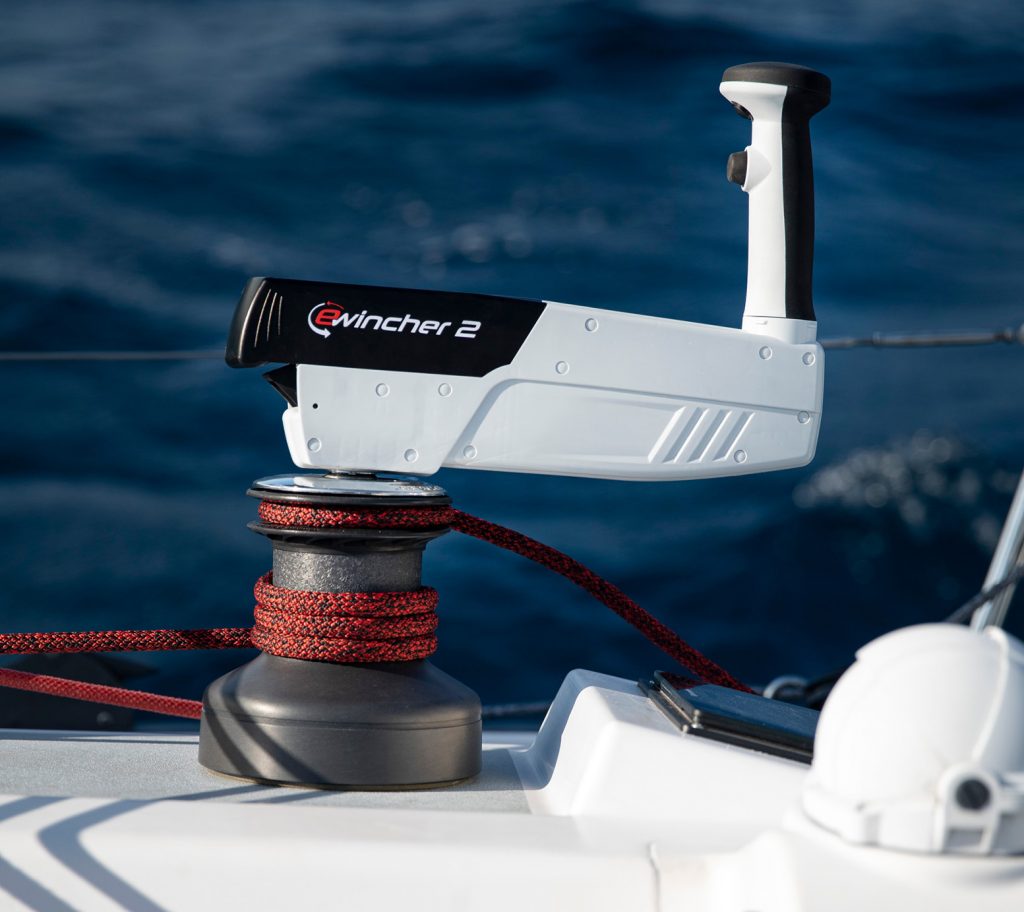 This summer, we got to play with the Ewincher2, an electric winch handle. So here are our thoughts. The Ewincher was designed in France, where of course sailing is a religion. The claims are that because it fits any winch with a standard socket, "the lightweight, powerful and ergonomic Ewincher electric winch handle converts all your manual winches into powered winches without the expense of converting to and the power draw of electric winches. Its high efficiency lithium-ion battery will last all day and recharge in 1.5 hours using either 12-volt, 110-volt or 220-volt chargers. The handle is waterproof (IPX6 Certified), so you don't have to worry about rain and high seas splashing aboard."
All in a 4-pound package? These are pretty big claims that other products have made in the past. So we put this latest "solution" to the test.
We started on small boats with annoyingly undersized winches. Pulling up the mainsail on small keelboats like a Graves Constellation or an Alerion can be a nuisance. The tiny, two and-a-half-inch drums are nice for not cluttering the deckhouse, but pretty useless as winches. The logic of course is that because you are only hoisting the main once, a bit of hassle is worth the space. We put on the eWincher, said, "Tail this" to the helmsman and pressed the button for high-speed mode. Well, that was easy! Up she went, no awkward stance from the companionway or grinding the last four feet forever! Then we used it on the Graves' 150% genoa and it got some legit "Wows!" from the boat's owners. OK, on to real tests.
Next up, we put it on the self-tailing jib winch of a J/109. No contest…on high-speed, the jib came in too quickly. Which made us aware that mastering the modes is important but not very hard. The Ewincher2 has three operating modes and they are all achieved by pushing the trigger button near the top of the handle. For electric, you hold the button and brace yourself as the handle does the winching. In manual, you use it like a regular winch handle. Then you can combine the two, where, for increased hauling speed, you turn the handle while the motor is working. Very importantly, you can change the Ewincher's grinding direction, allowing you to take advantage of your boat's multi-speed winches.
Next, we took it out on a few larger boats: a Dehler 38, an older Frers 46 (think leadmine), and a J/120. Same result, and we got better at using it each time. It started to feel like we need to investigate what the handicap penalty would be for using it while racing! Other skippers wondered how much they might save on the Advil budget.
Lastly, we loaned one to folks whose job it is to go up masts all day long. Rigger Dave Chard had his team at Black Rock Boat Works took it for a work week. As you might imagine (or have paid for), hauling large people up the rig, with tools, is not a fun part of the workday. The Ewincher yielded grins as "the little guy" got to stay on deck for a change while he ground the 200-pound rigger quickly – and importantly, smoothly – up various large rigs. And, he got to keep his head up and watch his mate's progress instead of head down in the traditional grinding position, straining to hear the "Hold!" and "Go!" calls from aloft.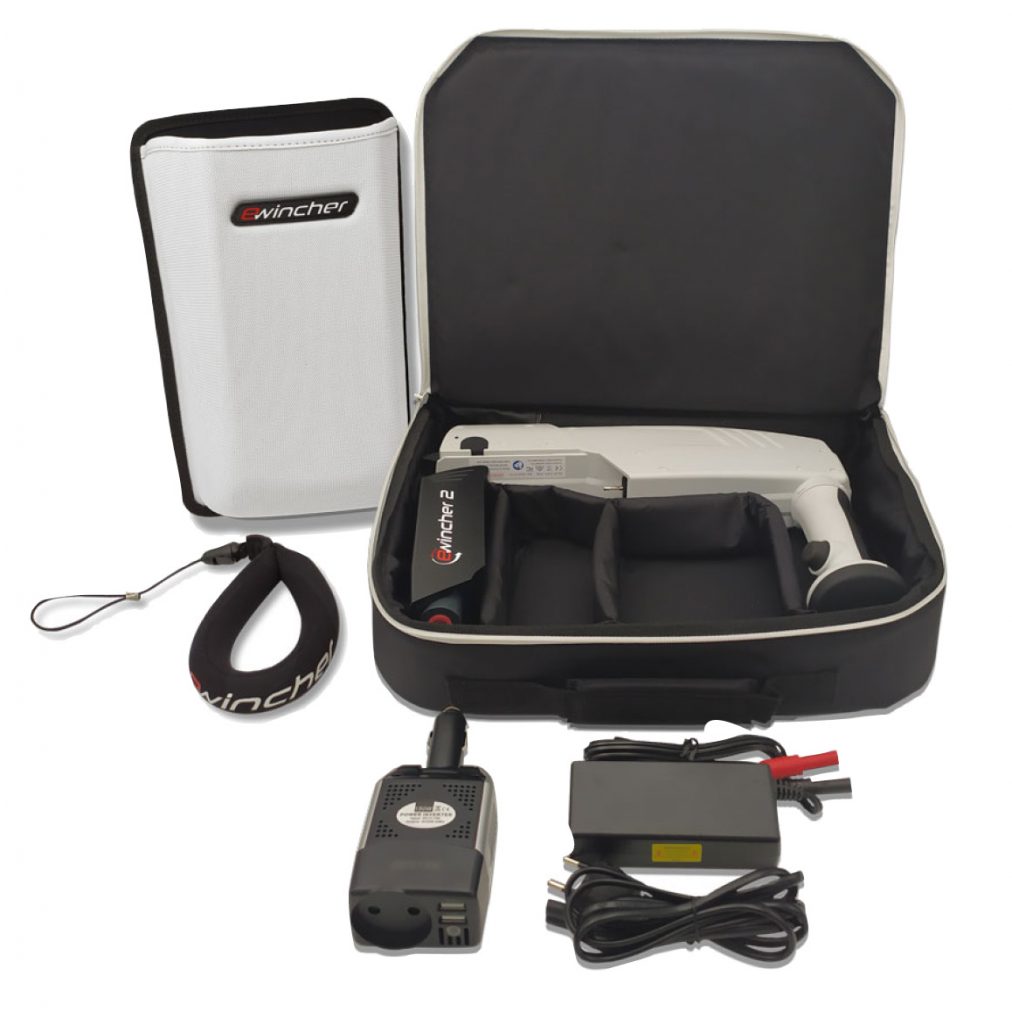 If you read our piece last month titled "The Ahhh Moment," you can relate to how this product might keep an older sailing couple cruising more enjoyably for years to come. At two grand it is obviously an investment, but compared to the overall costs of sailing or any number of items needed in the powerboat world, our feeling is that this is an extremely cost effective product. A last point on that…we didn't try it, but as a part of the man overboard kit this could be a real lifesaver. The Ewincher comes with the handle, battery, 12-volt charger, 110-volt charger, winch handle pouch, and a carrying case. For bigger boats or heavy users, a second battery is an option. We only charged it once through all of our tests and never got into the second battery. (We think the riggers did though!)
The Ewincher can be purchased through Black Rock Boat Works (Yep, another advertiser). Email them at blackrockboatworks@gmail.com. The cost is $1,999 plus $25 for shipping anywhere in the United States or $50 to Canadian addresses. There are also a number of videos there, as well as on the manufacturer's website at ewincher.com. ■