Ike Schutz (age 15) and Avery Peterson (14), from Sachem's Head Yacht Club in Guilford, CT, recently returned from an amazing experience at the 2022 RS Feva World Championship, held in July at the Weymouth & Portland National Sailing Academy in England, the site of the 2012 Olympic Regatta. Ike and Avery were the only sailors from the USA at this event. In the summer of 2021, they won the RS Feva North American Championship at Cedar Point Yacht Club, which qualified them for a complimentary new charter boat at the 2022 World Champs.
Ike and Avery arrived a few days early to pick up their boat from the very helpful and friendly UK-based RS Sailing International team which hosted the regatta. The Feva Worlds were the kick-off event of the 2022 RS Games. Ike and Avery spent the days leading up to the regatta training and tuning-up with their fantastic UK-based coach, Adam Bowers, and four teams from the German RS Feva squad. The 2022 RS Games was a month-long competition in which 1,500 competitors in twelve different RS classes descended on the venue. In true RS Sailing style, the RS Games was a celebration of the incredible RS community and fun sailing lifestyle that is so special to RS sailors worldwide.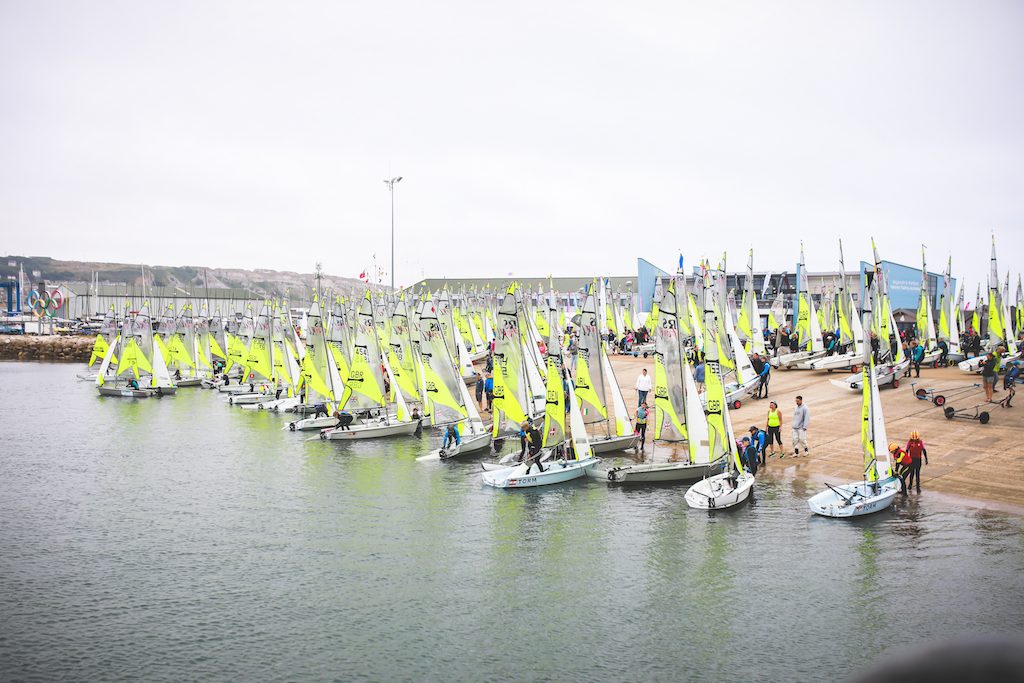 © Kerry Schutz Photography
The Feva Worlds had 186 teams racing in three fleets in Weymouth Harbour. Over the five days of racing and fifteen races, the sailors experienced a variety of conditions, from light and shifty, to three days with winds over 20 knots, which the Brits call "a stonking day." International RS Feva competition is top-notch. The most competitive Feva sailors, like those in most youth training fleets, are training year round, working with elite coaches to refine their boat handling, and tuning and their boats for optimal speed in all conditions. While the competition was strong, serious, and intense, we found the sailors and coaches to be very friendly, helpful and happy to share knowledge on and off the water, and everyone seemed to be having a blast. The host venue was a fantastic sailing site, and the Race Committee and race management was professional and expertly executed every day.
RS Sailing knows how to run fun regattas, from the pink carpet in the regatta park, music playing all day, Ping-Pong tables, giant beanbags chairs for the sailors to flop onto, to evening gatherings with dance parties for the sailors to meet lifelong sailing friends from around the world. Thank you to RS CEO Jon Partridge, RS Games Event Manager Lucy Jameson, and the whole RS Team for running a fantastic event. RS Sailing certainly lived up to their hashtag of #sailitliveitloveit and Team USA felt lucky to be a part of it.
Ike and Avery represented the USA and the growing North American RS Feva fleet very well. They sailed smart, very consistently, and placed 28th out of 186 teams – this totals almost 400 sailors who collectively represented 20 countries from around the world! Ike and Avery came home inspired for more sailing and can't wait to return to Europe for more racing in 2023 and beyond. Full results are posted at sailwave.com/results/WPNSA/2022_RS_Feva_Worlds/RS-Feva-World-Championship.htm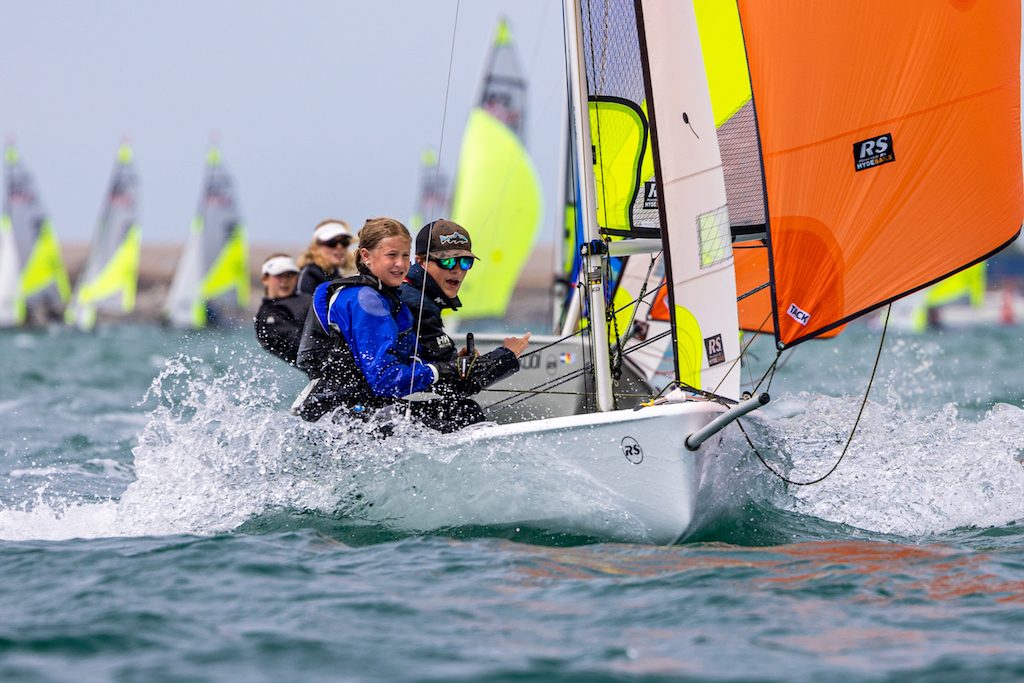 © Digital Sailing UK
"Sailing in an international event is truly a bucket list experience for any sailor," says Ike. "This was my second international event, my first being the 2020 International Optimist Trophy regatta in Spain. At the RS Feva North Americans last summer, Avery and I learned about the Worlds being held in England in and the excitement began brewing! A year of planning later, we arrived at the sailing venue, with the Olympic rings located just on the edge of the boat park. The vibe of the sailors, parents and coaches was social and fun, and Avery and I made new friends from all over the world! Our coach, Adam Bowers, shared invaluable local knowledge and a wealth of sailing experiences, and working with him was a highlight of the event for me."
"The 2022 RS Feva Worlds was an experience to remember!" Avery enthuses. "I have sailed Fevas for four years, and raced in many local regattas and at my club. I was excited to try something new, but was nervous about traveling to my first big international event. I had to be brave, train hard, and put my best foot forward, and I was so proud in the end."
"When we started training before the regatta, we teamed up with the German Feva team. They are great sailors and very interesting to talk to. They are all very accomplished and one team was a top Gold Fleet competitor at the 2021 Feva Worlds. Over the course of the regatta we also made friends with sailors from the Dutch, Swiss, and British teams. It was very cool meeting people from all over the world, and unique to hear all the different languages at the starts and on the racecourse."
"In Connecticut, where I have sailed my whole life, we are used to shifty, light breezes, with a local level of competition. In England, we were greeted with quite the opposite. The average day was around 15-20 knots with gusts to 25! The competition was fierce, from starting lines crowded with 65 boats in the Gold Fleet and more than 100 boats in the other two fleets waiting below us to start and intense mark roundings where you could lose or gain ten boats in seconds, to the super-windy tight reaches where our main goal was to pass as many boats as possible on a full plane while making sure to stay upright."
"This was some of the hardest and most fun sailing I have ever experienced. Thank you to RS Sailing and the WPNSA for running this amazing regatta, and our wonderful UK sailing coach Adam! We hope to see more American sailors at the 2023 Feva Worlds in Italy!"
Currently, there are about 700 Fevas spread across fleets, clubs and community sailing centers in North America. According to Todd Riccardi, the RS North American representative, there are approximately 250 Fevas on Long Island Sound, fifty in New Jersey, forty in Florida, forty in the Great Lakes area, 100 in Canada, fifty on the West Coast, and other small fleets around the US. On Long Island Sound, most of these Fevas are leased from Scott Hardy, owner of The Boat Locker in Bridgeport, CT.
Sachem's Head Yacht Club, where Ike and Avery sail, leases six Fevas from The Boat Locker and they are used daily in the club's popular Tween Adventure Sailing programs and Tween/Teen Racing programs. At most clubs on Long Island Sound, the Fevas are being used recreationally and doing a great job of keeping kids 10 to 14 years old involved in the sport through fun doublehanded sailing and local-level racing. RS Fevas are definitely meeting a need at many clubs, and they are a terrific bridge boat for kids that don't want to race Optimists, but find they are too small for the other boats at their club or sailing center.
Interestingly, with this many Fevas in the USA, there is very little regional or national training or racing taking place, which is a stark difference to what is happening internationally. I believe there is opportunity for Fevas to be used in the USA for both recreational sailing and as a development boat for those interested in higher-level racing. We learned at the Worlds that many other countries including New Zealand, Italy, Netherlands, England, Germany, and Lithuania have regional and national Feva training squads, dedicated elite Feva coaches, organized Feva training camps, and frequent major regattas attended by 100 competitive teams who are traveling across international borders.
Feva sailors in other countries tend to be older, bigger, and more competitive than those we typically see in Fevas in the US. These sailors are pushing the Fevas to their limits, taking on big breeze, and tweaking their set-ups for optimal speed. International Feva racers are having a lot of fun with the boats, and are committed to training hard as they view the Feva as a pathway boat into 29ers, International 420s, and other high performance boats and campaigns. There's great opportunity in the USA for sailors, clubs, and elite training teams to consider how else we can use Fevas to also provide racing and training for developing teen sailors seeking double-handed, national-level racing.
I also think it would be great to see some RS Feva regattas held in the shoulder seasons, maybe a Midwinters in Florida this winter or early spring, and we should invite international RS Feva teams to join the fun! The 2023 Feva Worlds will be held in Follonica, Italy, and hopefully we will see many more American sailors there. RS North America is currently seeking volunteers to help organize and run the RS Feva North America Class. If you are interested, please contact Todd at todd@rssailing.com.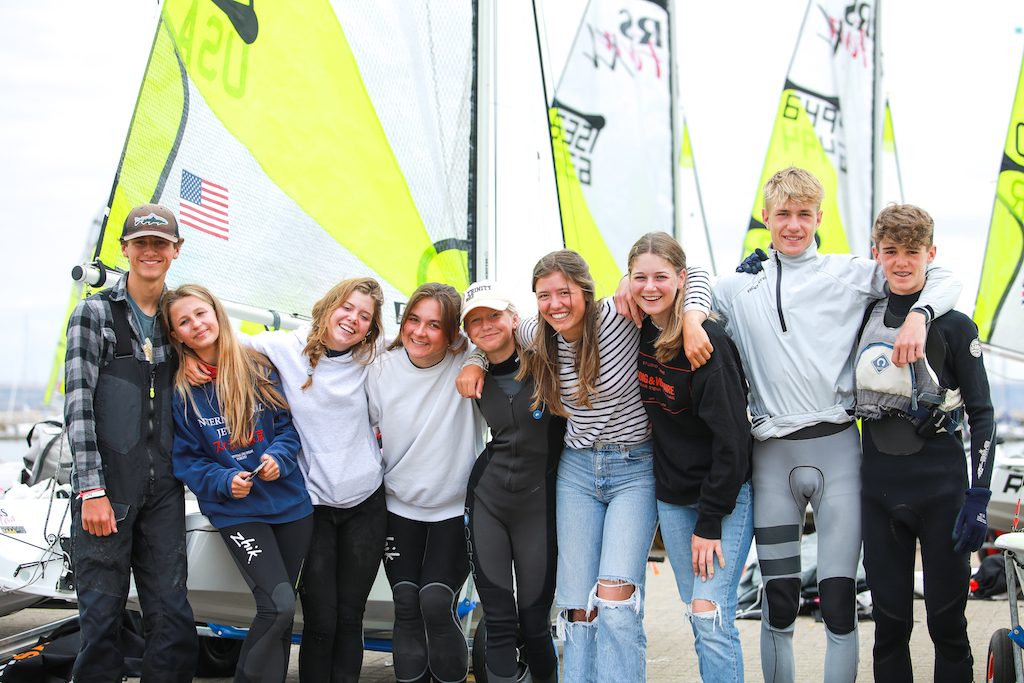 © Kerry Schutz Photography
Also of important note, the RS Feva is the boat selected and used by US Sailing's Seibel Sailing Programs, which has 120 RS Fevas at nineteen community sailing centers around the country. The Siebel Sailors Program was created to get more youth into sailing. The program launched in 2019 and has served over 700 youth sailors annually. US Sailing accomplishes this by partnering with community-based sailing organizations that share the goal of getting underrepresented youth into the sport of sailing. There may also be opportunities for creative collaboration between the Seibel Centers and their sailors, as future RS Feva racing, training, and development programs take form and gather momentum. ■
A four-time Collegiate Sailing All-American at Dartmouth College ('95) and a member of the U.S. Olympic Sailing Team in the Women's 470 Class in the 1990s, Whitney Peterson is the Commodore of Sachem's Head Yacht Club, where she has run the club's junior sailing programs for almost a decade. Whitney is a Director of Marketing & Partnerships at Gowrie Group, a division of Risk Strategies, one of the largest marine insurance groups in the U.S. She lives in Guilford, CT with her husband and two teenage daughters.