The Mixed Offshore Doublehanded European Championship
By Barbara "Basia" A. Karpinska
Between the pandemic and tough competition for new Olympic sports, we now know that the efforts pioneering Mixed Offshore Doublehanded as a new discipline in Olympic Sailing will need to continue beyond the Games in Paris 2024. Initiated in 2019 in a one-design boat called the L30 (developed by Rodion Luka and designed by Andrej Justin), over the course of the last three years the event has successfully transitioned to the Figaro 3 (designed by Van Peteghem Lauriot-Prévost and made by Beneteau).
The Mixed Offshore Doublehanded European Championship 2022 was held May 12-15 in Italy, with ten teams representing nine nations. Some competitors were no strangers to the class and the event; some joined the fleet for the first time. While both my co-skipper Vladimir "Kuli" Kulinichenko (marine engineer, sailmaker, sailing instructor and two-time Whitbread Round the World Race watch captain) and I are fortunate to have become U.S. citizens, given the war in Ukraine we wanted to represent our respective countries to increase awareness of the conflict and to sail for peace. We made a special request to EUROSAF (the organization governing the sport of sailing in Europe) and were granted permission to enter as a Poland/Ukraine team, a departure from a traditional format where athletes represent one nation.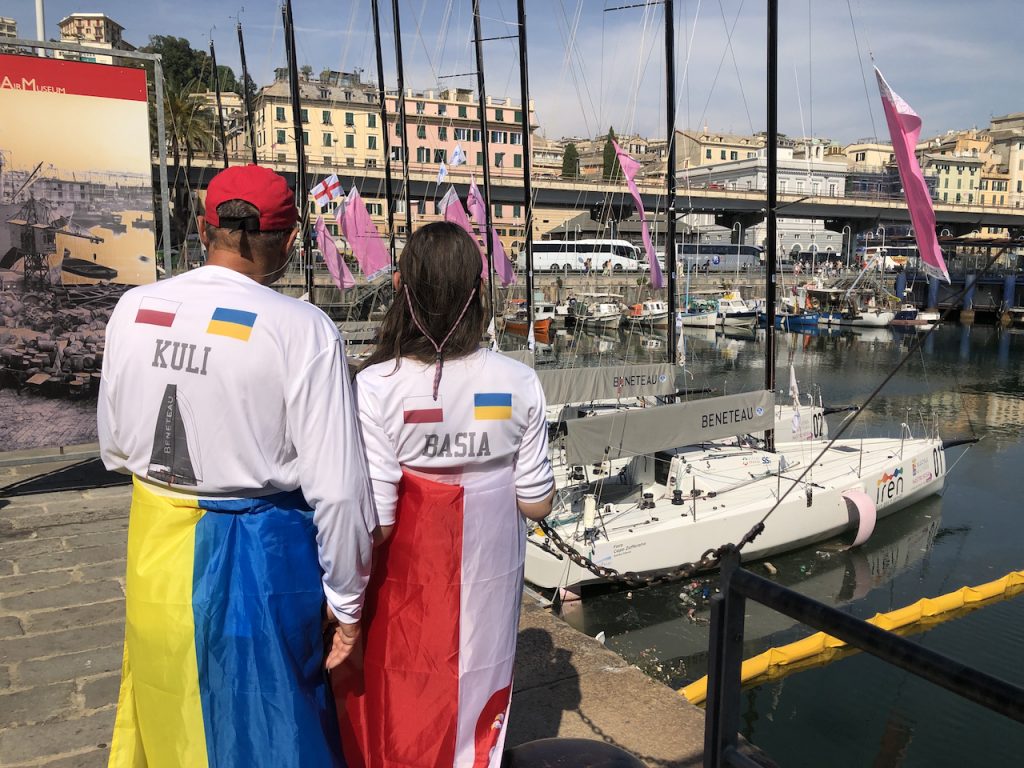 Unlike in 2021, when three distance races were held in succession with a night or two on land in between, the 2022 Europeans comprised just one race. The Notice of Race made provisions for three possible coastal course options in the Tyrrhenian Sea. Starting in Sardinia and ending in Genoa, these courses ranged from 275 to 285 nautical miles and spanned Italian and French waters. Because weather conditions may vary anywhere from complete calm to a storm, provisions were made for the race to be completed within a 100-hour time limit.
Carefully considering COVID-19 restrictions and having followed the ever-changing regulations, we opted to fly from the U.S.A. through Munich, Germany to Italy. Fun fact from our travels: country-specific mask requirements. To fly to Germany, Lufthansa only accepted surgical masks (handed out by the airline crew at check-in). These masks were also acceptable on a flight to Olbia Costa Smeralda in Sardinia. To our great surprise, when boarding a bus from Olbia to Palau we were told by the driver that we must wear NK-95 masks. Having waited for that bus for over two hours, this request caused some excitement and not in a good way. It was already afternoon and we needed to catch a ferry from Palau to La Maddalena to make the regatta opening ceremony. Then another surprise: in half-English, half-sign language, the driver pointed to a small shop down the street where apparently NK-95 masks were sold. Kuli stayed with our bags while the entire bus waited, and I ran to buy the masks. I have never been known for an aptitude in running…we remain grateful for Italy's kindness and flexible sense of time.
The next morning, we were assigned hull #2 and began race preparations in earnest. Although Figaro 3s are supposed to be one-design and the logistical organization of the fleet continues to improve with each event, there's always work to be done. We marked the spreaders, added a bowsprit extension to prevent a spinnaker sheet from going under the boat during outside jibes and installed a Windex – not without Kuli's playful complaints about my needing his help to get to the top of the mast instead of free climbing (those days are over, Johnny!). The most vulnerable part of a Figaro 3, the foiling system, needed testing and adjustment – we are grateful to Cecilia Zorzi, 2021 and '22 European Champion, for patiently answering all the questions to best prepare our foils.
As part of pre-race preparations, Peter Isler from #MarineWeatherUniversity (academy.islersailing.com/p/marineweatheru) graciously agreed to provide his navigational expertise. We held weather briefings, reviewing the course and routing plan daily. Our last meeting took place at 7 am on May 12 for us in Italy, which was Peter's 10 pm in California the day earlier – we will forever be grateful for his commitment to the cause.
Given the weather before the race, the Organizing Authority decided on a fourth, simple course option that included starting in La Maddalena, leaving Corsica to starboard, and ending in Genoa. Depending on a weather model, this course ranged in distance from projected 234 nm in GFS to 325 in PWG and a handful of others in between. Minimum wind speeds were projected at 1.3 knots, maximum sustained at 13.1 gusting to 17.4 – a slow race overall with a minimum of 69% and a maximum of 92% of time spent under 8 knots.
The conditions were consistent with the forecast – mostly oscillating between 8 and 12 knots. For a period of time the first night, we were fortunate to find winds from 14-15 gusting to 18. One of the biggest challenges of sailing in the Mediterranean is the day-to-night and night-to-day transitions that entail major shifts from land to sea breeze and vice versa. In practice, this means the breeze cuts off as if with a light switch – this was the reason one of our competitors withdrew after being parked for nearly 24 hours. Resilience and vigilance are essential in keeping the boat always moving, while carefully choosing the distance from the nearest land depending on the direction from which the wind is expected to fill in. One of my college sailing coaches in Poland, Captain Andrzej Roszkowski, used to jokingly say, "People get the weather that they deserve." Must be Kuli and I are well behaved – there was not a drop of rain and a nearly full Flower Moon brightened our two nights at sea.
While on one hand light conditions are mentally exhausting, on the other there is more leeway for rest. We allowed each other a one 3-hour sleep each, one 90-minute rest, and a couple 2-minute catnaps. The Figaro 3 autopilot steers better in flat water than a human and we used it liberally, enabling us to focus more on trimming.
Light winds also typically translate into more interest in food during the race. The Figaro 3 is a sportboat without any basic comforts like a stove or a head. Some teams use jet boils for cooking, which I tend to shy away from given the risk of fire versus a benefit of a hot meal or beverage. A light boat that likes to go upwind at a minimum of 25 degrees heeling angle coupled with my clumsiness is not a great combination for a handheld flame. And, those post-race meals on land tend to taste even better! Therefore, we agreed to rely on fresh and pre-made provisions, a rather easy decision when in Italy. The freeze-dried food made by mountainhouse.com that I brought from the USA was to be used only as a backup, with water warmed up on the engine while charging the batteries. While such food is far from delicious, it's edible and just requires longer soaking time. Luckily, we had enough fresh food to last for the duration of the race, which we finished in under 48 hours. A small price to pay for safety; the safety that we "bookended" with our favorite cocktails the last night in La Maddalena (an aperol spritz for Kuli and a strawberry margarita for me) and an authentic, old-fashioned Italian meal upon our arrival in Genoa.
A major, unexpected 'attraction" of the race was our encounter with Maxi trimarans that set up their practice racecourse in the middle of ours. In a right-of-way situation, we held our own as a leeward boat (while, admittedly, also holding our breath).
One of the biggest lessons of the race, the one that cost us a podium finish, was local knowledge of Genoa Harbor. When the first-place Italian boat extended her lead the morning of May 14, we were head-to-head with the Spanish team, the other Italian boat tracking closely behind us. With the finish in sight, we decided to push for second place instead of covering against the fourth. The Italian team behind us, co-skippered by current World Champion Pietro D'Ali, ended up splitting and going slightly farther left than both the Spanish and us. Just enough to have slightly more breeze; the wind filling from left allowed Pietro and his co-skipper to finish second, and consequently bump the Spanish to third and us to fourth. With all this playing out in ultra-light conditions, literally within the last two miles, like a true gentleman Pietro came to apologize after the race for the in-depth knowledge of Genoa, his home harbor.
The awards ceremony was held by Galata Maritime Museum in Genoa with the city officials in attendance. All sailors were invited as honorary guests to the exhibits, including the submarine. Although Kuli and I were very disappointed having missed the podium after being in the lead on and off for half of the race, we left Italy satisfied with achieving the goal of top five we set prior to the race, and with both Polish and Ukrainian flags still flying.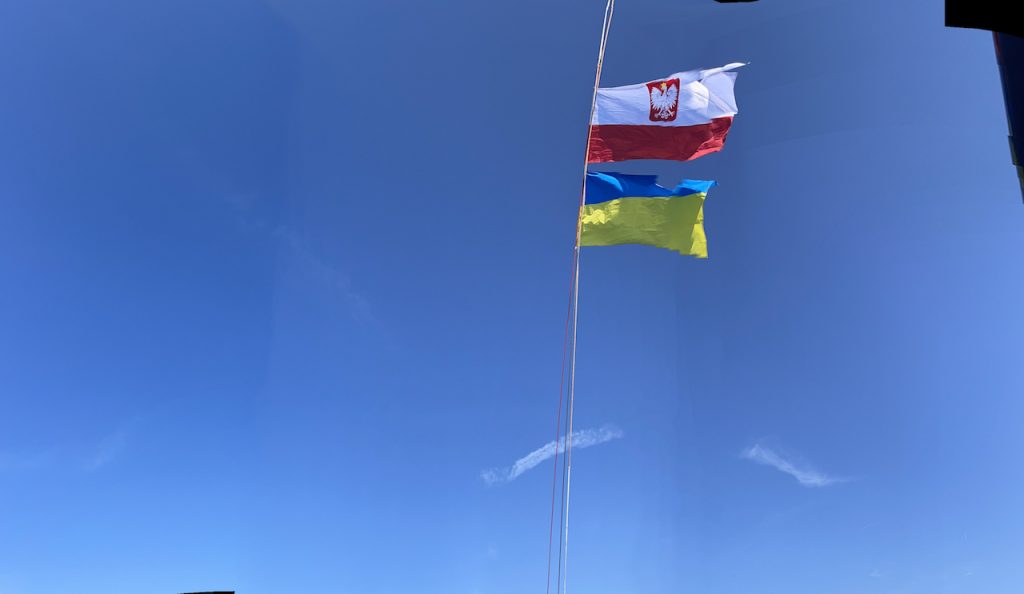 Double Handed Offshore sailing is currently the fastest growing segment of our sport, and a true test of seamanship and racing skills. Associated technology encourages spectators to get into sailing and enables them to get better faster. This format has recently been included and expanded in several local, national and international regattas. Most notably, thanks to the tireless efforts of Peter Becker and David Tunick, both outstanding leaders in the sailing community, the New York Yacht Club and Royal Bermuda Yacht Club, working in collaboration with the Cruising Club of America, hosted the inaugural Bermuda Short-Handed Return Race in June 2022 – a post-Newport Bermuda Race return to Newport for Single- and Double Handed boats. It is hoped that the race will promote greater interest in short-handed sailing, particularly considering the ongoing Olympic interest.
For a complete listing of global opportunities and more information, please visit Offshore Doubles (offshoredoubles.org), a home for over 1,700 sailors in 70 countries interested in Double Handed Offshore sailing, and those seeking to participate in sailboat racing with an increased understanding and appreciation.
For cutting edge marine weather education, designed and taught by the best in the field to help you further your knowledge and skills for racing and cruising, visit academy.islersailing.com/p/marineweatheru – all classes are available online with 24/7 access and a variety of valuable, free resources can be found on the website. ■
Growing up in Cracow, Poland, Barbara "Basia" Karpinska started sailing little boats on little lakes as a Girl Scout. She's sailed on the tall ships Dar Młodzieży and Fryderyk Chopin, delivered a Carkeek 60 from Hobart to Sydney, and completed numerous offshore/ocean races including podiums in the Vineyard, Newport Bermuda, Block Island, Around Long Island Regatta, Caribbean 600, Chicago Mac, Marblehead to Halifax, Transatlantic, and Rolex Fastnet.
Basia previously and currently races in the IC37, Etchells, M24, Sonar, J/105, J/44 and Swan 42 one-design classes, and enjoyed frostbiting her Cook 11 Snow White at American Yacht Club. She relishes team racing for the New York Yacht Club, where she serves on the Race, Events, Seamanship, and Communications Committees. She's also a member of the Storm Trysail Club and the Buzzard Society.