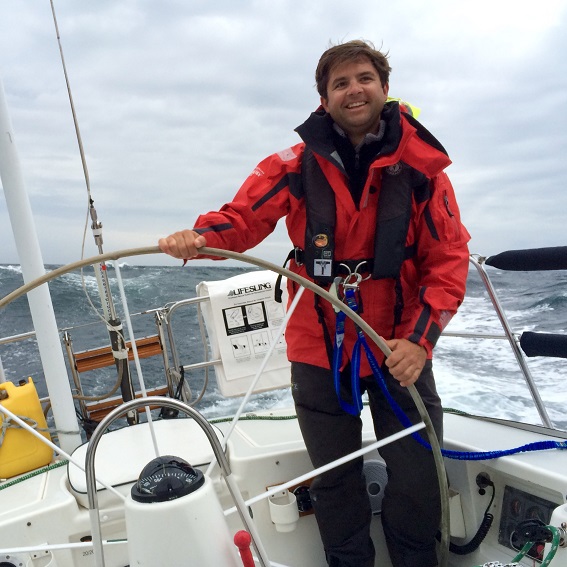 As the youngest Race Chairman in the history of the Newport Bermuda Race, 34-year-old Alton J. Evans has the helm of the 50th "Thrash to the Onion Patch," which starts Friday, June 17, 2016.
"I grew up on the Navesink River and Sandy Hook Bay," says A. J., who lives in Middletown, New Jersey. "I started sailing with my parents, Alton and Jackie Evans, when I was 3, and attended junior sailing at Monmouth Boat Club. We started cruising when I was 7, mostly long weekends on Long Island Sound, Block Island and Martha's Vineyard, as well as the U.S Virgin Islands and Southern California."
© Matt Marciano
"My dad was Commodore of the Atlantic Highlands Yacht Club. That's where I met my sailing godfather, Lenny Sitar, who is also a Past Commodore. Lenny invited my dad and I to go on a race, although my dad is more interested in cruising with my mom. I took to racing with Lenny and was 17 when I did my first Bermuda Race on his J/44 Vamp in 1998, and I haven't missed one since. This will be my tenth Bermuda Race, and ninth on Vamp."
"We're very lucky to have a core group of sailors aboard Vamp," says A. J. (pictured at the helm in a gale). Next year will be my twentieth on Vamp, and other guys have been there much longer. That says a lot about how Lenny runs a program and takes care of his crew. I'm not the youngest anymore, by far, and it's become a great group of reliable, talented shipmates. Lenny is a great guy and a great team leader, and quite often he can predict the weather better than the forecast!"
"Competition in the J/44 class in the Bermuda Race has been close from start to finish. During the SSB check-in days, you could drop a quarter on the plotting sheet and cover the class' plots. In 2014, we started close to Jim Bishop's Gold Digger and saw them next a few days later when we finished about two minutes ahead of them."
"I really enjoy the camaraderie of the J/44 class, but I've been exceptionally blessed with kind invitations to sail with friends on a variety of boats all over the world, including classics. I've done the Rolex Middle Sea Race, the Pineapple Cup, several Annapolis to Newport and Marblehead to Halifax races, and a very funny Transatlantic Race on the clipper Stad Amsterdam. It turned from race into cruise not long after the breeze died. I've never laughed so hard for so long."
A member of the Storm Trysail Club for a decade, A. J. is currently on the club's governing board. He's a member of the New York Yacht Club and serves on the club's Sailing Committee and Race Committee, as well as the National Sailing Hall of Fame's Youth Advisory Board. A maritime lawyer by profession, he's Chairman of the New Jersey State Bar Association's Maritime and Admiralty Law Special Committee.
"My involvement with organizing the Bermuda Race started when I was 29.  Sheila McCurdy, who was then the first female Commodore of the Cruising Club of America, appointed me Fleet Captain of the CCA. The Race Chairman at the time was Bjorn Johnson. I had sailed with Bjorn, and my mom has known him since grammar school. I helped Bjorn by writing the Sailing Instructions, and have enjoyed doing so ever since. I am incredibly honored that the flag officers of the CCA and the Royal Bermuda Yacht Club have appointed me to this position. Not only is this the 50th edition of the Bermuda Race; it's also the 90th anniversary of the RBYC's partnership with the CCA in running the race."
"The Bermuda Race is special – I think there's something in the water, especially when it turns that indescribable blue. Some of the best parts of the race never change – the water, the Stream, the routine of offshore sailing, the first sighting of a Long Tail, that two-hour motor to RBYC, and then the dock walks, exchanging sea stories loosely based on true events. But it's most special in that it's the only ocean race in the world that focuses the competition on the sailors and their skill more than the boats, their designers, or owners' bank accounts. It doesn't have an overall trophy, although the St. David's Lighthouse is considered the grand prize."
"We level the playing fields by dividing the race into divisions that don't mix movable ballast boats with fixed ballast boats, or stored power with manual power, or double-handed with fully-crewed boats, and we limit the participation of professional sailors in most divisions. No matter what anyone says, there is no science-based handicap system that can fairly rate the differences that divide the fleet. We, along with many other premiere ocean races, trust the Offshore Racing Rule to do the rest. Our format, combined with ORR, gets the most people sailing and promises everyone a fair shake."
"I came up with the idea to permit boats in either the St. David's Lighthouse or the Gibbs Hill Lighthouse division with a minimum performance screen of 0.50 to also enter the Open Division. This will give those boats the option to compete for the Open Division's Royal Mail Cup, and it will give the Open Division boats (e.g. Comanche, Rambler 88 and Privateer) much more competition.  It will be a special contest to mark the 50th race. I've been referring to it casually as 'The Hauling the Mail Competition.'"
A. J. relishes what he calls "friendships forged offshore," and looks forward to sailing with his friends on Vamp in the next Newport Bermuda Race. "A true friend gets soaking wet on a cold, dark night by helping you flake a jib full of water on the foredeck for little or no money," he explains. "They're with you whether the cockpit is full of saltwater or rum, and they've got a fistful of your foul weather gear when the deck's awash."