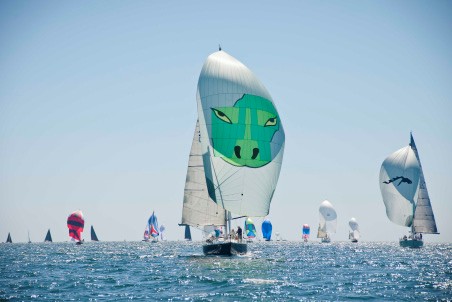 The Conanicut Yacht Club hosted 96 boats for its 88th edition of the Around the Island Race, which took place September 6, 2015. The annual event is one of the oldest ongoing sailboat races on Narragansett Bay, featuring a complete circumnavigation of Conanicut Island (for competitors racing mono hull sailboats over 22 feet in length that are rated for PHRF-NB). The race is followed by a dinner celebration at the host club, which was attended by over 250 people this year.
The Around the Island Race fleet heading downwind toward the finish on the west side of Conanicut Island  © Cate Brown Photography
"This event has once again brought the Narragansett Bay sailing community together for a competitive and fun day on the water," said Organizing Chairman John Mayers, adding that the fleet was comprised of a variety of different boats and competitors of all ages from different clubs and communities around the area. "Every year, our greatest variable is the race day weather and this year it was absolutely perfect; with conditions not only providing great sailing, but also highlighting how beautiful our bay is, especially when it's filled with a fleet of sailboats."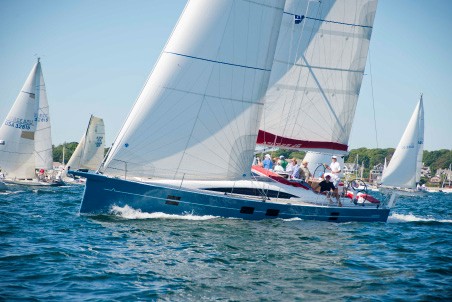 This year, David Schwartz's (Bristol, RI) Seguin 40 Mischief took home the John C. Quinn Trophy for fastest corrected time around the island (three hours, three minutes and ten seconds). The perpetual trophy is named after the club's former commodore, an accomplished sailor at all levels of the sport.
© Cate Brown Photography
The other perpetual fleet award presented was the Commodore Bruce R. Brakenhoff Trophy, which went to Huntington Sheldon's (Shelburne, VT) Reichel/Pugh 66 Zaraffa, which completed the race with the shortest elapsed time around the island (two hours, 14 minutes and 24 seconds).
Results
(based upon elapsed time corrected with a PHRF-NB rating)
Class A (13 boats):
Top Cat, Jim Lengel, Bristol, RI
Lynx, Dennis Nixon, Jamestown, RI
Sugaree, James Cornwall, Warwick, RI
Class B (11 boats):
Coconut, Tom Dalbora, East Greenwich, RI
Haraka, Craig Forbes, Warwick, RI
Four Suns, Charles Beal, Jamestown, RI
Class C (10 boats):
Bad News, Michael Marshall, Boston, MA
Lucy, Corey Sertl, Jamestown, RI
Wharf Rat, Matt Dunbar, Pawtucket, RI
Class D (13 boats):
Pipe Dream, John Mollicone, Newport, RI
Sugar Magnolia, Jeffrey Adam, Newport, RI
FastLane, Henry Lane, Jamestown, RI
Class E (8 boats):
Comet, Ed Adams, Newport, RI
Leonessa, Ray DeLeo, Bristol, RI
Luna, Chris Brown, Jamestown, RI
Class F (10 boats):
Mischief, David Schwartz, Bristol, RI
Aurora, Andrew Kallfelz, Jamestown, RI
Hawk, Barker & McVicker, Newport, RI
Class G (10 boats):
Temptress, John Gowell, Jamestown, RI
Gut Feeling, Ted Herlihy, New Bedford, MA
Kestrel, Sean and Susan Doyle, Cos Cob, CT
Class H (9 boats):
Just A Friend, Clay Deutsch, Newport, RI
Avalanche V, Ben Jacobsen, Jamestown, RI
Little Big Man, Dominick Cannavo, New York, NY
Class J (6 boats):
The Cat Came Back, Lincoln Mossop, Jamestown, RI
Odyssey, Alfred Van Liew, Middletown, RI
Entropy, Paul Hamilton, Jamestown, RI
Class K (8 boats):
HH42, Glenn Walters, Newport, RI
Reef Points, Gurdon Wattles, Little Compton, RI
White Rhino 2, Captain: Todd Stuart, Newport, RI
Conanicut Yacht Club Awards:
Eads Johnson Trophy (large boat, fastest corrected time): Aurora, Andrew Kallfelz
Robert A. MacLeod Rear Commodore Trophy (day-sailer, fastest corrected time): Lucy, Cory Sertl