Editor's note: In our October issue, 10-year-old Colin Shearley recounted his experience aboard the flagship of the Warrior Sailing Program, the Volvo Ocean 70 Warrior. The story prompted a response from Warwick Tompkins, a longtime friend and shipmate of Contributing Editor Joe Cooper who is known to his many friends as "Commodore." In Coop's words, Tompkins is "one of, if not THE iconic sailor of the second half of the 20th century. In his prime he was way ahead of Blake, Coutts, and all the rest."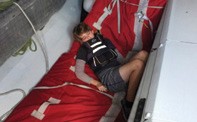 This is clearly an unusual young man. It is likely he will do well wherever he goes in future. So far as the sailing scene is concerned, I very much hope he discovers, or is shown, aspects of the sport other than outrageously expensive, modern, and very fast racing machines.
After a grueling day on the grinders, Colin Shearley has a well-earned kip on Warrior.   © Joe Cooper/JoeCooperSailing.com
Further, beside the social side of sailing, in the interest of keeping such a bright light in "our midst," it would be well were he to find many of the other aspects of sailing, such as overnight camping and exploring in small, easily purchased, maintained and handled vessels. There is so very much more to sailing than the competitive side which captures most of our attention. It is great that Joe has taken the lad under his wing; Joe grew up with many of the experiences to which I refer, and knows their merits intimately.
Yours in celebration of intellect and learning,
Warwick Tompkins, Mill Valley, CA
˜