Story & photos by Colgate Sailing Adventures® Trip Co-Leader, Heather Atwater
Editor's note: Our friends Heather & Nate Atwater are the Co-Leaders of Offshore Sailing School's Colgate Sailing Adventures® Flotilla Cruises, which visit exotic destinations around the world. In this installment, Heather recounts a visit to the Apostle Islands, a group of twenty-two scenic islands in Lake Superior.

Saturday, July 11, 2020 marked the start of our Apostle Islands Flotilla in Bayfield, Wisconsin, a quaint lakeside town, population 427. Bayfield is a very welcoming place, where people routinely say 'Hello' as they pass on the sidewalk, even amid COVID-19. There are several restaurants, shops and hotels, so it is clear the town relies on tourism to a certain extent. All the Offshore Sailing graduates and participants arrived on time, even though our flights were canceled entirely and we all had to rebook new flights. Most others drove or took the sleeper train from Florida – what dedication, Diana!
For this flotilla we were sailing three well-appointed monohulls provided by Superior Yacht Charters, just outside the town of Bayfield. Sanctuary is a Jeanneau 49, with Diana and Melissa as crew aboard our boat. Alyeska is a Jeanneau 44, with Eric skippering and Kelly, Bill and Birgit as crew. La Bateau is a Jeanneau 434, skippered by Josh with Aubrie and Chris as first and second mate. It was a small but able group, perfect for this COVID-era cruise.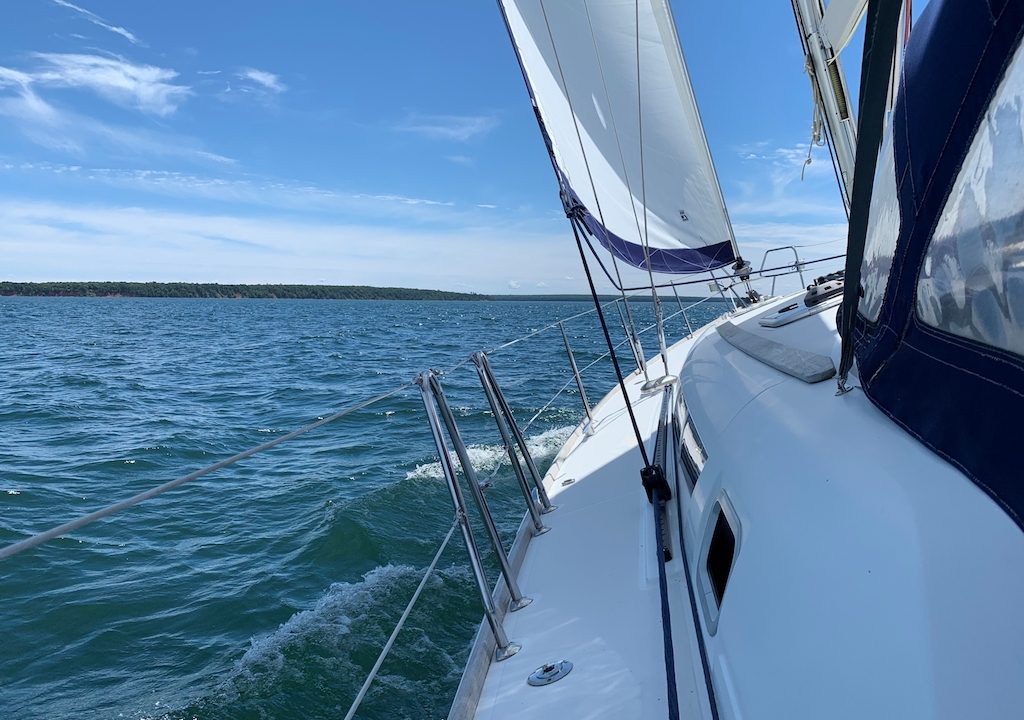 © Heather Atwater
The first day of a Colgate Sailing Adventures® Flotilla Cruise is one of hustle and bustle; there is a lot to do. We stowed the provisions and our gear, attended the Skipper/Navigator meeting, and went through the boats with the charter company to learn where everything is aboard and how to use it all. After all that was complete, we gathered to celebrate the start of our cruise with a Meet & Greet party. This is included in the cost of the flotilla, and on this one we hosted cocktails and a cookout on the deck overlooking the marina. We all got to know each other a bit that night and everyone had a good time. We spent the first night in the marina and it was a calm and comfortable night. It felt good to be aboard a boat again!
On Sunday, July 12 we set off the docks at 11 a.m. after the individual navigation meetings we had on each boat in which Nate and I explain where we are going, what to be aware of, and if there are any day stops, etc. It was a nice light air day, although we eventually had to turn on the iron genny to get to Stockton Island, Presque Isle Bay.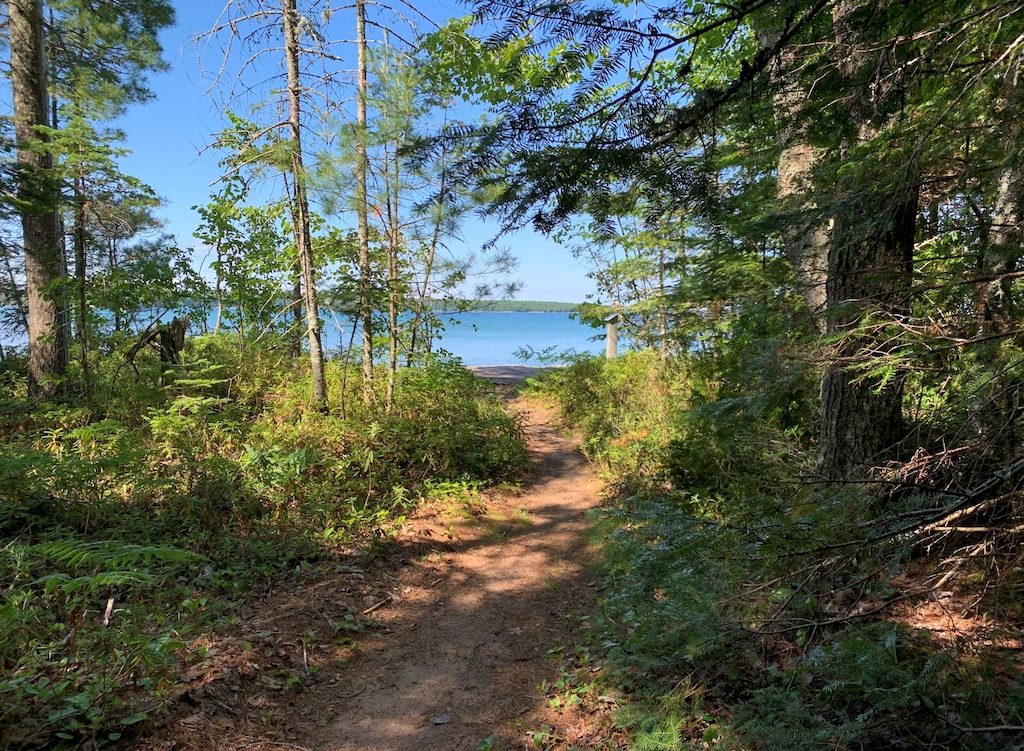 © Heather Atwater
After anchoring, tucked into the shore, we used our dinghies to go ashore and hiked a short distance to Julian Bay. It was a nice hike, and Julian Bay is reportedly where the sand sings when you walk on it. We did not quite hear that, but it was beautiful nonetheless. Also, we were on the lookout for black bears but luckily did not see any. It was a calm first night at anchor and for some of the participants it was their very first time sleeping on a boat at anchor…Cool!
On Monday, July 13 we did the navigation rounds then set off for Michigan Island to see two lighthouses on the south tip. We walked up the 123 steps (yes, Nate counted) to find the lighthouse grounds surprisingly beautiful and well kept with flowerbeds of lavender, daisies Rosa Rugosa and daylilies, among others. We walked back to the boats for lunch and then set off for Oak Island. We had a wonderful long sail in the afternoon. We passed the caves on the north end of Stockton Island and saw the balancing rock, too! The wind was out of the north and built to 12-15 knots, so we jibed back and forth on long legs averaging 4 knots.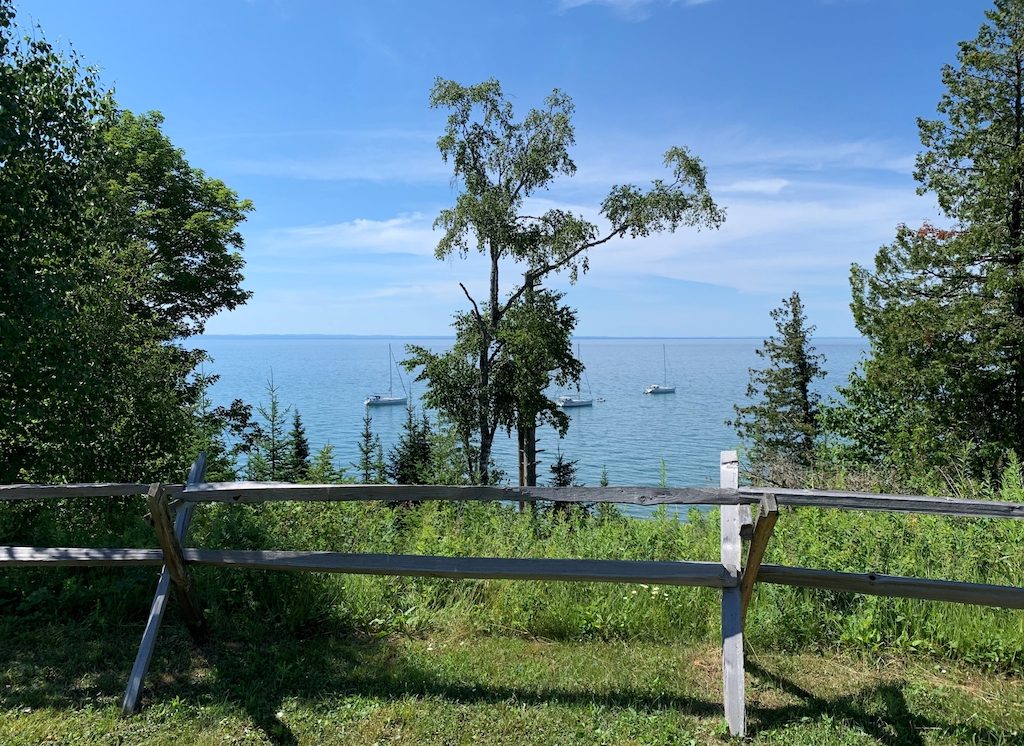 © Heather Atwater
After anchoring in North Harbor at Oak Island around 5:15 p.m., we hosted a cocktail party aboard Sanctuary. It was fun to talk sailing around the cockpit table with our fellow flotilla sailors. That night we cooked up some delicious filets on the grill with broccoli sauté and pasta salad. We were ready for a forecasted middle-of-the-night thunderstorm and it did not disappoint. It rolled through around 1:30 a.m, but luckily it was mostly lightning and rain and only 20-25 knots for 15 minutes or so. I think we all had a fitful night's sleep both before and after that.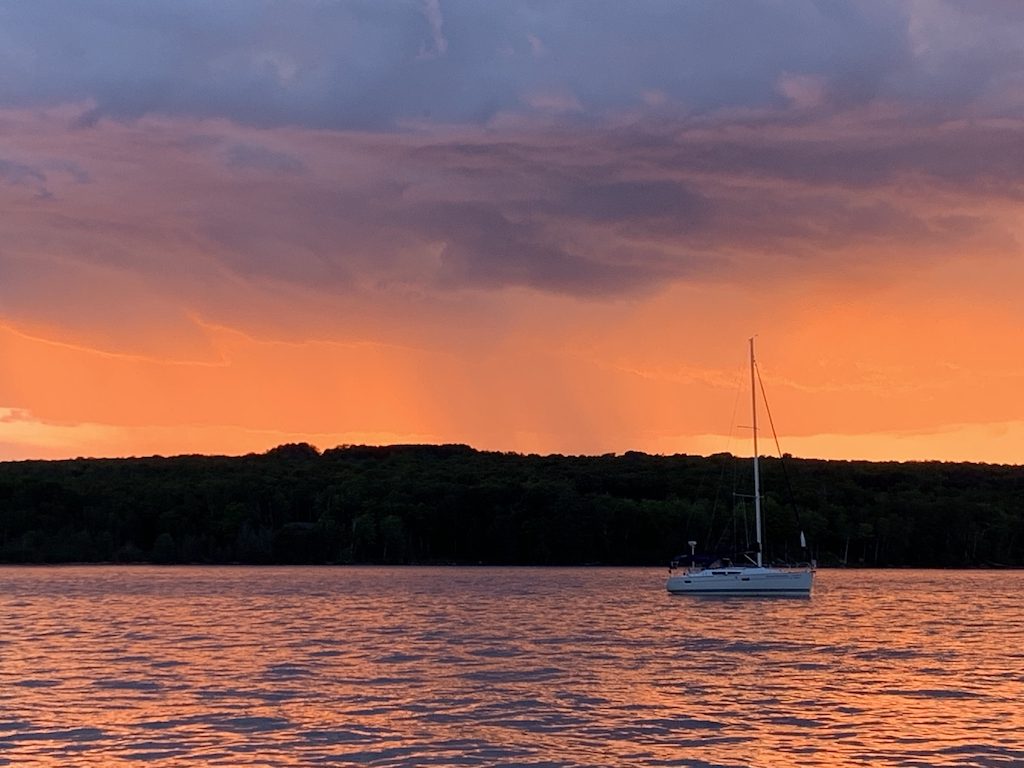 © Heather Atwater
Tuesday, the day started off overcast and we powered over to Raspberry Island and anchored there. The crew from Alyeska went hiking to the picturesque lighthouse, even through the rain. They were pleasantly surprised to be shown around by the keeper and got a tour despite being closed to the public due to COVID. After lunch we moved on to Justice Bay on Sand Island. When we arrived we went by dinghy to the sandstone caves. It was like the beginning of the Alfred Hitchcock movie "The Birds," only with flies. They were everywhere, but mostly biting us!! Quick tour of the caves then back to button up the boat and swat the flies left inside the cabin. We turned our attention to playing Rummy 500 and it kept us occupied as we fixed a light dinner of chicken salad since we had been eating good food all day. We had a good night's sleep.
Wednesday, we awoke to a beautiful day, so we revisited the caves and took off after navigation rounds to view the brownstone lighthouse at the north tip of Sand Island. Then we proceeded to sail north, wing-on-wing downwind toward Devils Island. We rounded Devils Island, stopping to dinghy into the caves there. They were really unique with the backdrop of a large lighthouse compound as well. After lunch, we had a great sail up the channel between Rocky Island, Otter Island and Bear Island. (How many places can you say that?) The breeze was out of the south at 9-12 knots, perfect for practicing our tacks. We ended the day at Raspberry Bay on the mainland. Some went ashore to the beach, while others tried to go up the river by dinghy, only to be turned away because it is Indian Reservation Land of the Red Cliff Tribe. We cooked up a yummy cauliflower and vegetable pasta dish, played more Rummy 500 and were awed by the amazing sunset and storm cells passing to our north, thankfully.
"Red sky at night, sailors delight"…We awoke to a beautiful clear, clean crisp morning. After navigation rounds, we picked up anchor around 10 a.m. to sail around Raspberry Point, between Oak Island and the mainland, up the North Channel to Madeline Island Yacht Club in LaPointe. It was the most vigorous sail of the flotilla with winds from 17-23 from the south. We sailed upwind to our destination, making good time and arriving at about 3 p.m. Some walked into town, others showered at the Madeline Island Yacht Club marina, and others went to the beach. We all met up at The Pub restaurant for our final dinner. Due to COVID, it was an unusual one, being a take-out dinner. The food was very good, and we all enjoyed dinner and drinks outdoor on the patio overlooking the water.
Friday, the final day, we had half a day on shore to do whatever you liked. Most walked the little town – masks required – and we visited art galleries, shops and the Burnt Down Bar, to name a few. One of the shops had works by 80 local artisans from Madeline Island. Around noon we headed back to the marina base, arriving in enough time to clean up the boats and disembark before our appointed time.
That's a wrap on another great Colgate Sailing Adventures® Flotilla! It was "just what the doctor ordered" – a perfect, relaxing, laid-back cruise amid this crazy pandemic. The next sailing trip is in the Exuma, Bahamas in November 2020. View all Colgate Sailing Adventures® flotillas at OffshoreSailing.com and click on the "Adventure Vacations" tab at the top of the homepage. ■