Published by The Greenwich Workshop Press   80 pages   softcover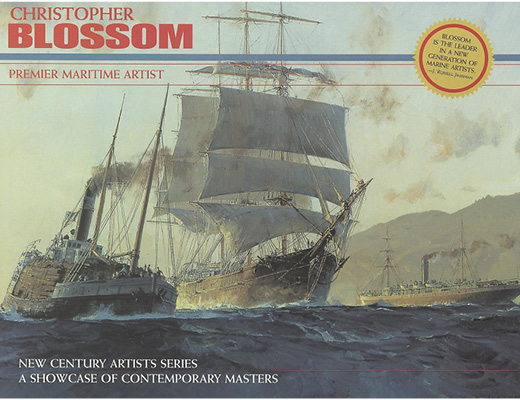 It's fascinating that prodigious talent is not only hereditary but also frequently multi-generational in a family (i.e. Williams and Andretti in music and motor racing, respectively.) The son and grandson of well-known illustrators, our friend Christopher Blossom grew up on the eastern seaboard and started sailing at age six. Today, he's one of the world's greatest marine artists.
By twenty, Blossom had sailed aboard the square-rigged brigantine Young America and created a painting that won a Gold Medal at the Society of Illustrators Scholarship Exhibition. Upon leaving the Parsons School of Design and Robert Bourke's Design Studio, he could visualize a finished boat from only its plans – and render it from any angle.
No one could more eloquently describe Blossom's amazing work than his good friend Russell Jinishian, owner of the J. Russell Jinishian Gallery in Fairfield, CT and author of the book's Introduction:
"Blossom is the leader in a new generation of marine artists…In his paintings one senses a deep, quiet, understated intelligence, not unlike the man himself…His research is thorough, and his feeling for atmosphere is pure poetry. Whether he's recreating Gloucester Harbor in the late nineteenth century, showing us the power of the surge at the entrance to Brixham Harbor or depicting San Francisco during the Gold Rush, Blossom is able to evoke the essence of his subject with a sophisticated realism and subtleness that allows us to slip gently into the painting like a ship safely into port. As you look through the pages of this book, I think you'll agree that Blossom's work ranks among the finest marine paintings of any era."
Almost the only time Blossom isn't painting is when he's sailing, visiting ports of call in Maine, Connecticut, Rhode Island, Maryland, the Bahamas, California and Washington state, and spent a year sailing around the Caribbean with his wife and two sons. "It's not a hobby, it's a way of life," he observes. "When I look at the ocean, I get the same feeling pilots must get when they look to the sky."
A beautifully produced edition in the New Century Artists Series from the Greenwich Workshop Press, Christopher Blossom: Premier Maritime Artist is an essential addition to your sailing library. ■