An uncertain journey to find an iceberg
A film by Teresa Carey, Ben Eriksen Carey and Derek Alan Rowe 
Produced by Doctrine Creative & Morse Alpha Studios

A shared love of singlehanded sailing aboard traditional cruising boats brought Teresa Carey and Ben Eriksen together, and with a common interest in simple, self-sufficient living it wasn't long before this affable, adventure-seeking couple had teamed up for a journey through life.
In 2011, Teresa, Ben, and their intrepid orange cat Dory departed Huntington, New York on their Bristol Channel Cutter 28 Elizabeth (with heart-shaped side windows on her dodger) for a 1,600-mile voyage that would take them northward to the waters off the coast of Newfoundland to see an iceberg.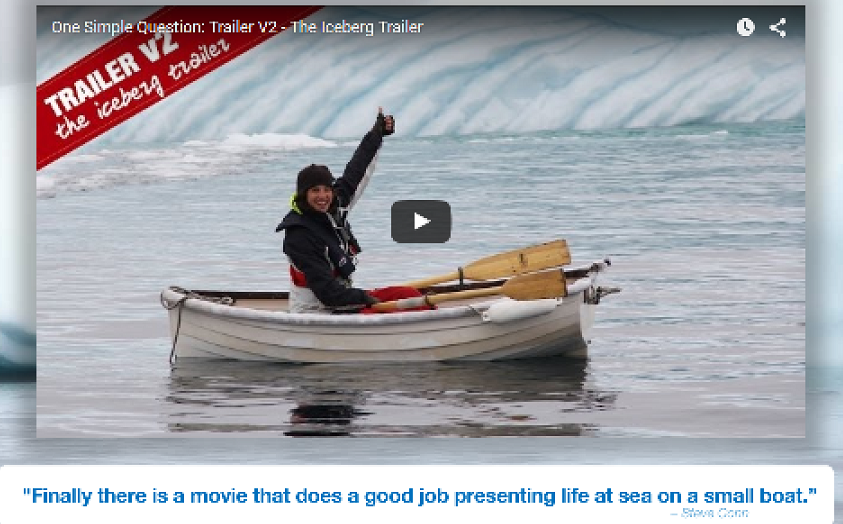 Watch the One Simple Question film trailer about a young couple looking for adventure, challenge themselves to drastically simplify their lives by living aboard a small sailboat while embarking on an uncertain journey to find an iceberg. Their quest brings them lessons in the joy of a deliberate life, a greater understanding of nature and a new path in the pursuit of happiness.
Teresa and Ben deliver most of the captivating narrative, which is supplemented by insightful observations on the joys – and hardships – of the voyaging lifestyle from cruising luminaries Lin & Larry Pardey, Pam Wall, Amanda & John Neal, Jaja & Dave Martin, John Kretschmer, Nigel Calder, Yves Gélinas, and George Day. The film also addresses climate change, with scientists Fiamma Straneo, Wallace J. Nichols and Andreas Muenchow providing commentary.
When Teresa and Ben learn that a massive, 100-square kilometer ice island had broken off of Greenland's Petermann Glacier, the largest floating glacier in the Northern Hemisphere, a chunk of that ice became the object of their quest.
Sailing for several weeks on a small boat presents a unique set of challenges, especially in northern latitudes, and Teresa and Ben must contend with rough weather, seasickness, frigid air and water, and mechanical breakdowns. "There is no substitute for self-reliance," Teresa observes. "Living on a boat has taught me to be not only a sailor, but also a seamstress, a cook, a mechanic, a scientist, an electrician and a carpenter, all at once."
Featuring stunning cinematography by Chris Rodriguez, Larissa Powers and Derek Alan Rowe (and Teresa & Ben) and a stirring soundtrack by The Accidentals and Steve Goldstein, this is a truly wonderful film. If you are a school teacher or a sailing instructor, you'd do well to show it to your students as soon as you can. To order a DVD of this exceptional film, or learn about how you can host a screening at your club, community sailing center, marine business, school, library or home, log onto simplequestionmovie.com.