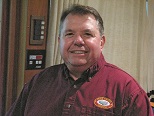 Brewer Yacht Yard Group has announced management transition plans for their Barrington, RI location, Brewer Cove Haven Marina. Michael Keyworth, General Manager and Vice President, of Cove Haven will retire January 2016 and Patrick Peck, Assistant Manager for the last 15 years, will assume the General Manager role.
Pat Peck to lead Brewer Yacht Yard Cove Haven
"The entire Brewer organization has benefited from Michael's efforts over the last 30 years" said Rives Potts, President of Brewer Yacht Yard Group. "We thank him for his many years of service in the boat yard, at Rhode Island Marine Trades Association meetings, working hard for dredging rights and lobbying for fair environmental policies for all marinas, not just Brewer. We are proud of his involvement in so many events including the Volvo and AC 45 racing in RI, countless Bermuda and other offshore races, and training and certification programs where he shared the Brewer philosophy of quality and service. Michael has been an outstanding contributor to the success of the Brewer brand and company and we shall miss him. We wish Michael fair winds and following seas as he and his wife, Nancy, return to sailing and living aboard Chasseur."
Brewer continues their tradition of hiring from within and has promoted Patrick Peck to General Manager. He has been with Brewer for 25 years at the Barrington location. "We expect the transition to be a seamless one for customers, employees and vendors", says Potts. "Pat is totally familiar with the operation of the yard and business." Chris Ringdahl, who has worked with Keyworth for the last 4 years on the service side, will take over as Assistant Manager.
In addition to 348 slips in the marina, a pool, showers, free WiFi and other amenities, Brewer Cove Haven has indoor and outdoor storage, full-service capabilities including a 60-ton and 150-ton boat-lift, heated indoor service shops, and paint shop. Their staff includes 5 ABYC certified Master Techs and factory certifications from top manufacturers including Yanmar, Kohler, Mercury, MerCruiser, Marine Air Systems, Westerbeke and SeaLand.
Brewer Yacht Yard Group is the parent company of 24 Brewer marinas between Maryland and Maine. In addition to its multiple locations, Brewer offers special benefits to its customers including free overnight stays and fuel discounts. For more information, please contact Lynn Oliver at loliver@byy.com, or visit www.byy.com.