With another season of celebration upon us, there are plenty of family-oriented, boating-related activities throughout the region.
 © mysticseaport.org
Maritime Aquarium Lighthouse Cruises
November 7 and December 5, Norwalk, CT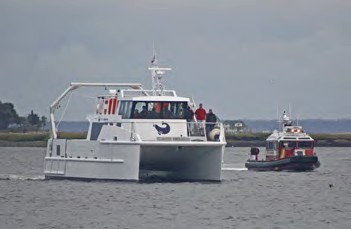 Venture out on the Aquarium's unique hybrid-electric catamaran R/V Spirit of the Sound for a close-up look at five historic lighthouses on Long Island Sound. The cruise will pass Peck Ledge, Greens Ledge and Sheffield Island lighthouses in Norwalk, Penfield Reef Lighthouse in Fairfield and Stratford Shoal (Middle Ground) Light in the mid-Sound. To make a reservation, visit maritimeaquarium.org /long-island-sound/cruises.
© maritimeaquarium.org
Mystic Arts Center Holiday Gift Show
November 13 through December 27, Mystic Arts Center, Mystic, CT
Items created by regional artists for sale during this show include hand carved wooden spoons, bowls and cheese boards, jewelry, sailor bracelets, paper trees, stoneware pottery, notecards, natural soaps/balms, beeswax candles, holiday ornaments, belts, tote bags, syrups, scarves, hats, stained glass, silk neckties, ceramics and fine art. Open every day from 11am – 5pm except Wednesday, 11/25 (11am – 3pm); closed on Thanksgiving, Christmas Eve and Christmas. Check mysticarts.org to learn more.
22nd Annual Holiday Train Show
November 19 through February 15, Connecticut River Museum, Essex, CT
Designed and built by railroad artist Steve Cryan, this fully operational HO scale layout is a genuine locomotive extravaganza. And don't miss this fascinating museum's other exhibits on the history of New England's river. For more information, call 860-767-8269 or visit ctrivermuseum.org.
Christmas at the Newport Mansions
November 21 through January 3, Bellevue Avenue, Newport, RI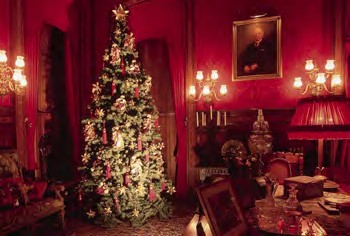 This annual event, presented by the Preservation Society of Newport County, finds cottages including The Breakers, The Elms and Marble House decked out in yuletide finery. For a schedule of live music and tours, visit newportmansions.org.
© newportmansions.org
5th Annual Huntington Harbor Parade of Lights
November 27, Huntington, NY
A fundraiser for the Huntington Lighthouse Preservation Society, this event is open to all boats. All participating boats must register in advance, and prizes will be awarded for first, second and third place. The parade begins at 6 pm. Visit huntingtonboatparade.com to learn more.
Holiday Harbor Lights Boat Parade
November 27, Newport, RI
A visual treat for participants and spectators alike, this tour of the harbor starts at 6:15 pm. Prime shoreline vantage points include Bowen's Wharf and Bannister's Wharf. Newport Yacht Club on Long Wharf will be open to the public that evening. For more details, contact Newport Harbormaster Tim Mills at 401-845-5815 or tmills@cityofnewport.com.
19th Annual Vineyard Artisans Thanksgiving Day Festival
November 27 & 28, Agricultural Hall, West Tisbury, MA
If you'll be on Martha's Vineyard for Thanksgiving, this is a great event to find unique holiday gifts such as one-of-a-kind sweaters, hand-made soaps, Island lavender, leather and vintage material bags, butcher block cutting boards, and much more. Hours are 10 am to 4 pm each day, and admission is free. A $2 parking fee supports the Vineyard Artisans Scholarship Fund. Visit vineyardartisans.com for more information.
Lantern Light Tours
November 27 & 28 and December 4, 5, 11, 12, 13, 18, 19 & 20, Mystic Seaport, Mystic, CT
This 70-minute progressive play at the Museum of America and the Sea will take you back to Christmas Eve, 1876. Tours begin at 5 pm and leave every 15 minutes. This event is not recommended for kids under age 4. Tickets are available online at mysticseaport.org/lanternlighttours or by calling 860-572-5331.
Nantucket Noel
November 27 through January 2, Nantucket, MA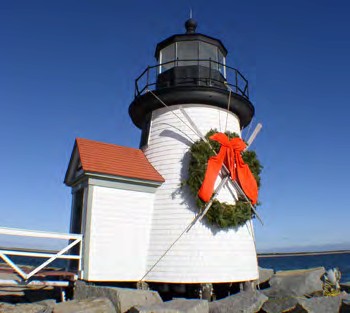 "The Quintessential Yuletide Experience" begins with the annual Christmas Tree Lighting Ceremony and Community Caroling on the night after Thanksgiving, and is highlighted by the Christmas Stroll Weekend (see below). For more details, visit nantucketchamber.org.
© nantucketchamber.org
13th Annual Holiday Lighted Boat Parade and Toy Drive
November 28, Mystic, CT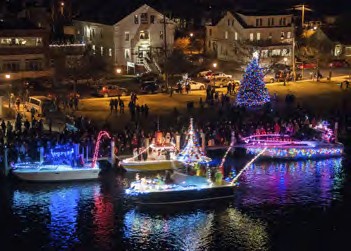 Following the tree lighting at Mystic River Park, decorated vessels will parade down the Mystic River. Boats of all types and sizes are welcome, and prizes will be awarded. Festivities start at 6 pm. For more information, log onto mysticchamber.org.
© Eastern Regional Tourism District/Mystic Country
Trees in the Rigging Community Carol Sing & Boat Parade
November 29, Connecticut River Museum, Essex, CT
Kicking off the Essex holiday season, this event includes a lantern-lit stroll down Main Street with the Sailing Masters of 1812 Fife and Drum Corps, an antique car parade, a parade of holiday-themed boats, and a visit from Santa Festivities start at 4:30 pm and admission is free. Visit ctrivermuseum.org for more information.
45th Annual Christmas in Newport
December 1 – 31, Newport, RI
A citywide celebration fostering the historic traditions of the holiday season, this event includes a decorated doorway contest, puppet shows, concerts, lantern tours, open houses, a pageant, and much more. Log onto christmasinnewport.org for the full schedule.
42nd Annual Christmas Stroll Weekend
December 4 – 6, Nantucket, MA
Highlights of this event include the arrival of Santa & Mrs. Claus on a U.S. Coast Guard vessel, craft shows, exhibitions, performances and a European-style Christmas marketplace. Visit nantucketchamber.org.
New Bedford Downtown Holiday Stroll
December 5 & 6, New Bedford, MA
This event kicks off with Santa & Mrs. Claus arriving at Custom House Square in an antique fire truck, followed by free photos with Santa, a parade up William Street to the Library steps, and the city's official Tree Lighting Ceremony. In addition to strolling caroler, there will be live entertainment in the Whaling Museum Auditorium, Seaman's Bethel and Custom House Square Park, and stores, galleries and eateries will be open for holiday shopping and dining. For more information, visit downtownnb.org/holidaystroll.html.
34th Annual Christmas in Edgartown
December 10 – 13, Edgartown, MA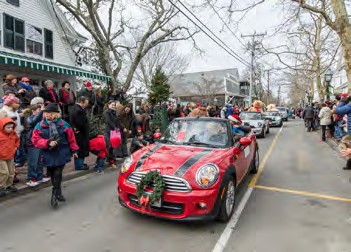 This is a weekend full of holiday fun for the whole family, in one of New England's most beautiful towns. Log onto edgartownboardoftrade.com for details.
© edgartownboardoftrade.com
61st Annual Community Carol Sing
December 20, Mystic Seaport, Mystic, CT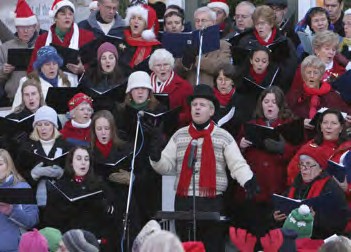 The Mystic Seaport carolers will perform a holiday concert in the Greenmanville Church at 2 pm. The carol sing, led by former Ledyard High School choral director, Jamie Spillane, and backed by the Museum carolers and a brass quartet, starts at 3 pm. The Treworgy Planetarium will present a free program, "The Star of Bethlehem," exploring the winter skies by merging science, mythology, religious observance, winter traditions, and music, at 11 am, 1 pm and 2 pm.
© mysticseaport.org
Free museum admission will be given from 10 am to 4 pm with the donation of a canned good item to benefit the Pawcatuck Neighborhood Center. Visit mysticseaport.org for more information.
Holiday Magic Week at Mystic Seaport
December 26 – January 1, 2016, Mystic, CT
The presents are unwrapped and the kids are home for a week. What to do? Visit Mystic Seaport for Holiday Magic! Explore the Museum's 19th-century seafaring village, historic vessels, and maritime exhibits. Take part in special activities throughout the week, including exploring the planetarium dome, touring a "Family Christmas at Sea" aboard the Charles W. Morgan, holiday storytime and much more… mysticseaport.org
New Year's Eve at the Dog Watch Café
December 31, Dodson Boatyard, Stonington, CT
Have a howlin' good time while ringin' in Ought-Sixteen with great food and drink and dancing to a live band. Check out dogwatchcafe.com to learn more.
First Night New Bedford
December 31, New Bedford, MA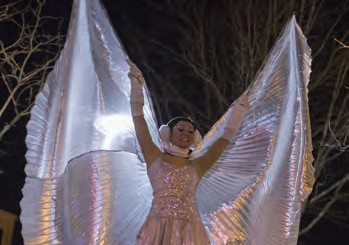 Ring in the new year with entertainment at more than a dozen locations around this historic seaport. Visit firstnightnb.org for more information.
© John Robson
First Night Newport
December 31, Newport, RI
This citywide celebration of the arts takes place at more than 20 different venues throughout the City by the Sea, from 5 pm to midnight. Call 401-848-2400 for more information.
During this holiday season, please visit our holiday gift guide.

We wish you a wonderful holiday and all the best in 2016!