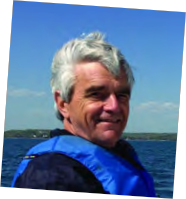 On Wednesday, November 18, the Mystic River Mudhead Sailing Association will host a presentation by yacht designer Rod Johnstone, who will discuss the history of J/Boats. The event will be held at 7pm at the Mystic Yachting Center, located at 100 Essex Street in Mystic, CT on the grounds of Mystic Shipyard.
The story of J/Boats is a classic entrepreneurial tale: With a $20,000 investment and a speedy 24-foot sailboat that he designed and built, Rod Johnstone and his brother Bob went into business in 1977. Today, that boat (the J/24), is the most popular recreational offshore keelboat in the world. In addition to the 5,400 J/24s sailing, more than 7,000 J/Boats from the International J/22 to the J/65 have been built.
It began in 1975 when Rod, then a Soundings ad salesman and an active one-design racer, decided to build a sailboat he had been designing since completing a Westlawn School of Yacht Design correspondence course in the 1960s. With $400-worth of fiberglass and wood, some rigging and hardware leftovers, he built a 24-foot family racer on weekends in his three-car garage in Stonington, CT. During the summer of 1976, with an all-family crew aboard, Ragtime beat everything in sight. Rod realized he'd created something special.
Everett Pearson, founder and owner of Tillotson Pearson, Inc. in Warren, RI, took notice and agreed to produce the boat on spec in return for the U.S. building rights. That winter they set up a makeshift factory in an old textile mill in nearby Fall River, MA, and began popping out J/24s.
Rod's brother Bob, then Vice President of Marketing at AMF Alcort (builder of the Sunfish), threw in his hat with J/Boats. With Rod contributing the design and his prototype and Bob investing $20,000 to cover start-up costs, office space and advertising, a 50-50 partnership was launched. That first year, J/Boats sold more than 250 J/24s. Each successive year has marked unique achievements in the sport and industry.
With the next generation of Johnstones at the helm since 1988, Rod and Bob continue to contribute their talents. Since 1992, Jeff (President) and Alan (Chief Designer) have managed company operations from J/Boats Headquarters in Newport, RI, while six of Bob and Rod's sons (Jeff, Alan, Stu, Drake, Phil and Peter) serve on the J/Boats Board of Directors.
Beer and wine will be served. The event is open to the public and admission is free but donations for the Dillon Fund are encouraged. Honoring the memory of Richard Dillon, a founding Mudhead and friend, the fund was created to help Mudheads of all ages compete at the national and international level. For more information, visit mudhead.org.