By Cooper Nefsky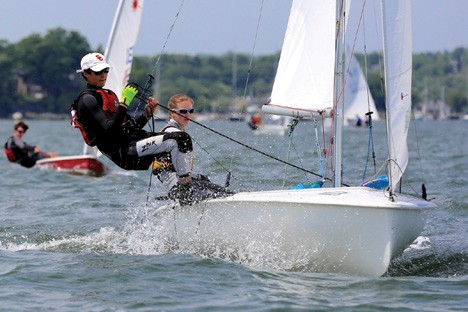 The Commodore Law Trophy, one of junior sailing's oldest regattas, was hosted by Indian Harbor Yacht Club in Greenwich, CT on June 27 & 28, 2016 and saw a variety of conditions from champagne to drifting. Throughout the regatta the atmosphere was buzzing, as the Law Trophy signals the start of the Junior Sailing Association of Long Island Sound's regatta season.
Julia Reynolds and Hobi Lew scored a decisive victory in the C420 class.   © Mary Alice Fisher/maryalicefisher.com
The Law Trophy is a quarterfinal for US Sailing's 2016 Chubb U.S. Junior Championships, which will be sailed in August in San Diego. The top two finishers in the 420 and Radial class receive sponsorship from JSA of LIS to compete in the Area B semi-final. Sailors arriving at Indian Harbor YC on Monday, June 27 were greeted with words from PRO Jonathan Nye, and quickly got to racing.
After two general recalls, the C420s were sent to the back of the queue and the Laser Radials started next. Eventually, the 420s got off and had their first race. All racing featured twice around W4s. By finishing the fleets on the opposite side of the start line, the race committee was able to keep the action moving. Day one featured six races for the Lasers and five for the 420s. "It was a long day of great racing," said Oliver Knight of Noroton Yacht Club, who placed second in the Laser Radial fleet.
The race committee knew they would not see the same conditions on Tuesday, and they were correct. Tuesday brought less than ideal conditions with courses changed from W4s to W2s. The Radial fleet was able to squeeze out two races, while the other classes got one each.
Pequot Yacht Club's Julia Reynolds and Hobi Lew sailed very consistently, finishing no worse than second to win the 420 class and defeat last year's winner Max Anker (Riverside Yacht Club; sailing this year with Christopher Lukins) by six points, with Charlotte Costikyan and Isabel Infurna (Noroton YC) in third. Racing was close in the Laser Standards, with Burke Anvari (Cedar Point Yacht Club) finishing two points clear of Richard O'Leary (American Yacht Club) in second and four ahead of David Ingraham (Larchmont Yacht Club) in third.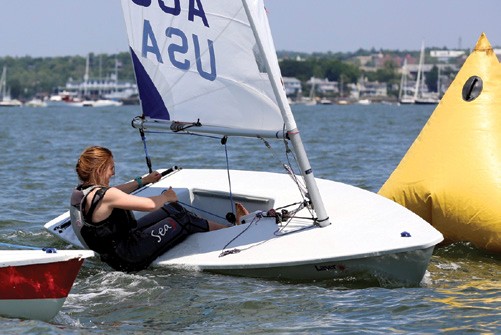 In the Radials, Lindsay Powers (American YC) moved up from her fourth place showing in 2015 and was the clear winner, six points ahead of Oliver Knight and William O'Leary (American YC) who tied, with the countback breaking in Knight's favor.
Lindsay Powers notched three bullets on her way to winning the Laser Radial class.   © Mary Alice Fisher/maryalicefisher.com
Indian Harbor Yacht Club served up an array of delicious options when the sailors arrived back at the club, and awards for the top finishers were presented shortly after the barbecue. Knight and many other sailors said they can't wait to come back to compete next year. Full results are posted at jsalis.org.
Cooper Nefsky is the Junior Sailing Association of Long Island Sound's Media Coordinator. He will be entering his senior year at Connecticut College this fall, where he currently studies film. Cooper grew up sailing out of Orient Yacht Club on the East End of Long Island and now competes on the Connecticut College Sailing Team.