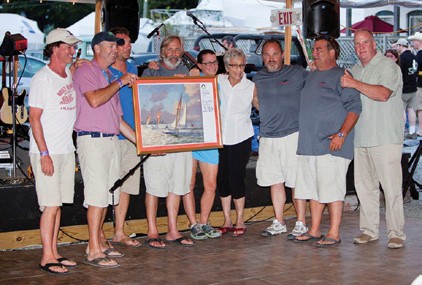 The Mystic River Mudhead Sailing Association held their annual Benefit Cup Regatta and MegaParty in support of Center for Hospice Care on July 15 & 16. More than 60 boats in 11 classes set sail in light wind on three different racing circles in Fishers Island Sound.
Team Patriot is this year's top fundraiser, donating over $6,000 to Hospice. Pictured at the Mega Party at Mystic Shipyard are ( l – r) Gowan McCavity, Paul Phillips, Sean Burridge, Toby Halsey, Courtney Moore, Carol Mahier (Executive Director of Center for Hospice Care), Tom Longo, Skip Whitaker and Dave Doyle.

Thanks to the dedication of these sailors plus many volunteers, sponsors and donors, this event raises much-needed funds for Center for Hospice Care. Congratulations to all of the competitors.
First Place Honors in four PHRF classes, two non-spinnaker classes and five one-design classes go to:

Dire Wolf, Lawrence Hennessy
Patriot, Toby Halsey
Arabesque, Robert Bruno
n/a, Shawn Pelissier
Nunnehi, Mark Dixon
Mentor, Mark Kondracky
Rip, Dan Van Winkle
Cluster Duck, John McCrea
Ripcord, Paul Bergendahl
Mo Grins, Moise Solomon
Polar, Kevin Dooley
Every dollar makes a difference. Funds raised by the Mudheads make it possible for Center for Hospice Care to provide bereavement services, free of charge, to any adult or child in Southeastern Connecticut who needs them. Additionally, funds are used to provide quality end-of-life care to anyone who needs it and meets the qualifications, even if they are uninsured or underinsured and unable to pay.
The fundraising festivities aren't done yet! On Saturday, August 13, the Niantic Bay Yacht Club in Niantic, CT will host their annual Cocktail Party to benefit Center for Hospice Care. To purchase tickets, log onto
hospicesect.org/events/what/regatta-series. For additional information, email events@hospicesect.org.